We've talked about advertising here before — in fact one of my earliest posts covered my experiments with buying Goodreads ads — and whether it's an effective way to promote one's books. In most cases, it's not worth it, with sites charging more than you have any chance of making back in sales (especially for those of us writing in niche genres with smaller readerships). There are, however, some popular blogs that charge a flat fee to reach thousands of subscribers, and the sheer numbers can make buying advertising from them worth it. Authors may see hundreds of sales on a sponsorship day, as well as residual sales due to increased visibility in top lists at Amazon.
Pixel of Ink and Ereader News Today are popular sites right now, but all the indie authors out there know they're popular (and effective), thus meaning a long wait to purchase an ad (if the sites are open to new sponsors at all). I've had good results advertising on both sites, but that was last spring, and I haven't seen opportunities come up in a while.
Bookbub is a site that first came on my radar a couple of months ago when they ran my free book, The Emperor's Edge, out of the blue and sent me an email to let me know about it. EE had an extra 3,000 downloads that weekend. Considering EE has been free for almost a year and usually only sees that many downloads in an entire month, it was very noticeable blip.
I checked out Bookbub in more depth and found they have tens of thousands of subscribers and rather than sending a generic email to all of those subscribers, they let people sign up based on their reading preferences and will only send out links to appropriate books. So, if you're a science-fiction author, you buy an ad that will only go out to SF fans, and you only pay to reach those people. Unlike many other sites, Bookbub isn't Kindle-only, so you can include links to Barnes & Noble, Smashwords, Apple, etc. as well as Amazon.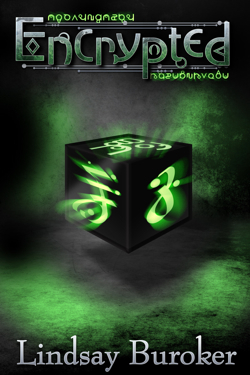 Since EE received a nice boost from the mention, I decided to buy a spot for Encrypted, one of my non-free ebooks. It's one I haven't spent much time advertising because it's a stand-alone with a limited audience. As I write, Bookbub's SF/F category has 70,000 subscribers and it costs $85 to advertise a free ebook and $125 for a non-free one. (Here's a link to all of their categories and rates.)
It's worth noting that Bookbub will only promote deals: "BookBub promotes books that are free or at least 50% off their usual digital price. It's rare for us to feature books with a deal price of more than $3.99, and the greater the discount, the more likely we are to accept a listing."
I usually sell Encrypted for $3.95, so I lowered it to $0.99 at Amazon and Barnes & Noble for the weekend of the ad. I was going to do Smashwords as well, but forgot until the ad had already gone out (I'd wanted to change the SW price, because I was worried they'd send the update out to their distributors and then I'd get in some price-match limbo with the book stuck at 99 cents at Amazon for the next four months).
Lowering the book to 99 cents, of course, dropped me into the 35% royalty rate at Amazon and B&N, meaning I'd only make 35 cents per sale. I'd have to sell about 375 ebooks to break even. I wasn't sure if that would happen or not. I don't generally write stories that appeal to a broad audience, and I think it takes a special romance-SF/F-thriller-mystery-geeky-heroine-loving person to find the blurb for Encrypted appealing.
That said, I ended up selling about 450 extra copies of Encrypted that weekend. For the only time in the book's life, it made it below a 500 Amazon sales ranking (a brief stay, but still cool). It peaked at 200-something.
About 50 of those 450 sales came through Barnes & Noble, which made me wish I'd been able to list links to all the stores out there, but, as I mentioned, it's not feasible to run a weekend sale at stores where you can't upload the ebooks directly.
By the end of the weekend, sales had slowed down, and I raised the price back to $3.95. The sales ranking has been gradually rising, and I'm sure it'll be back in its normal 20,000-ish range before long, but it did sell more copies than average in the week after the ad ran.
For those who may be thinking the 99-cent price tag alone may have accounted for extra sales that weekend, I don't think this is the case. I experimented with a 99-cent price point for the book before, just to see if it would make a big difference, and it didn't, not without additional promotion.
Overall, I found the Bookbub spot worth paying for and appreciated that the wait was only a week or two, as opposed to the months-long (if ever) wait we're seeing with some of the other more popular sites right now. Bookbub was much more effective than the Kindle Nation Daily ad I tried earlier in the fall (which was for an advertising spot on their book lending site) — it didn't give me a noticeable blip in downloads. At all. Ditto for advertising on the Kindleboards. I suppose the word will get out that Bookbub is working, and it'll be booked solid before long, too, but for now… go for it.