If you're in KDP Select (i.e. exclusive with Amazon), you now have the opportunity to sign your Select titles up for pay-per-click advertising campaigns. As you can see in the screenshot below, your book will appear on other books' sales pages, under the buy links. (That's not my book; I enrolled a title in the program but couldn't find it on display anywhere — more on that later.)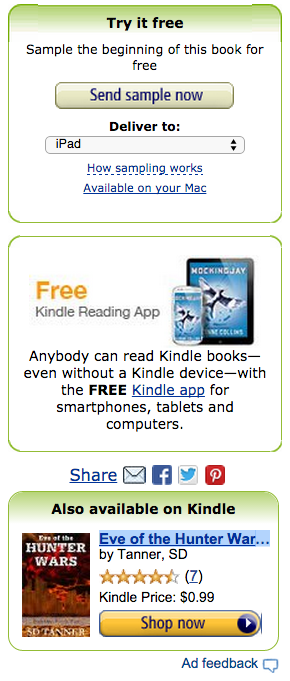 So, is it worth trying? From what others have shared and from my experience with other pay-per-click advertising programs, such as Google Adwords, Goodreads, and Facebook, I assumed it wouldn't be, but I threw some money in just in case I was wrong (and so I could blog about it). Before I jump into my experience thus far, let me go over a couple of the basics, for those who are new to this kind of advertising.
What is Pay-Per-Click (PPC) Advertising, Anyway?
There are a couple of kinds of advertising available to us as authors. You're probably already familiar with the flat-fee stuff, where you pay a site like Bookbub or Ereader News Today $X (or maybe that should be $XXX/$XXXX for Bookbub) to have your book featured for a day. It doesn't matter how many views or clicks you get. The price is the same.
There are also sites that will display an ad or banner for you for $X amount per thousand impressions. (Not many authors have had luck with these–Banner Blindness is a horrible disease that has been affecting web surfers since 1997).
Finally, we've got the pay-per-click stuff, where you pay $0.XX amount every time your ad is clicked. If that sounds expensive, it's because it is, especially when you're talking about something low-priced, like an ebook that might only sell for $2.99, netting you a maximum of $2.05 for a sale.
If you're only paying ten cents a click and one in eight people who click buy the book, you're coming out ahead, but with most of these sites, you have to pay more like $0.30-$0.50 a click in order to have your ad displayed with any regularity in the rotation. (You're bidding against other authors for this display space, and sometimes people are desperate and pay far more than makes sense for advertising. Basically, they're willing to lose money to sell books. That could possibly make sense if doing so can get you into some category Top 20s on Amazon, where your books would be more likely to be noticed and sell themselves, but my first impression of this advertising system is that you're not going to get enough clicks and sales per day for it to make a difference in ranking, at least at the lower end, where it could help with visibility.)
My Amazon Advertising Campaign
Campaign is a lofty term, since I have one ad running for one book. Since my pen name is the only one with titles in KDP Select, I'm limited with what I can experiment with. So I picked a book that could work as an entry point in the series and gave Amazon the OK to charge my credit card a hundred dollars. That's the smallest amount you can pay to get started.
Amazon walks you through setting up an ad, and it's pretty easy, because you don't have the option to write copy. As you can see from the screen shot, they basically just show the book cover, title, author, and the star rating. If you don't have an amazing, OMG-must-click! book cover, this program probably isn't for you. (I'll admit that my pen name doesn't have any covers like that. They're inexpensive stock-photo covers, which is very typical for the genre–I'm not hiring models for photo shoots for my side project. :D)
After you've selected a book, Amazon asks you how you want to choose where your ad is displayed, "by target" or "by interest." 
If you choose by target, you can search for specific items in Amazon's catalogue, such as books that are similar to yours. This is what I did (I'm sure those authors will be so tickled to see my book on their sales pages). My pen name writes space opera romance, which is a small niche genre, so it didn't take long to pick out similar books. I picked a couple of the top sellers, even if I hadn't read them, because I was afraid I wouldn't get many ads displayed if I was too narrow with my focus (this turned out to be true, even with picking some top sellers, books with sub-500 sales rankings).
If you choose by interest, you get to pick from the book categories at Amazon, but you can't drill down. I could have my sci-fi romance showing in general romance (not a good idea, since 99.9% of people reading romance are not looking for spaceships and aliens in their stories), or I could have it showing in general science fiction & fantasy. Also not a good idea, IMO, because that's too broad. Even if I was advertising a book with a much wider appeal, something that falls squarely into epic fantasy, let's say, I wouldn't want it showing up on the pages of science fiction thrillers or paranormal romances set in Chicago. Those readers aren't likely to be my target audience.
So I went with "by target" and picked about 25 books, going for top sellers in the niche. I figured anything with a sales ranking over 20,000 or so wasn't getting enough eyeball attention to bother with sticking an ad on the page. I could have chosen more books, and I may go back and try and add some more in an attempt to get more impressions, but this really is a small niche, and there aren't that many sub-20,000 books in it.
The last thing Amazon asks you is how much you want to bid. For my book, The Assassin's Salvation, it suggested $0.05. I have no idea if it makes different suggestions, based on how much competition is in a particular niche. I would guess so, but maybe someone can verify that for me. Since five cents is so low compared to what Goodreads suggests, I was happy to go with the flow there.
I agreed to the price and clicked the button to make my campaign live.
Results (or not) for My Campaign Thus Far
After the first 24 hours, I checked in. I had about 50 impressions (meaning my ad had shown up fifty times on other books' pages). I didn't have any clicks.
I wasn't surprised about the lack of clicks, given the placement of these ads (since they're tidily worked into the same column with the buy links, they're pretty easy to overlook) and the fact that readers are presumably more interested in the book on the page they actually surfed to rather than some random ad on the side. Even if I had an awesome cover, I don't know that it would make much of a difference, since the ad itself is so small. The book does have over 70 reviews, which is something that's fairly prominent in the ad.
Since 50 impressions is kind of laughable (you'd really need tens of thousands of impressions to expect to get noticeable clicks and book sales), I boosted the bid to ten cents, to see if that might get me more displays. It didn't. The ad has been running for just under a week, and it's only up to 159 impressions (still no clicks).
The good news is that I'm not being charged for those impressions (although Amazon does have my $100 sitting in their bank account), but the bad news is that I'm not getting any clicks and thus I'm not getting any extra sales from having the ads running.
For kicks, I just boosted it to 20 cents to once again see if that might get me more displays. I'm not sure how high I'll go. Probably not above 50 cents. I may end up asking for a refund, simply because right now it's not looking like I can even spend the money I've paid in.
Sometimes these things (how often ads get displayed) are based on what the CTR or click-through-rate is. Ads that get clicked more often get preferential treatment. But it's not as if I can do anything to tinker with my copy and try to increase that CTR in this situation, since, as I said, Amazon doesn't allow you to write any copy.
I'm sure I would get more impressions if I selected that broad "science fiction & fantasy" category and had my ad displaying on books all across the genre, but as I explained, that's really too broad of an audience for a book in a small niche.
Conclusions
It's hard to reach any really useful conclusions when I'm only using one book and haven't even received a click for it yet, but based on my experience so far, I wouldn't recommend giving this a try if you're in a smaller niche or sub-category. If your book has really wide appeal (and that awesome cover we talked about) and it makes sense to go broad, maybe you could get some clicks and sales. I do have a feeling, though, that in going so broad, you'd end up paying a lot for few results (i.e. paying for clicks from people who aren't your target audience and who aren't going to buy the book).
I would absolutely love to hear from other authors who have tried the program. Have you had different results? Anything positive to report?