My January release, Shattered Past, has been getting a little extra advertising on Amazon. By that, I mean it appeared in the first slot of the also-bought section for several other fantasy books that were selling well because they were new releases or because the author was running a Bookbub promo. I'll pretend it was planned and that I'm smart, but in truth, I noticed the effect later and realized what had happened. (Though I have theorized that this could work before on my podcast!)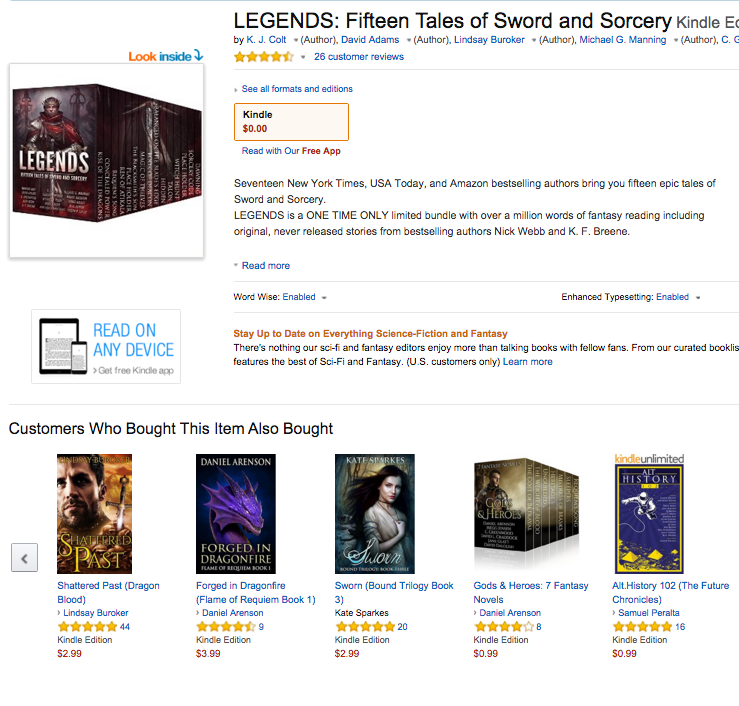 I'll tell you what I did, but before I jump in, let me fully admit that I can't prove that being in the also-boughts actually led to more book sales. I figure it can't hurt if people are seeing your book all over Amazon, but I have no way to track sales that might have come that way. Also, in order for you to do this yourself, you'll need to have at least a small mailing list and/or social media following already built up, so it will probably be tough to do if you're launching your first novel.
Okay, enough of that. The nitty gritty:
The TL;DR version:
If you plug other books in your genre at the same time as you plug your new release, and if people buy both, it's likely that you'll appear on the first page of those other books' also-boughts.
The longer version with more explaining:
I'm in a new permafree boxed set with 14 other authors (if you like swords & sorcery, make sure to grab it!), and it happened to launch about the same time as my novel Shattered Past. We all plugged the set, Legends, to our lists, but I also plugged Shattered Past in the same newsletter announcement.
Even though we all presumably had readers who picked up the boxed set, my book is the one that's been in that first also-bought spot since release (I'm sure that will change eventually, as my book isn't a sequel to the one I have in the boxed set; it's likely that those also-boughts will eventually populate with direct sequels to the various books in the collection). I suspect this is not only because a lot of people picked up both but because they were picked up at the same time, thus making a very close link in the eyes of whatever algorithm-bot figures these things out for Amazon.
The result is that Shattered Past was in that first slot during the main push of the boxed set. The collection reached as high as 16 in the free store, so a lot of people saw my book, if only out of the corner of their eye as they were clicking the download button for the freebie.
I don't know how many people looking to download a freebie would randomly go on to buy a $2.99 book they'd never seen before, but that's not the only book I plugged that week. One of my writer buddies, C. Gockel, dropped her urban fantasy boxed set to 99 cents because she had a Bookbub ad coming. She mentioned on Kboards that she was hoping to hit the USA Today bestseller list (and she did!), so I shared her Facebook post on my author page. Judging by the comments, several of my readers picked up her boxed set.
Don't bother looking for me in the also-boughts on her book page now, because I just checked, and SP has been bumped all the way to the 22nd page, but that's because her Bookbub ad ran last week, and thousands of people bought her book after that. You've probably noticed that anyone who runs a Bookbub ad will share the also-boughts with a lot of other Bookbub books from the previous days' mailings — in essence, Bookbub does exactly what we're talking about here.
But on the day of Gockel's Bookbub ad, and I believe even the day after, those also-boughts hadn't been reset with Bookbub books yet. Shattered Past, even though I'd only plugged it on Facebook and not to my mailing list, occupied the #1 slot for her boxed set, so I got some more free advertising. I'm not sure how high her book made it in the Amazon store, but I know that I was #1 in her also-boughts on that day that she got thousands of extra eyes on her book page. Essentially, I've gotten a lot of extra views of my book cover this last couple of weeks, even though I haven't spent a dime advertising that book yet.
Here's another book that I finished reading last week and plugged to my people yesterday, when I was again mentioning SP (just in case my readers had missed the last newsletter!):
As you can see, SP is already in the first also-bought spot again.
So, what's the message here? 
Like I said, it's unlikely that appearing on the first page of also-boughts for a book results in piles of piles of sales, even if it's a popular book, but I do believe it's likely that it will result in at least some sales over time. I know that I've grabbed samples of a lot of books I've seen in the also-boughts of other books I've purchased, especially if they have cool covers that really draw my eye.
So, not only does it pay to plug other authors in your genre, but it might pay to scheme a bit in the way you go about it. In the very newsletter where you're mentioning your latest release, you might mention another new release by an author, one that you maybe read and enjoyed yourself. (I think you'll get more mileage from plugging a newer release, because the also-boughts won't have filled in with all of the author's other titles yet, something that usually happens with a series writer.)
I haven't tried this method yet with a real big name in fantasy (for good or ill, I tend to prefer the quiet little books that aren't best sellers to the heavy hitters, and I'll usually only recommend what I've liked, especially to my newsletter subscribers), but if I see the opportunity someday, I certainly will.
Can you do this with a small list?
If, as I mentioned above, you're thinking that this won't work for you because you don't have many mailing list subscribers yet, I wouldn't necessarily assume that. All I did with the Gockel book was share her post on my Facebook page, so I'd guess that a maximum of 10 people (10 people who also had purchased SP) bought her boxed set. That was all it took to get me into the first slot on a book that had been out for a while — who knows how long I might have hung out there if she hadn't wiped the slate clean with a Bookbub ad?
I think you'll find that unless people are actually doing what I described here, most of the typical also-boughts may only be linked by a couple of shared buyers. It shouldn't be that hard to appear on the page of the book of your choosing, assuming some of your readers pay attention to and buy your recommendations!