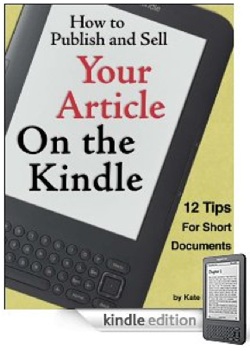 A couple weeks ago, I wrote about e-publishing novellas and short stories as ebooks, since they're less time-consuming to write than novels. Over in the non-fiction realm, Kate Harper, author of How to Publish and Sell Your Article on the Kindle: 12 Tips for Short Documents, is doing something similar. She publishes non-fiction articles or "booklets" to the Kindle store, and they're selling well for her.
She's here today to answer a few questions for other authors who might want to make some extra money with the non-fiction lurking on their hard drives.
What gave you the idea to publish articles as Kindle "ebooks"?
It all all happened by pure accident. I have a girlfriend whose poetry I love, but being the way things are in the poetry world, it's hard to get published. Since I was a big kindle reader, I encouraged her to consider publishing it on the Kindle instead of trying to knock on New York Editor's doors. I offered to help her figure out the tech side since I'm more of a techie than her, and then she became enthusiastic. Just so I knew what I was doing, I decided to go through the entire kindle process once by myself (with a short document), so I could better help her with her book.
I pulled an article off my computer to use as a "tester" to publish, and I put it up on Amazon as a Kindle "article" and labeled it that way. I never really thought anyone would ever find it or buy it, but slowly it started selling, which led to more buyers…and this was all with absolutely no marketing. I did not even tell my friends I'd put up the article! Eventually the article became #1 in travel reference. Now it floats around top ten (depending on the day) on both the Kindle and Nook.
That's great! Can you tell us more about what you're selling and why these short articles might be appealing to readers?
I realized that I liked buying and reading short documents so I figured other people might be like me. Non-fiction books are filled with a lot of fluff and I'd rather read a 30 page article on the guts of a topic, rather than a 300 page book. Diet books are perfect examples of fluff: 10 pages on the diet guidelines; 290 on recipes.
After my travel article's unintentional success, I decided to get serious and expand some of my design blog posts into longer articles. Since I work in a specialized career that very few people have written about (licensing art for gift items), I thought publishing articles on that topic would not only be a good idea, but would help a lot of artists who write to me all the time with questions.
After my 6th article I actually learned a LOT because I went from the person always "needing help" on the Amazon Kindle forums to the person always "giving help" on the forums. Then I thought "Hey! I know something here!" Then I thought it would be a great idea for me to write down all the things I knew about publishing and selling Kindle articles, that is not available.
Articles are different than books in many ways. For example, all the Kindle formatting guidelines encourage you to insert a cover page and Table of contents, and other front-matter at the beginning of the document, but for articles that's a big disadvantage because it wastes precious free sample page space (the first 10% of all kindle books are free), and then the reader can't even get to your main content to see if they like it.
I show writers how to condense all relevant information on one page, so that the reader can move beyond it quickly, and get to the real content, and hopefully then, they will want to buy the article. There are many other things I learned along these lines.
How are you promoting your work?
Honestly, I don't know that I am really promoting it in any formal way. I read a lot of blogs and when I run across an article like yours (on Novellas), I think the author would probably appreciate knowing about it and I might send a free copy. But I've only done that 3 times at this point! Each person has been quite enthusiastic and supportive (including you!) of what I'm doing. I'm all for creatives helping creatives.
Have you tried selling anywhere else, such as Smashwords or Barnes & Noble?
I do also sell at Barnes and Noble but I don't use third party services like Smashwords. There are a lot of issues around third party services (that is a whole other conversation). I'd rather see a writer publish one article on Amazon tonight, than to sign up with a third party and go through all the approval process and other complications. If you do it all yourself, you'll be surprised at how easy it is to do, you will also have complete control over it, and you'll get higher royalties.
You have a very inexpensive ebook (article!) on this subject, which folks can check out if they're interested. What does it cover?
Yes, I know .99 cents for 43 pages sound almost free! But I'm also enjoying this entire process. My goal was to write a document that would teach a writer how to publish their article overnight without hiring a tech person or third party.
Everything I talk about has to do with the difference between publishing a Kindle article versus a Kindle book. It does help to know how to price it, sell it, and format it differently than a book. You don't want someone buying it and being angry because they thought it was a book.
I also have step-by-step "how-to's" for things that people on the forums get hung up on a lot, such as how to make a clickable Table of Contents links or how to deal with images.
Sounds good. Thanks, Kate!
Thanks so much for asking for this interview. This is a perfect example of how writers help writers!
I've since read Kate's ebook, and it's well worth the $0.99 if you're interested in e-publishing some of your own articles. Short but sweet with lots of answers to common questions and links to other resources. Here's the link to her book again:
How to Publish and Sell Your Article on the Kindle