If you've been following the blog and Twitter, you may have heard me mention my pen name project. I haven't shared the details with many people — mostly just my editor and beta readers — because I wanted to see if I could start from scratch today and do reasonably well as a "new author."
I have a breakdown of sales and borrows farther down, but the quick summary is that I earned about $3043 in the first month, most of that coming from one book (but that book being bolstered by another free one). The book was priced at $3.99, participated in KDP Select (and therefore Kindle Unlimited), and received 638 sales and 683 borrows between October 17th and November 16th.
Note: I'm using the $1.33 October figure to calculate earnings from borrows. If that drops in November, it might knock off $100 or $200 from my earnings estimate here.
The multi-book launch strategy
I knew it would be hard gaining any momentum with just one book, so I planned from the beginning to launch with three, with the goal of putting out another novel (or at least a novella) each month after that. I wrote the rough drafts for the three novels this summer, but of course I was working on my own LB novels at the same time. By the time the pen name books were beta read and edited, it ended up being more of a launch with two novels with the third coming almost a month later (it went live on Friday night, November 14th, and had 79 sales and 59 borrows Sunday night when I tallied everything). But at least I had two books to work with from the start and that was key in gaining some momentum.
Here's a look at what I tried for marketing, what worked and what didn't, and what I didn't bother with.
Pre Launch
I didn't want to make a whole second persona that I would have to manage, so I didn't sign up for any of the social media sites with the pen name. I did put up a website, using WordPress as the backbone, and started a mailing list with the sign-up form on the front page of the site. I put some samples chapters up on the blog, but I don't think that did anything, since nobody knew the site existed yet.
So far all I've done on the blog is post release information. Honestly, because I already sink time into my posts here, that's all I'm planning to do in the future.
Wattpad Experience
In the hope of finding some people who might review the first book when it launched, I made a Wattpad account for my pen name. I started posting chapters as soon as I had the rough draft finished (around July) and updated regularly to try and get some early fans. There were a handful of people who found it and followed along, but I never gained much traction on Wattpad. I had a few positive comments from the people who did read it, but part of the trouble, I believe, is that the novel has R-rated material in it, so I had to check the R-rated box. On Wattpad, users have to specifically checkmark that they're looking for adult content in order to see it, and I don't think they even see that option if they're younger than 18 (perfectly understandable).
(For those who are wondering at the how and why the pen name came about, I got some backlash from readers last spring when I published Balanced on the Blade's Edge, a steampunk romance which had a sex scene in it. Even though I haven't exactly been a prude in my other novels, most of them are less detailed in that area. I decided to split things off and use the pen name to write stories that include more, ahem, naughty bits.)
I have heard of authors gaining a good-sized following when they have R-rated content on Wattpad (even though there's a large user base of teenagers, I learned in an interview with a Wattpad representative that there are also some 20+ readers), but I should point out that I am writing in a small niche here. There are some voracious readers (i.e. the types of people who go through a book a day) in it, but it's quite a limited pool of people overall. I wouldn't have tried jumping into this niche at all if Amazon hadn't finally made a subcategory for it about a year ago.
(I'm debating here whether to share the niche, but because I'm still incognito with the pen name, I think it would be pretty easy for curious people to go find me if I talked about it here. By the end of this post, you might be able to guess anyway, but I'm going to wait another month before going public, as I want to see how the "30 Day Cliff" and other things effect the pen name before muddying the waters as to where readers are coming from.)
I won't say that Wattpad was a total waste of time, but it was pretty close, at least in this case. I ended up with two pre-launch mailing list signups, and I don't think anyone commented more than twice over the course of the novel, so I didn't feel we had enough of a relationship for me to send them private messages and ask if they would like review copies of the final book.
The other thing I did with the pen name was join Romance Divas, a forum where self-published and traditionally published authors hang out. I had a notion of maybe finding some readers there by chatting about the industry and including a link to the Wattpad chapters in my signature (with a promise of review copies for anyone who was interested), but I didn't end up posting there that much, as it felt weird to chime in and give advice on self-publishing and marketing when I was, for all they knew, an utter nobody without any books out.
In short, very little that I did pre-launch mattered.
Launch Week
On October 11th, 2014, Book 1 went live for 99 cents at Amazon and for free at Smashwords and Kobo (I ticked the distribution box, so it would eventually end up at Barnes & Noble and Apple for free as well). I knew I was going to launch the rest of my books in KDP Select so I could take advantage of the way Kindle Unlimited borrows count as sales (for more details, see my earlier post on Kindle Unlimited: Why Ebooks Not Enrolled Are at a Disadvantage), so the only reason I was putting Book 1 in the other stores was so it would be made free on Amazon.
I wasn't sure how long it would take for Amazon to price-match the first book to free, but I didn't expect it to happen quickly. It's generally been my experience that already-popular books get price-matched almost right away, whereas it can take much longer for books that aren't selling.
I wasn't planning to do any marketing whatsoever of Book 1, since there was little point until I had Book 2 out, and since it wasn't as if I would make much money with it at 99 cents. But a few people found it within 24 hours of publication (okay, three) and apparently liked the 99-cent price tag enough to give it a try, even though it was by a new author. That got me a little excited (yeah, I know, it doesn't take much), so I decided to see if I could find any place to advertise.
Attempts at Advertising Book 1
If you've tried to buy advertising lately, you probably already know that there aren't many places that will plug books with no reviews and on short notice. I was also limited by the fact that these books don't fall neatly into any of the categories that book blog sites offer, so I stuck with sites that basically just say, "Yo, this stuff is free/99 cents today — go get it."
That first weekend, I paid $5 each to bknights and genrepulse through Fiverr. Bknights has a site where he posts free and 99 cent ebooks, and GenrePulse (which has since moved off Fiverr, but still offers the same service) plugs your book through his Android and Kindle Fire aps. I had heard about these guys on Kboards.
I think I can attribute about 10 sales to each service (they went out a day apart). This was enough to get the book into the Top 100 for the subcategory. It currently takes a 9300 sales ranking to hit the #100 spot (that makes the category sound more popular than it is, but there are a ridiculous number of books in it that don't belong there, and yes, it's irritating).
I bought a couple more ads from places that accepted books but that had more of a delay. None of them went live until the book was free, something that happened after about six days.
Overall, I spent about $50. The only other site that gave me results worth mentioning was Ereader News Today, which currently allows you to plug a free book for a mere $15. This was a deal as I ended up getting over a thousand downloads that day from their site (even though the book ran with a big pile of other free books). I'm sure people publishing in more popular genres would get many thousands of downloads.
I should mention that the book got as high as 225 in the free list of its own accord when it first went free (before the ENT ad kicked in). I think that it helped that I had actually sold some copies at 99 cents before it went free. I also made sure to use the right keywords to have it listed in about five different subcategories, rather than the two Amazon gives you in the dashboard. (I admit I was a little nervous about adding those extra action-adventure types of categories, because even though the story surely qualifies, there are a lot more male readers browsing those other subcategories, and this was also clearly a romance. But overall, the experience has been positive, and I got some nice emails from male readers who probably would never have wandered over into the romance subcategory to look for it.)
As I write this now, Book 1 has dropped to 528 in the free store, but I have an ad coming up later in the month on My Romance Reads that may give it another nice boost. After that, I think I'm going to put the book back to 99 cents, rather than keeping it permanently free. Since the other books are in KU, I can play around with free or 99-cent days on them when sales start to fall.
How effective was permafree for selling copies of Book 2?
I published the second book in the series on the night of October 16th (I don't think it went live until the 17th). The day before that, the first book went free, so that was nice timing. I immediately added a link to the second book at the end of the Amazon version of the free book. (Note: the afterwords also include an invitation to sign up for my pen name's mailing list.)
I don't think permafree is nearly as effective as it used to be (there are more free books out there now; thanks to KDP Select making it easier for authors to make books free; the lists aren't displayed as prominently as they used to be; and KU subscribers can essentially get all the "free" books they want for their $10 a month, so there's no reason for them to browse the free lists anymore), but it was instrumental for me in my launch of Book 2, which jumped into the Top 100 of its subcategory right at the beginning.
It hung out in the 60-100 range for the first week, then gradually improved to make it into the Top 20. It topped out at 8 or so, which was about a 1350 Amazon sales ranking. It's been around 2000 for a couple of weeks now, thanks in large part to the borrows. On sales alone, it wouldn't have been anywhere near the Top 20, so I'll thank KU for the extra visibility (even as I loathe this aspect for all of my other books, which aren't in KU and which don't get their sales rankings artificially propped up by borrows).
The book has been out for 30 days now, so I'm expecting to see it drop in rankings, as a result of the 30 Day Cliff, which I mentioned before. Countless authors have noted that books seem to get a boost in visibility when they're first published on Amazon, but then start a downward descent after being out for a month. This doesn't hold true for every book — some have enough sales momentum behind them that they keep going — but it's true in enough cases that just about every author on Kboards knows exactly what you're talking about when you mention it.
Permafree when Book 2 has different characters from Book 1
Even though having Book 1 free definitely helped me sell Book 2, I should point out that it wasn't as effective as I think it would have been if Book 1 had left some things unresolved and 2 had picked up with the same characters. I am writing in a series, but all of the books stand alone and feature different main characters. Outside of writing serials that follow the same heroes across the different installments, it's tough to get around this with romance-centric novels, where readers expect the hero and heroine to get together in the end. If you continue on, you're not really writing a romance anymore, not to the formula anyway.
You'll see from my numbers (below) that a relatively small number of people went on to buy Book 2 compared to the number who downloaded Book 1.
I do think more people "hoard" freebies these days, since there are just so many of them out there, and don't try them right away (or ever), but I do see a much higher buy-through ratio with my Emperor's Edge series where Book 1 is free and Book 2 continues on with the same characters.
On the plus side, because each novel stands alone with its own characters, I can experiment in the future with making different books in the series free or discounted — something that didn't make much sense with EE, since it would be confusing for new readers to start with Book 4. With this series, there would be some spoilers for someone starting in the middle (the old heroes and heroines stick around as side characters), but it's not as if there's any surprise about whether or not people are going to hook up in a romance anyway.
Okay, this post has gone on forever, so let me include the numbers, for those who like that kind of thing, and then I'll sign off on this subject for another month (I'm planning to post another update before I share the pen name with my regular readers around Christmas).
Book 1 sales and free downloads (Oct 10th to Nov 17th):
Sales at 99 cents: 89
Free downloads at Amazon to date: 14950
Book 2 borrows and sales at $3.99 (Oct 17th to Nov 17th):
Oct: 166 sales, 139 borrows
Nov: 472 sales , 544 borrows
Book 3 borrows and sales at $3.99 (Nov 15th to Nov 17th):
79 sales, 59 borrows
Book 2 sales chart on Amazon, for those who are curious about the snapshot for the month: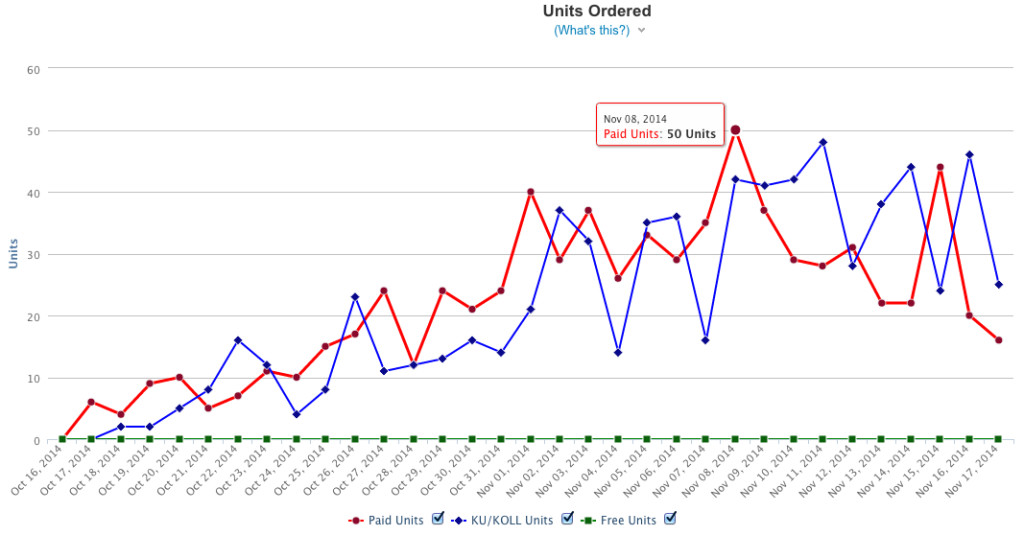 A couple of extra notes
Books 1 and 2 have 50 reviews on Amazon now (and some on Goodreads as well), which I credit to making it clear in the back of the book that review copies were available to anyone who would post a review. I'll likely take that out soon, since they have enough reviews now, but in the past, this is the kind of thing I would only put out to my mailing list. Since the pen name had two subscribers when I started, that seemed a little pointless. But I was more than happy to give away free copies to get some early reviews.
The mailing list is up to 58 subscribers (I sent out the first email on Saturday to announce Book 3).
I used my regular editor (who isn't the cheapest out there), but I did go cheap on cover art, having someone make collages with stock photos. Even so, the covers are better than a lot of them in the subcategory. (This niche is probably one of the few out there where there's still a lot of really awful cover art in the Top 100).
Closing thoughts
Overall, I think the pen name is off to a nice start. As I've been saying, it's not a very popular genre, but there's something to be said for the big-fish-small-pond tactic. There will doubtlessly be indies who start in 2015 and rock it by publishing in a big, popular genre, but I'm positive it's easier to get noticed today if you can find a subcategory that you want to write in and that has some readers but that isn't super competitive. (The Big 5 publisher presence is entirely non-existent in my subcategory, presumably because they don't think it represents a big enough market to bother with.) I would guess that if my pen name established herself here, then later moved into a more popular category that was closely related to this one (so readers would cross over), she would find it much easier to get the sales necessary to rank there.
I'm going to stop talking about myself in third person now. Thanks for reading this beastly long post. Good luck with your own endeavors!