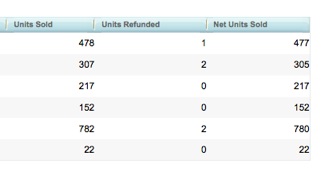 When I first started selling ebooks on Amazon, I don't remember noticing a "refunds" column. Then, as I started selling more books, a number appeared there. What? Someone returned one of my ebooks? How could they?
Actually, I just shrugged it off, but I've seen forum posts by indie authors asking what it means and if they should be worried.
The quick answer is probably not, but I'll add a caveat at the end, so keep reading.
First off, speaking as someone who owns a Kindle, it's very easy to buy ebooks (one-click) straight from your device. The Kindle also promptly asks you if it was a mistake and you want to return the ebook. My guess, based on the fact that my returns usually pop up simultaneously with corresponding new sales, is this is what happens most of the time.
It's also possible for someone to write to Amazon and request a no-questions-asked refund (I believe you have 7 days). I did this once when the story took a steep downhill turn after the sample chapters and was much shorter than the product description implied (novella when I'd expected a novel). If it hadn't been on the pricier side, I wouldn't have bothered, but I felt a little betrayed. (In case you're curious, this was a small press ebook, not one published by an independent author.)
Given how easy it is to return ebooks at Amazon, I'm surprised I don't get more returns. It's a lot less hassle than sending back a physical book.
So, to answer the original question (should you be worried about returns?), probably not. It'll happen. If you have a high return rate, though, it may mean there's something worth addressing.
Here are a few things to check:
If your ebook is not novel length, is that clear upfront? For short stories and novellas, it's worth mentioning the word count and the corresponding paperback page count (assume about 250 words per page) because word count won't necessarily mean anything to someone who's not a writer.
Does the product description match up well with the story people get? If it's described as an action-packed adventure, is there plenty of action throughout? If there are lots of explicit sex scenes, is it clear from the blurb that things will get hot and heavy?
Did you have a professional proofread for you? If you couldn't afford it in the beginning, consider investing in this once you're selling enough copies to cover the expense.
Is the formatting a nightmare? If you uploaded a Word file and let Amazon handle the conversion automatically, it might very well be.
If you've returned ebooks for other reasons, please let us know in the comments.