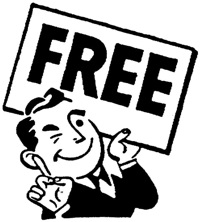 Okay, before some random Twitter person pops in and tears into me for suggesting something as blasphemous as giving away work for free, let me start out saying I'm not necessarily advocating giving away novels (short stories can work just fine) nor am I suggesting this strategy if you only have one ebook out there.
That said, you may want to try giving away a freebie if you're trying to jump start sales. Here are a few arguments for why:
1. More People Will Find and Try Your Work
Free is a way to get noticed when the other methods you're trying aren't panning out (at least not to the extent you wish). Lots of folks troll through the free ebook areas at Barnes & Noble, Smashwords, and Kindle.
Granted, some people collect wheelbarrows full and don't read half of them. Others may enjoy the freebie but aren't willing to pay for further works by the author. But for some readers, people who may be a part of your target audience, it's a way for them to find you and try you with no financial risk involved.
At Amazon, the Top 100 Free in the various sub-genres is still relatively unpopulated, so this is a way to get noticed. I hope to have a freebie in the Kindle store eventually (it's rather recent that indies have been able to get a free ebook listed over there: read this post on how to maybe possible make it happen).
2. A Free Ebook Can Be a Gateway to Further Sales
In the first month and a half my ebooks were listed at Barnes & Noble, I sold about five copies. Impressive, huh? After my free short story, Ice Cracker II, made its way to B&N, I started selling ebooks there. Oh, it wasn't a quick ride to a bestseller list, but I started selling about 10 novels a day there (five months later, it's dropped to 4-5, which is somewhat negligible compared to Amazon sales, but that's still better than where I started, and it might be an argument for putting out a free short story once a quarter or so).
I believe short stories work best if they're closely related to your other work. In my case, Ice Cracker II features the same characters as are in my Emperor's Edge ebooks, and I included an excerpt to the first novel at the end.
3. Possible Publicity on "Cheap Reads" Blogs
The increasing popularity of the e-reader has birthed a slew of new blogs aimed at helping folks find bargain ebooks. The first week I released Flash Gold, my 99-cent steampunk novella, I posted a coupon code to the MobileRead forum, letting folks know they could grab it for free through Sunday. On Sunday morning, a popular blog published a post with the cover art, blurb, link, and coupon, and about 300 folks ended up downloading it that day.
That was a bit of luck, of course, but I had it happen another time too with a different free-with-a-coupon ebook and a different blog (the story was also picked up via MobileRead). Quite a few of these blogs have forms or email addresses, so you can always try submitting your deal to them as well.
4. Free Doesn't Have to Be Forever
The fun thing about being an indie author and publishing your work digitally is that it's easy to fiddle with price. Try making a book free for a couple of months, and if it doesn't work out, raise the price. Or keep the price as is and use Smashwords to give away 100%-off coupons.
5. The Math May Work out Better Than You Realize
A lot of authors balk at the idea of working hard and then giving away their work for free, and I can't tell you how many times I've seen calculations figuring the (always abyssal) hourly wage if a book is sold at 99 cents or whatever it is. (These calculations rarely factor in more than a year's worth of sales, but I digress….)
Instead of thinking of this one ebook that you're not going to make anything from, consider the money you're making from your body of work as a whole. If, by giving away this ebook for free, you increase the sales of the rest of your ebooks beyond what you might have made by charging for your free one, then you come out ahead.
In my case, Ice Cracker II was simply sitting around on my hard drive. I'd originally submitted it to an anthology, but it didn't get chosen, so it was hanging out, collecting virtual dust, and making me…nothing. Now it's helping me sell copies of my novels at Smashwords and B&N.
Okay, there are my five arguments for giving away freebies. Do you agree? Disagree? Have more to add? Let's here it!