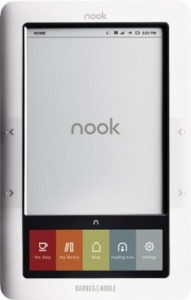 I hear a lot of independent authors say that their ebook sales at Barnes & Noble, Smashwords, iTunes, etc. are practically non-existent when compared to their Amazon sales. A lot of folks seem to have enrolled in KDP Select (which requires 90 days of exclusivity with Amazon), because it might give them a boost at Amazon, and, hey, they hardly sell any ebooks elsewhere anyway, right?
If you're happy in KDP Select and don't care that Amazon is your only source of revenue, then that's fine, but this post is for authors who get nervous at the idea of having all of their eggs in one basket and/or would like to expand their reach and have fans from all over.
Before I get further into this post, I do want to remind you that Amazon is the biggest online bookstore out there, and you'll probably always sell more ebooks there (though I've come across exceptions who sell extremely well in iTunes, for example, and aren't that hot at Amazon). For myself, I earn $X,XXX a month at Amazon and $XXX at iTunes, Smashwords, and Barnes & Noble, with B&N being my second best earner overall.
So, how do you get on the radar in those places? I'm glad you asked…
The Free Ebook
I know not everyone is keen to give an entire novel away for free (and, honestly, there's not much point, insofar as marketing goes, unless you have more out in the series, so the reader can go on to purchase those after enjoying the first), so before I jump into this, let me point out that you can make a short story into a free ebook. I'm a fan of using characters from your novel(s), so that the story works as a teaser to get folks into your world.
But I digress. Let's talk about why this works.
Right now, thanks to KDP Select, there are a gazillion free ebooks at Amazon at any given time. It used to be easy to stand out over there if you had a freebie, because there weren't that many of them, but it's harder now. This isn't as much the case in these other stores.
The main (perhaps only?) way to get a free ebook into these stores is to upload it to Smashwords, make it free there, and distribute it to the partner stores (iTunes and B&N being the most prominent). Because of the lag time (it can be hard to make an ebook free for a short time, for a "sale"), some authors just aren't willing to go the free route.
Once I made my first novel free a few months ago, my iTunes sales and B&N sales grew a lot more pronounced. As I've mentioned elsewhere, by giving Book 1 away for free, I'm making more overall, because of the increased sales of the second and third novels in the series.
The Prominently Displayed Links
I've done lots of posts talking about how to use your blog to sell more books. Once you start getting visitors to your site, you'll want to make sure it's easy for them to find your books and give them a try. You'll notice the cover art for my Book 1s (along with links to excerpts and bookstore sales pages) are prominently displayed on the side bar of every page of my site. I don't want people to have to hunt around to give my stories a try. The whole reason this blog is here is to sell my books!
I've noticed that a lot of authors only include links to Amazon on their sites, and similarly they focus their social media efforts on directing people to Amazon. You can't do that and then wonder why you don't sell anywhere else!
I try to include links to Amazon, B&N, and Smashwords at the least (and I'm starting to work in the iTunes links as well). Even though Smashwords isn't a big store, it's a great option for your international readers (no hidden taxes), and the fact that it offers every single file format out there is another plus. I've had people send me fan mail and mention that they read the pdfs of my books on their computer screens. Yes, one can do that with the free Kindle app, too, but not everyone is aware of it or would use it if they knew about it. I know it's hard to imagine, but some people just aren't interested in shopping at Amazon!
You might also try some campaigns to target these smaller stores specifically. It's a great time to do so because a lot of indies have pulled their books out of Smashwords, B&N, etc. due to the exclusivity clause in KDP Select, meaning you have that many fewer competitors in those markets.
As an example, I first started selling books at Barnes & Noble last year when I tinkered with a Goodreads advertising campaign. I made some ads that specifically targeted Nook owners and sent them to my book's sales page at B&N.
Taking Advantage of Smashwords Sales and Specials
A couple of times a year, Smashwords does big weekly sales to encourage people to try new authors. You can easily participate simply by checking a couple of boxes. I gave away over 200 copies of Encrypted last week, and sales of my non-free ebooks have been up ever since. I did a couple of tweets about the freebie, but most of those downloads came from folks Smashwords was pulling in via their marketing efforts (they were plugging their sale all over the 'net).
In other words, I didn't do anything except enroll my ebook, and I got new readers (and sales) out of the deal.
It pays to be aware of these types of opportunities. At Smashwords, you can also use their coupon generator to give away free or discount copies (for those who don't want to simply make a book free indefinitely). This can be a good way to monitor where book sales come from, since you can see when coupons are redeemed.
Those are three methods I've used to increase my sales at other stores. If you want to recommend any others, or share your experiences with smaller venues, let us know in the comments.