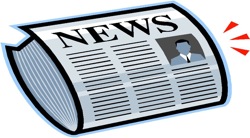 I've had a couple of comments left in the bowels of the blog of late that lead me to think that I should say more about newsletters than, "You should have one." Okay, my article on How to Start a Newsletter (and why every author should) covers a little more than that, but there are still questions afoot. So, let me see if I can answer a few questions and comments today. We'll call this the email-marketing-for-authors FAQ.
My book just came out, and I want to email everyone I know, so that they'll buy it. Should I?
My answer here is going to depend on who "everyone" you know is. Is it 20 or 30 friends and family members that you email on a regular basis? If so, sure, send them a note in case they're interested in checking out your book, and you might even ask them to forward the message on to people they know who read in that genre.
If "everyone" you know is everyone you just happen to have an email address for, including the 500 people who work in your building, the 745 Facebook friends that you've never talked to, and basically everyone you've ever hit reply to in an email over the last five years, then my answer is no, leave these people alone. They don't have a real relationship with you and probably don't give a rat's petootie about your new book. They might regard your random email as spam. Nobody likes to get spam. If you bug them more than once, they may mulishly decide they'll never try your book (even if they might have been interested by it if they'd chanced upon it on Amazon).
If you want to engage in email marketing (and there are all sorts of benefits of maintaining a mailing list with your fans' addresses, the main one being that you can send them a note and let them know when you have a new release out), then you need to start a newsletter.
What exactly do you mean by "newsletter"?
A lot of people seem to think I mean blog-rss-subscription-by-email when I say newsletter (i.e. people fill out a field on your blog and your posts are automatically delivered to their inbox). It's fine to have this on your site, but this isn't what I mean. There will be times when you want to email fans directly, and your messages might be for their eyes only (hey, they've signed up to be in your inner circle, so it makes sense to give them some special insider stuff).
For example, last month when I released my short story, The Assassin's Curse, I put it up for 99 cents in the various stores, but I sent a Smashwords coupon to my newsletter subscribers, so they could get it for free if they were interested. A lot of people chose to buy it anyway, to support me as an author, but I've definitely had emails from people who mention that money is tight and that they appreciate how affordable my ebooks are, so it's nice to be able to give away freebies or coupons now and then. Of course, I can't give every book away free, but I figure it's good karma to be generous when possible. After all, the folks who sign up for your newsletter are going to be some of your biggest fans, the types of people who tell other people that they have to try your books.
But, I digress… Back to the what-is-a-real-newsletter question.
When I talk of newsletters, I'm talking about a separate mailing list where your readers must "opt in" (choose to sign up of their own accord) in order to belong to it. They are agreeing to receive periodic newsletters from you, and they have the option to unsubscribe at any time. Every email you send should have an unsubscribe link at the bottom (if you join Aweber, Mailchimp, or another of the mailing-list services out there, this will automatically be included in your footers).
Anything else (like you signing people up just because they emailed you once or they commented on your blog) isn't proper web etiquette and may even be illegal (I'm too lazy to go look up the details of the CAN-SPAM Act, but either way you don't want to do anything that people could construe as harassment or an irritation).
When you make the leap from writer to published author, you also make the leap from artist to entrepreneur. If you're trying to sell something, you'll want to obey all of the rules and etiquette that good businesses follow. The last thing you want to do is alienate potential readers by coming across as a spamming pest.
What you can do is, when responding to reader emails, mention that you have a newsletter they might be interested in signing up for and include a link to that page on your site.
Where can I get a newsletter?
I use Aweber, but it's mainly because I signed up with them years ago, when I ran several mailing lists for my various websites. I've been happy with them, but I don't generally recommend that service to authors, because of the cost. They charge about $55 a quarter, and most authors won't need all of the bells and whistles that come with the service (such as the ability to host multiple lists, run auto-responders, and a lot of fancy stats analysis such as click tracking). An exception would be if an author was very popular and saw themselves quickly racking up thousands of newsletter subscribers. (The free services I'm going to mention are only free to a point — after one- or two-thousand subscribers, for example, you have to start paying, and at that point they may become more expensive than Aweber).
Free-to-a-certain-point:
I haven't tried either of these, but I've heard from authors who have, and they seem to be happy. The people I know have small lists and haven't had to worry about going over the subscriber limit yet.
Why I'm sticking with Aweber
Even though Aweber is pricier when you're starting out (they don't have a free trial or free-to-a-point option), I expect to break into the thousands of newsletter subscribers before long (I have about 700 now, and I just started plugging the email list in August — I'm also planning a site re-design where the sign-up form will be more prominent). So, I'd end up paying sooner or later anyway.
Another option?
If you pay for your own web hosting, you might have a mailing list software already installed and accessible from your control panel. I've heard of WordPress plug-ins that you can use in conjunction with a list based on your own server. I'm not sure what kinds of features you might have with this option, as I've never checked into it for myself, but if you're the techy type (or know someone who is) it may be worth looking into.
After my newsletter is set up, how do I get people to sign up for it?
The big thing is to let your readers know about it. I was slow to do this myself, but my subscriptions picked up when I started mentioning my newsletter at the ends of my ebooks. These days, in my afterword, I usually mention my website, Twitter, and Facebook links, and also that I have a newsletter that people can check out if they want to be notified when I have new releases, contests, giveaways, etc.
Some people want to jump-start their newsletter-subscriber numbers by hosting contests on their blogs, i.e. everyone who signs up for my newsletter will be entered for a chance to win an Amazon gift certificate! I, uh, possibly did that myself. 😛
The problem with that approach, though, is that you get people signing up who aren't necessarily fans of your work. They'll just unsubscribe later on.
The only people you really want to sign on are those who have read your stories and want more of your work. As I mentioned, the best way to get those people is by mentioning your newsletter at the end of the book. I know, I know, if you're only selling a few books a week, this can feel like a tediously slow way to increase one's fan-base.
My suggestion? Give some short stories away for free (if you have a series of novels out, you might even try giving the first book away for free — you've all seen that I've had my first Emperor's Edge book available for free for a couple of months and it's helped with newsletter sign-ups and sales of subsequent books in the series). You'll get more people checking out your work that way, and, if they like it, they'll come to your site and sign up for your list.
Sneaky internet marketers' tactic to encourage signups:
When I spoke of free ebooks, I meant to get them out there in the Kindle, B&N, iTunes, etc. stores where lots of people will find them, but you can also use free as an incentive to get readers to sign up for your newsletter. If you stumble across some business's website, you'll probably be hit with a pop-up box that says something like, "Sign up for our newsletter and get our free ebook on 7 Ways to Melt Away Your Bellyfat Now!" Believe it or not, that stuff works. And you can use the tactic too (sans the annoying pop-up box, please).
Let's say someone is a fan of your work, and isn't that big on signing up for newsletters, but they do visit your blog now and then. You could try giving away an exclusive short story, cut scene, or character interview as a way to entice them to sign up. If your freebie isn't available anywhere else, then they might be a little more tempted to sign up. (Again, this is going to work best with people who are already readers, so do your best to get your work out there in a lot of places where people can try it, maybe for free.) With a mailing list service, you can set up your first email message so that the free tidbit is included in the body of the email; that way people will get it right away and you don't have to do anything manually.
I have to admit that I haven't really used that tactic yet myself, but I did do a blog post last month, when I was showing off the cover art for that short story, and I mentioned that I'd be giving away free copies to people on my list. As you might guess, I had quite a few extra signups that week.
Okay, that's enough for one post (more than enough!). I'll continue this soon in "Advanced Newsletter Tactics for Authors" so stick around, and let me know if you have any questions you'd like to see covered.