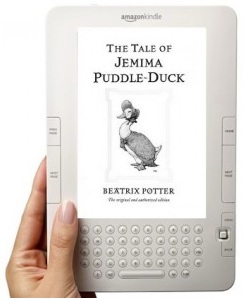 Since my first ebook was a collection of short stories for middle grade readers, I like to keep up with the children's ebook market. While you're still a lot more likely to find e-readers in the hands of adults than in children, more and more kids are gaining access to iPads, Nooks, and Kindles. That means a growing market for electronically available children's books.
If you're penning ebooks for kids, you just have to help those young readers find your work. I know that's easier said than done, but there's at least one new spot where you can submit your stories for promotion:
Daily Cheap Reads Junior is an offshoot of the popular Daily Cheap Reads blog, and it is dedicated to showcasing stories for children, tweens, and teens.
"Junior Edition books are in three age categories: children, tweens and teens. We rely on the publisher to identify the best age group for each book. We take seriously the responsibility of making sure you have good reading material, so we will try to filter everything that goes on the site so that it is appropriate. If you find objectionable material, please let us know.

We post book reports on books that we have read, so you can check out what we think and see if you might be interested in reading that book too. In the Old School section, we feature classic books that have stood the test of time, as well as books that our site readers enjoyed in their childhood.
While the blog predominantly features traditionally published ebooks, they are open to sharing finds from indie authors. A review of my "Goblin Brothers" stories will appear there later this week.
All ebooks must be $5 or less to be considered.
You can reach Paula, the blogger, at jrdailycheapreads AT gmail.com. She says, "I will respond, but sometimes it takes a while as I get about 25 e-mails a day.  And with a full-time job and the sites, I don't have much excess time!"