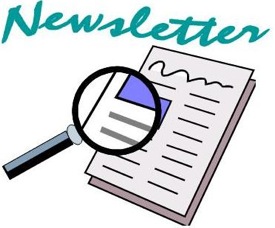 Your books are published, you're building a social media presence, and you've got an official author website and/or blog. You're rocking it! But…do you have a newsletter?
I know what you're thinking:
What? More book promotion I have to do? When will I have time to write the next book??
But keep reading. It's worth starting a newsletter, and it needn't be a big time investment.
First off, what is a newsletter exactly?
Glad you asked. A newsletter is when you add a form to your website (or blog) where visitors can sign up (opt in), thus agreeing to receive periodic email messages from you. Their names and email addresses are compiled into a mailing list, and you can then "broadcast" a message to your entire list at once.
What you write in those newsletters is up to you. If you're an author, the people who sign up are going to be fans, probably fans who've read many of your books and enjoyed them enough to hunt down your website and give you their email addresses.
Think of your newsletter subscribers as your inner circle. What cool things can you do to reward them for being fans?
At the very least, you can let them be among the first to know when you have a new book coming out. Maybe you can even give them coupons for discounts or let them take advantage of a low initial ebook price (i.e. you might sell your novel at $2.99 for the first couple of weeks before raising the price to $4.99).
I haven't had my newsletter going for very long, but I've been trying to send out a note once a month. If I'm releasing a new ebook that month, the subject of the email is a no-brainer. In June, I released Dark Currents and sent my subscribers a Smashwords coupon to download it for free (a lot of them bought it at Amazon or Barnes & Noble anyway). This was nice for them, and it also helped me get some early reviews of the book.
I've also given away other people's ebooks for free (in July, I asked a couple of other indie fantasy authors to give me Smashwords coupons — a way to help promote their books to my readers — and I sent those out to my subscribers). In September, I'm planning to do a giveaway, since I should have paperbacks of The Emperor's Edge and Dark Currents ready to go by then. I can't wait to sign some copies and send them off to folks.
What's in it for you?
Okay, you're thinking, you could start a newsletter, and you could give things away, but why? How is that helping you sell books if you're just writing to people who are already fans?
First off, as I mentioned, a newsletter is a way to let your core fans know when you have a new book out. More than that, having the emails of hundreds of readers can give you the power to get a bunch of people buying your new releases at once.
Authors more popular than I am (hey, maybe I'll be there someday!) have used their newsletter subscribers to shoot their latest books to the tops of the bestseller lists at Amazon. This gets their books noticed by lots of other people (who aren't newsletter subscribers and just happen to browse the bestseller charts, looking for new books to try). I've heard it's nice up there at the top of those lists. 😉
Sending newsletters out to your fans is also a way to keep your name in their minds, something that can be especially useful if you're not the most prolific writer. They'll probably be more likely to recommend your books to friends if you're able to stay on their radar. Otherwise, they might forget all about you in the interim between publications. And if they forget about you, they won't remember to keep an eye out for future books from you.
Always remember, it's easier to sell to an existing fan than to convince a new reader to try your work.
I'll cover how to start a newsletter in a future post. In the meantime, please let us know if you've started one of your own or if you're planning to soon.