Fun Fan Stuff
Chat with other readers in The Emperor's Edge Discussion Forum.
If you're inspired to draw, write, or create anything based on my stories, let me know, and I'll link to it from this page.
Thanks!
In the gallery so far:
Emperor's Edge 8 Page Setting — Mathew Creech put together an RPG game setting based on the EE world. Thanks, Matthew!
Anke (who I'm pretty sure was my first ever German reader) made an Emperor's Edge TV Tropes page, so check it out if you like that site.
Darke Conteur did a reading of the first section of Flash Gold and posted the video on YouTube:
Fan Art:
A steam wagon and other Emperor's Edge World goodies by Wulfbyrnan: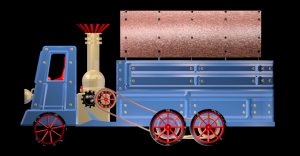 Comments (24)