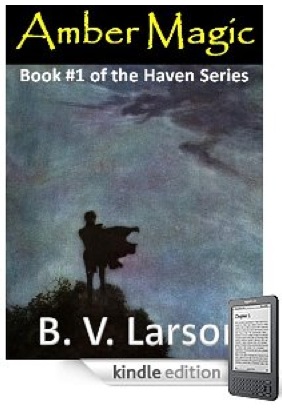 Quite a few folks find this blog searching for information on how much money indie authors are making e-publishing. Is it possible to make a living? Which genres sell best?
I've addressed some of these questions in previous posts, so today's post is all about inspiration. You can make money as an indie, and you can even make a lot.
Today we're looking at indie fantasy authors Brian S. Pratt, BV Larson, and David Dalglish. I don't know any of these fellows personally, but from their sales rankings and their various blog posts and interviews, it's clear they're earning enough to make a living from their e-publishing careers (sometimes a very good living!). And the fact that they write high fantasy and science fiction shows that you don't have to stick to popular genres.
Brian S. Pratt
Mr. Pratt is the author of almost 20 high fantasy novels, with his most popular series being The Morcyth Saga. The first ebook in the series is free, but then he bucks the how-low-can-we-go $0.99-$2.99 trend by charging $5.95 for subsequent novels.
Check out his interview at Smashwords for an inspiring read. Mr. Pratt admits that he faced a lot of rejections from agents before going it on his own. He probably doesn't mind those rejections now:
Pratt began publishing with Smashwords in early 2009. His first quarterly royalty payment was $7.82. While most authors would find that number discouraging, Pratt was encouraged. It was a start.
In the quarters since, Pratt's earnings have grown, and in recent quarters he's become a veritable breakout success. Last quarter, he earned over $18,000 from sales across the Smashwords retail distribution network. This quarter, with three weeks to go, he's on track to break $25,000. He's on track to earn over $100,000 in 2011 at Smashwords, and up to $200,000 total when he includes his projected Amazon sales.
BV Larson
I first learned of BV Larson through a guest post he did on JA Konrath's popular publishing blog.
He writes science fiction and fantasy novels, and in less than a year he's gone from a brand new ebook author to a popular one making thousands of dollars a month.
I'd been successful in non-fiction (have a textbook series), but I'd never managed more than a few pro short story sales in fiction. I've actually had three agents and many "rewrite this" and "almosts" with editors.
When I started ebooking I'd never laid eyes on a Kindle, but by the end of May I had two books up and 7 big sales. Things grew rapidly from there, and over the last six months I've had over 100,000 PAID ebook sales, including 26,000 in December and 38,000 in January. Most of these sales were for $2.99.
I did it all without a fan-base or a web-presence. I had nothing going for me other than determination, a pile of unsold manuscripts and a willingness to adapt.
If you want to take a look at his fantasy, his first ebook is only 99 cents: Amber Magic (Book #1 of the Haven Series). His first science fiction ebook, Mech (Imperium Series), hovers around 1,000 sales rank in the Kindle Store.
David Dalglish
Mr. Dalglish is a frequent poster on the Kindle Boards and has an interesting interview up at the Fantasy Book Critic. He writes high fantasy that reminds me of the Forgotten Realms and DragonLance books I devoured as a kid (the sort of things agents turn their noses up at today).
Mr. Dalglish has slowly built up a number of ebooks and his earnings have grown tremendously in the last eight months or so. According to a fascinating article comparing earnings of self-published vs. traditionally published mid-list authors, he was making $800 in August of 2010, and it's stepped up every month until he made just shy of $12,000 in February 2011.
His first ebook is 99 cents if you want to give it a try: The Weight of Blood (The Half-Orcs, Book 1).
There you have it: three fantasy/science fiction authors not only succeeding but making it big!
In case you're wondering what all these authors have in common, they all have a lot of ebooks out, so those of us aspiring to riches (or maybe just a reasonable income) better get writing!