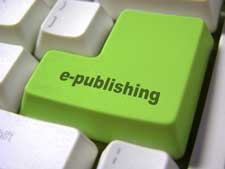 There are a few e-publishing questions that lead folks to my blog over and over, so I thought I'd do a post today trying to answer some of the most common ones.
Do people make money e-publishing? How much can ebook authors make?
Yes, lots of people are making money. As to how much, it's like being an entrepreneur in any sort of business. Some folks make nothing while others make a living at this.
There's at least one Kindle millionaire out there, and others are making six figures annually e-publishing. Some traditionally published authors are turning away from publishing houses, because they've found they can make more money by keeping the rights to everything and e-publishing.
Naturally, these are rare cases, but there are lots of up-and-comers selling 100 to 1,000 ebooks a month, and if those ebooks are priced at $2.99 or above, the authors will keep roughly 70% of the earnings.
I printed my first two novels in December and January, I don't write in a popular genre (high fantasy, what?), and I've yet to make a bestseller list anywhere, but folks are buying about 300 of my ebooks a month right now, mostly the novels, which are priced at $2.99, and I think that's a respectable start. Of course, I hope to sell more in the future, as I release more books and continue to work on promotion!
By the way, if your primary goal is to make money, non-fiction is easier to sell than fiction. The examples I linked to above are about authors doing well writing stories, but if facts tickle your fancy, check out this interview with Kate Harper, who writes reports or "booklets" for the Kindle and does well.
How much does it cost to publish an ebook?
Technically, you can put together an ebook and e-publish it for free. If you can afford it, you'll probably want to pay for a freelance editor to look over it (for something novel-length, expect to pay a few hundred dollars for this) and for someone to design cover art ($200-$400) though. You can also hire someone to do the formatting ($50-$90) if you don't have the patience to learn that.
That said, there are lots of folks who are making good money now who started out doing the best they could on their own and just getting those puppies online! With ebooks, you can always go back and upload new cover art or a new version of the text later on.
Where can I publish my ebook?
Everybody knows about the Kindle and the Amazon marketplace, but you're short-changing yourself if that's the only place you have your ebooks listed. The more places your work is available, the more chances there are for folks to stumble across it and buy it. About half of my sales come from Amazon. The rest are from Barnes & Noble, Smashwords, iTunes, Borders, and the Sony Reader Store. (Through Smashwords, you can get free ISBNs and get into iTunes, Borders, etc.)
Here are the links for the various places (none charge anything to upload ebooks):
How do you format your manuscript for the Kindle or other ebook readers?
Please read my post, Help with Ebook Formatting, for links to web guides and ebooks that can walk you through this.
Can you explain the Amazon Sales Ranking System? If a book is ranked X, how many copies a day is it selling?
Please refer to this excellent guest post for tons of information on How Amazon Sales Rank Works.
Which genres sell the best for the Kindle and other e-readers?
A fellow indie, Derek J. Canyon pulled a lot of data from successful authors (those selling more than 1,000 copies a month) over at the Kindleboards and put together a nice graph answering this question.
The top four genres were romance, paranormal, thriller, and mystery. Here's more information and a post that links to his research.
How can I sell more ebooks?
This is the question we all want an answer to! Here are a few posts that explain what's worked for me and for some of the folks I've interviewed who are doing well:
Those are the top questions I get. Are there any others you'd like to see answered here?