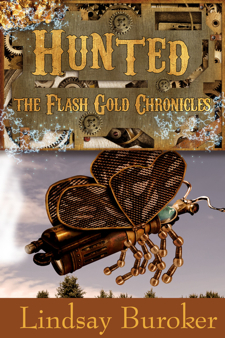 As we've talked about before (How Well Does Short Fiction Sell in Ebook Form? and Novellas and Short Stories — Ebooks Not Just for Novels), there are no rules when it comes to word count on ebooks. I enjoy writing novel-length fiction, but those 100,000-word beasts do take a while to pen. It's nice to whip out a short story or a novella here and there, both because it makes you feel terribly productive by releasing ebooks more often and also because it gives you a break from your main projects.
I started my Flash Gold Chronicles, a series of steampunk novellas, for those reasons. One thing I've wondered about is pricing. With novels, there are a lot of them out there in any and every genre, so it's easy to get an idea for a baseline price. We're seeing more and more short stories, too, and those often go for 99 cents — the lowest price you can set an ebook at without making it free. With novellas (defined on Wikipedia as being between 17,500 and 40,000 words in length), there are fewer examples in the Kindle Store and elsewhere.
Long-time author, Dean Wesley Smith, suggests the following pricing scheme for ebooks:
Short stories. 99 cents. Author gets about 35 cents per sale.

Short novels and short collections (Anything from 15,000 words to 45,000 words) $2.99. Author gets around 65% or about $1.95 per sale.

Novels or long collections (45,000 words and up) $4.99-$5.99 range. Author gets around 65% or about $3.25-$4.50 per sale.
This seems like a good guideline to me, especially for short stories and novels, though the ebook-buyer in me wonders if $2.99 is a little high for something in the 15,000-20,000-word range. Most folks can zip through a story that length in about an hour. Also, if they can get a whole novel (my novels are all over 100,000 words) for $5, then isn't $3 on the steep side for something 1/5th of that length?
Perhaps $1.99 would be a more fair price point, but herein lies the dilemma for e-publishers:
At price points of $2.98 and below, you only receive a 35% royalty from stores such as Amazon and Barnes & Noble (Smashwords offers a higher royalty for any price point, but their marketplace sees a fraction of the traffic of Amazon, and many authors have low to non-existent sales there). So, on a $1.99 ebook, you'd only get about 70 cents whereas charging a dollar more lets you get well over a dollar more on your cut.
Receiving 35 cents for a 6,000-word short story doesn't seem too shabby because it probably didn't take that long to write, but with a 20,000-word novella, you're getting into different territory. There are more words to write, more words to pay an editor to proofread, and a more intricate story to work out overall.
I've been doing some mulling of late on the prices for my Flash Gold novellas, and I'm planning to test things a little when I release the third one in a few weeks.
Testing price points for novellas
Here's what I'm doing right now with my Flash Gold Chronicles:
Flash Gold (18,000 words) — 99 cents
Hunted (27,000 words) — 1.49
Peacemaker (38-40,000 words) — to be determined
Because Flash Gold is on the short end for a novella, I don't think 99 cents is too low. I really think of it as more of a short story (a long short story if you will). I based the price of Hunted on the 99-cent price of Flash Gold, figuring it had roughly 1/3rd more words, so I'd charge 1/3rd more. It makes sense, but at the same time 50 cents per sale seems kind of weak when a $2.99 price point would bring in $2. Would people pay that much more for a story of that length though? That's the question, and I haven't yet tested it out.
I think I'm going to play it safe and try the $2.99 price on Peacemaker, since it's even longer than the other two, almost novel-length in its own right, at least according to Wikipedia. I plan on raising the price on Hunted to $1.99, mostly so it'll make the jump to $2.99 seem less drastic to readers.
Proposed future price points:
Flash Gold — 99 cents
Hunted — 1.99
Peacemaker 2.99
I'll make the price adjustments when I release Peacemaker (so, if you've been thinking of buying Hunted, now would be the time to do it! :D).
In the end, we just have to test things and see what the market will bear. For an established author, with a fan base built up, $2.99 may work just fine for a 20,000-word novella. For a new author, without any sort of fan base built up, getting $2.99 for an entire novel can be a challenge.
Earning more for short stories and novellas while keeping prices low
You and I may find that we simply can't get people to buy short works at $2.99 a pop. Or, maybe we can sell some, but sales are so much lower that it's not worth it overall to charge more. Here's an option for us:
Bundling short stories and/or novellas to create an omnibus.
Soon after I release Peacemaker, I'm planning to publish the Flash Gold Chronicles I-III in a single ebook volume, probably for $3.95 or so. This would be a good deal for readers who want to simply grab all three at once (it'll be cheaper for them to buy all of the stories in one ebook, and the combined word count will equal that of a full-length fantasy novel), and it'll be a good deal for me because the higher royalty rate on a $4 ebook will mean I'm making about $2.70 per sale. Compare that to 35 cents on Book 1 plus 50 cents on Book 2 plus 50-70 cents on Book 3 (if I find I have to price that at $1.99 instead of $2.99 to make sales).
Ah, who knew writing involved so much math?
I'll write another post later on with details on how the pricing experiment and the novella-omnibus goes. In the meantime, authors, what are your thoughts on pricing for short stories and novellas? Are you following Mr. Smith's guidelines or doing something else? Readers, what are you willing to pay for ebooks of those lengths?