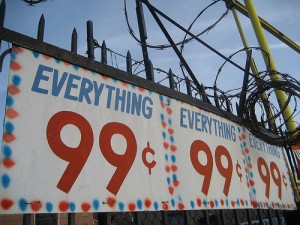 A lot of new independent authors will e-publish their first novels and set the price to 99 cents, thinking that's where they have to be because they're unknown authors. Then they'll go out and promote the heck out of their books (spending hours on blog tours, forum posts, Facebook, Twitter, etc.), all in an effort to sell copies of that single 99-cent title.
The problem?
If you're selling your ebook for 99 cents, you're only making 35 cents per sale. Nobody ever said being an author was the road to riches, but that's an awfully poor return on a novel that probably took you six months to a year or more to write, edit, and publish. What's worse is that, with only one ebook out, you can't make more than 35 cents per customer (more on why that's a problem below).
This is why, if you ask me, I won't recommend the 99-cent price tag for authors with one book out (short stories or short novellas, being a possible exception).
Wait, you're thinking, isn't my first ebook currently free? Isn't it a 105,000-word, full-length fantasy novel that's less than 99 cents at Amazon, Barnes & Noble, Itunes, and Smashwords? (Yes, I can work plugs for my stuff into any blog post! 😉 ) And didn't take it take me a year to write that puppy? (Actually, it was more like seven years in the making, but that's another story.)
The answer is yes, I have a free novel out there, and there was a time when I had that novel priced at 99 cents too. The difference is that I have books 2 and 3 (with 4 coming this spring) in the series out as well, and those are $4.95. I've tinkered with the price on Book 1, and I'm finding that, right now, I make more overall by giving that novel away for free, because more people try the series and go on to buy the following books.
But, if you only have one book out, then it might not make sense to sell it for 99 cents — or less. The problem with 99 cents is you have to sell six times as many copies as you do at $2.99 to make the same amount of money.
You're welcome to test things (I encourage it, in fact), but if you're not writing in a popular genre (i.e. thrillers and romance), then you may find it tough to sell enough books for it to be worth it ("worth it" is subjective, of course, but most of us want to at least break even on our editing and cover art costs in a timely manner). Even writing in a popular genre is no guarantee of success. Many people find that their sales increase at 99 cents, but not enough to be significant. They may sell 50 copies a month and think, "Hey, that's not bad" only to realize that only earns them $17 or about $200 a year. It's hard to stay excited about your writing and the promise of a writing career on such paltry earnings, and many new indies don't even sell that well. (I didn't my first month.)
Is marketing worth it if you only have one 99-cent ebook?
If you only have the one book out, there's nowhere for a new reader to go after buying your first novel. You're putting all this time into marketing and guest blogging and hand-selling books, and all you're going to get out of it is a maximum of 35 cents per customer. Ouch. Not many businesses make it on returns like that.
If you wait to go hardcore on the marketing until you have more books out (perhaps even a series, eh?), you now have the potential to make $10 or $20 per "customer," depending on how you price your books. It's still not a lot (see my earlier note on how most authors don't get rich), but the numbers start to look a little better. Maybe you're averaging $10 or $20 per hour of promotion you do, as opposed to 35 cents.
At that point, putting hours into promotional efforts begins to make more sense, especially if you start a newsletter and encourage your readers to sign up. In the business world, people talk about the "lifetime value" of a customer, and it's not so different with authors and readers. Say you've sold someone your series and made that $10 or $20, but you're working on your next series. If you have that reader on your mailing list, then you can shoot him/her a note when you have a new book out. That person may buy the new one and continue to buy your books for many years down the road. Ultimately, this means that your hour of promotional efforts can end up being worth much more than $20, but only if you have multiple books out and only if you encourage readers to sign up for your newsletter (don't assume that readers will just remember your work, because they have lots and lots of authors they follow!).
You may be thinking that you can do the newsletter thing and try to snag lifetime customers based on your one book, and that is true, but you'll probably find that it takes more than one book for readers to decide they love your work. After one book, they may decide to look for others by you, but if there's nothing else out there…well, it's asking a lot at that point for them to come to your site, read all about you, and sign up for your newsletter (that said, it's never to early to get started with that stuff).
In summary, I recommend pricing your first ebook at $2.99 or above and not worrying a whole lot about sales and marketing until you have more books out. Even if you only sell 10 ebooks a month at that price, you're making more than if you'd sold 50 at 99 cents. Then, when you have more ebooks out, you can play around with "loss leaders" (AKA pricing your first book at free or 99 cents to get more people into your world).
A short cut to getting more ebooks out there
If you've just published your first novel, and it took six months to a year (to seven years) to finish it, you may be groaning at the idea of not making much money until you have another one out. Well, I started out in the same boat. I'm envious of these new indie authors who pop in with five or ten "trunk novels" they can drop into the marketplace. But what about the rest of us?
Write some short stories to bulk up your list of titles. You can absolutely turn short stories, novelettes, and novellas into ebooks, and they don't take nearly as long as novels to write.
I've talked about this many times on here (so those of you who have heard it before can skip this paragraph), but when I published my first novel, I didn't have any of the following books in the series written. I did have a short story that featured the heroes from the novel. I uploaded the story to Smashwords as a free ebook (I didn't even think of charging since it was only 6,000 words), and I included an except to Book 1 at the end. The ebook was distributed to iTunes, Sony, and Barnes & Noble (at the time I didn't know how to get a free ebook into Amazon, or I would have done that as well), and lots of folks found it, read it, and went on to buy my first book (at the time I had my first novel priced at $2.99). How many people? It's impossible to say, but over the last year, I'd guess that 500 to 1,000 sales came my way because of that short story.
Do you have thoughts on free/99-cent ebooks? Let us know in the comments. Thanks!