It's become quite trendy to self-publish of late. No doubt, it's a combination of the new ease and affordability of getting one's book out and of the success stories (John Locke, Amanda Hocking, Hugh Howey, etc.), showing that people can not only use the internet to reach a broad audience but can even out-sell the big houses. If you're new to the world of self-publishing, you may wonder how much you can expect to spend for a chance to play the game (or simply get your book out where friends and family members can find it).
I'm going to talk about the primary ways to get your work out there right now (print-on-demand paperback publishing and e-publishing) and how much things costs, but I want to say up front that there are very few things you have to pay for. If you DIY it all, you can upload ebooks to Amazon, Barnes & Noble, Smashwords, etc. for free, and it's a matter of a few dollars (ordering proofs and paying for "extended distribution") to publish paperbacks through POD sites such as CreateSpace.
Be wary of all the businesses that have started up and want to charge you big dollars to self-publish (even some agents and Big 6 publishers are jumping into the newly lucrative area). Some of them will charge well over a thousand dollars, and that won't even include help with editing. There may be some people who have no interest in micromanaging the small stuff and want to simply hand their manuscripts over to a business and let them do all the work, and that's fine, but you want to make sure you're not paying a whole lot for services that are free or inexpensive. More on that later. First, let's talk about e-publishing versus paperbacks.
E-publishing and E-book Creation Costs
As I said, it doesn't cost a cent to upload your ebooks. For most stores, it's a matter of filling out a 2-3 page wizard and uploading your ebook file and cover art. Here are the places where you can upload directly:
If you don't have a Mac and/or you're not in the U.S., you can also upload your ebooks to Smashwords and use them as a distributor to get into B&N and Apple along with smaller stores that don't have dedicated self-publishing platforms (i.e. Sony and various mobile phone platforms). Smashwords is also a store in its own right and attracts a lot of international readers, in particular (they don't add VAT fees or anything else the way Amazon does).
Ebook Formatting
You'll note that I mentioned .mobi and .epub files. You need to convert your MS Word, Mac Pages, Scrivener, or other word processor file into these formats so that e-readers can display them. Many of these stores offer conversion programs that will handle this automatically (usually requiring a Word file as a starting point — sorry Mac people). However, the results can be clunkier than you'd wish. Many independent e-publishers choose to handle the formatting themselves or hire someone to do it by hand (depending on who you talk to, fees typically run from $50-$150 for full-length novels — if you have a lot of pictures, it's more work for someone and will cost more, but you shouldn't be paying heaps of money for this).
For formatting, I've worked with Ted Risk at Dellaster Design and Paul Salvette at BB Ebooks. They create much cleaner and more compact files than the conversion programs, and, yes, I've had people tell me they notice the difference (especially when reading on phones) when I've cheaped out and used a conversion program or someone who doesn't create the HTML files by hand.
If you want to save money and format your books yourself, check out Paul's extensive tutorials. He even has ebook formatting videos on YouTube.
Recap for formatting cost: $0 for DIY to $150.
Cover Art Design
Yes, even an electronic book needs a cover. These are the pictures you see in Amazon when you browse the ebook store. As much as we'd like to think otherwise, a good cover can make a huge difference in sales. A bad cover can send people running, because the amateur look screams "self-published" and not in a cool, I-love-to-support-indie-art way, but in an OMG-if-the-cover-sucks-can-you-imagine-what-the-writing-must-be-like way.
That said, there are indie authors who have done their own covers and saved themselves a lot of money. They may have spent $20 or $30 for some stock art, but everything else, they did on their own. If you have a design background (or a friend with a design background), this may certainly be a possibility.
If you really want to compete with the big boys, however, and have hopes of selling a lot of books, it may be worth hiring someone to handle your cover art, creating something with a professional look that you could easily imagine seeing in a brick-and-mortar bookstore.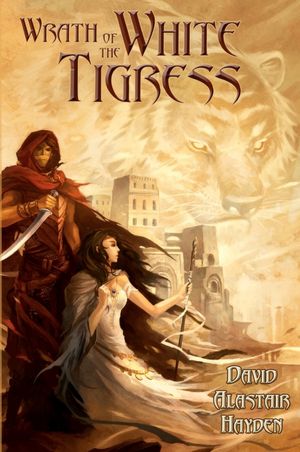 Costs can be as inexpensive as $50 for someone who's just going to use stock art and does design on the side (check the Kindleboards Yellow Pages for a list of folks) to $500-$1,000 for a custom illustration such as indie fantasy author David Alastair Hayden has for his Wrath of the White Tigress.
Do you need a custom illustration? It's up to you (the trend is going away from them, at least for ebook covers where people usually only see thumbprints of the artwork when they're browsing). Browse through the top sellers in your genre at Amazon and see what publishers are doing right now.
For most of my covers, including all the ones in my sidebar, I've used Glendon Haddix over at Streetlight Graphics. His wait-list has gotten longer of late, so you'll want to book early if you want to use him, but he's quite affordable at $200 for cover art and $300 for paperback cover design (which also comes with an ebook cover).
Cover art costs: $0 (DIY) to $1,000 (let me point out that if you go with an ebook-creation business that handles all the details, you're not going to get a custom illustration by an artist — you're probably going to get something using stock photography — so just realize that when you're deciding if their fee is worth it).
Editing Costs
I highly recommend hiring a professional to at least proof-read your manuscript. If you know grammar isn't your strong point (i.e. you don't have Strunk & White memorized and you haven't taken a writing class since high school), you'll probably want someone to copy-edit your work. If your manuscript hasn't gone through peer review in a writing workshop or other type of critiquing forum, then you may want to pay for developmental or substantive editing. I've written a blog post that goes into more depth on what these different types of editing are and how much they cost.
Honestly, substantive editing is so expensive (thousands of dollars), that, as a self-publishing author, you're probably better off finding a workshop and/or good beta readers (other writers, not friends/family) to critique your work. That's what I've done. I only pay for proof-reading, and I go through Shelley Holloway for that.
Now, do you absolutely have to pay for editing? Having seen how many typos and such slip through my work, even with beta readers and a professional editor, I cringe at the idea of putting work out there that hasn't been through that process, but if you absolutely have no money to spend on this, then, no, you don't have to pay anyone. AutoCrit (editing software) is a less expensive alternative I've heard a few authors recommend.
Cost: $0 to thousands (for deals and offers more in the couple of hundred dollar range, again check the Kindleboards Yellow Pages)
Total cost to get an ebook out there: $0 to $500 (bargain basement editing, cover art, and formatting) to a couple of thousand (professional copy editing, custom illustration, and formatting). It costs me around $1,500 to put out a new novel with the bulk of that going to my editor. I paid about $400, though, to get my first ebook out there two years ago.
Unless you have money to throw around, I think it's a good idea to start as inexpensively as possible. Once you're making money from your books, you can invest more. Now that I've published a number of books and built up a readership, I'll usually earn back my expenses in the first day or two of a release.
Okay, what about paperback self-publishing?
The first thing you want to ask is if you even want to invest in this. Most indie authors are making 95%+ of their earnings from their ebooks. It's possible to sell ebooks for less than traditional publishers; this isn't the case with print-on-demand paperbacks.
My paperbacks run between $11.99 and $12.99 and that's with making them as inexpensive as possible (meaning I don't make much from each sale). Compare this to the typical $8 mass market paperback. It's true that my books are 6×9 inches and more like a trade paperback than something you'd pick up at the grocery store, but it's still unlikely that someone is going to purchase them when they're not already fans of my work. I did a post earlier this year on whether print is worth it as a self-published author.
If you do want to hold a hot little paperback in your hands, here's how it works and what you can expect to pay:
Editing is the same as above. For cover art design, you'll need someone to do a spine and back cover as well as the front cover you use in e-publishing. This may add $50-$100 to the cost of cover art design. It's another area where some people just do it themselves.
Formatting is a little different, and I'm not that familiar with the process. Glendon Haddix (my cover guy) does my paperback formatting as well, and I believe he uses InDesign. I've heard of folks doing things themselves, though, so this is another spot where you can save money if you want to learn the ropes on your own. Overall though, this shouldn't cost more than $100 or $200 max.
As for the actual publishing, at CreateSpace (these are the guys I use) it doesn't cost anything to create a print book. They make their money when it sells. They'll even give you a free ISBN. You'll probably want to order a proof of the paperback before you send it out to the world, and that costs about $10, including shipping. You may also want to pay the $25 for extended distribution, which makes your book available in Barnes & Noble and other online stores besides Amazon.
With POD publishing, there's no option that will get you into brick-and-mortar stores unless managers specifically order your books. You can go into your local bookstores and lobby to make this happen (many sellers, especially independents, like to feature local authors). You can also work the library angle. Check out this interview I did with a librarian to see how to make that happen.
Read the fine print if you go with a book-creation business. They use the same POD companies that you'll use if you do it on your own, and it's extremely unlikely that they'll have a package that will get you into brick-and-mortar stores either. Most small presses don't even get books into those stores. And you know what? It's not a big deal. So much book buying happens online these days that this is the way to promote. I recommend focusing on e-publishing and only worrying about paperbacks if you get to the point where people are asking for signed copies (and are willing to pay for them) or if you want to "just because" and have the extra couple hundred to spend on the process.
Are self-publishing services ever worth it?
I know some people simply want to hand a Word file over to someone else and let them take care of things (I know this because people have emailed me and asked if I do this — the answer is, heck no, it's enough work just handling all of my novels!). Since I've overseen everything myself since Day 1, I can't speak from personal experience, but I have seen BookBaby recommended, and their rates seem reasonable to me. They've been doing this for a while, too, so they're not fly-by-night. Check out their rates before you sign up with another outfit, just so you have a basis for comparison.
One of the things that prompted me to write this post was a recent article about Simon & Schuster stepping into self-publishing and offering packages starting at $1,500 (for children's books) and going all the way up to $25,000. Yes, $25,000. You'd have to sell a buttload of books (far more than most indies ever do) to earn that money back. "In return, authors will get a range of services, like having access to a speaker's bureau that will help find speaking opportunities and a video production department that creates and distributes book trailers." I'll tell you straight up that book trailers don't sell books and that speaking is for non-fiction authors, specifically for those who wish to establish themselves as authorities in a field and who have $500 courses to sell as well as books (when speaking, you're not engaging a large enough audience to sell many books, so you have to sell larger ticket items to fewer people).
This isn't meant to slam S&S or any other businesses getting into the self-publishing arena (hey, if there's a market, exploit it); I just want to inform you that you needn't spend a lot of money to self-publish and that most, if not all, of these businesses aren't going to include editors or high-end covers, the only things that are really worth paying big money for, in my opinion. When it comes to book promotion, it's a DIY thing these days, for almost everyone (even those with Big 6 publishers), and online is the way to go.
If you browse through my "book marketing" and "social media" categories, you'll find lots of help when it comes to promotion. I'm very specific about what's been working for me and what's been a waste of time. I also have some old podcasts up (and hope to add more eventually!) at Savvy Self-Publishing.
All right, thank you for reading this monster post. Now get out there and publish something!