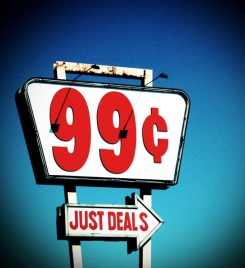 As indie authors, we're able to choose the price for our ebooks, so we can sell them for $10 or $5 or even $0.99. While $2.99 is the lowest you can list your ebook for if you want the desirable 70% royalty rate at Amazon (Barnes & Noble has a similar deal), some authors are finding it worthwhile to sell their ebooks at the lowest possible price point: 99 cents.
Some people are strong proponents for this tactic and others are vehemently against it. I'll try to stay neutral and present some of the pros and cons today. Ultimately, though, there's little harm in experimenting, so if you're thinking of trying it, you might as well!
Advantages of Pricing Your Ebook at 99 Cents
At 99 cents, many readers feel there's little risk in "giving it a try." Let's face it: there's a lot of cringe-worthy stuff out there in the realm of self-published fiction, so readers might think twice about spending more on an unknown indie author.
Selling your first ebook at 99 cents can work similar to a "loss leader" in the marketing world, where you take a hit on the first product in order to entice folks to buy your other products (i.e. Book 1 in your six-book fantasy series may be 99 cents, but those who enjoy the first will probably go on to buy the rest, which you can sell at a higher price).
For shorter works (i.e. novellas, short story collections, and short stories), this may be a fair price point. Most folks won't want to pay three bucks for a 10,000-word story, but they may be willing to try it at 99 cents.
You may sell more ebooks. This could improve visibility, especially in the Amazon store where your work will start appearing on other books' pages (in the "Customers Who Bought This Item Also Bought" area). You may also make it into Top 100 bestselling lists for your category. Sales could increase to the point where you're making more than you were at $2.99 because you're selling so many more copies.
Disadvantages of the 99-Cent Price Tag
You may not sell more ebooks. I can show you plenty of examples of 99-cent ebooks with lousy sales rankings. This can't be your only marketing strategy.
You may lose money. Because of the way royalties are structured at Amazon, you'll only get 35 cents per sale on a 99-cent ebook while you'll earn $2.05 on a $2.99 ebook, so you need to sell roughly six times as many copies at the lower price point to make the same amount of money. For some folks, this pricing strategy pays out (especially when they have higher priced second, third, etc. books for readers to go on and purchase). For others, it doesn't.
Your ebook may have a lower perceived value that turns some readers off. While lots of folks like a bargain, I've seen others who've written blog and forum posts entitled things like, "Why I won't buy your 99-cent ebook."
Your ego may suffer. I've seen quite a few authors cringe at the idea of selling their work for so little, and they're quick to point out the math and how pitiful a wage they'd be earning at 35 cents per book. (Though most of the equations I've seen don't factor in the unlimited shelf life of an ebook…. The math starts to look better if you assume you'll be getting sales for years to come.)
There we go: four pros and four cons. I know this list isn't exhaustive, so feel free to add your own in the comments! Or let us know which side of the fence you're on. Thanks for reading!