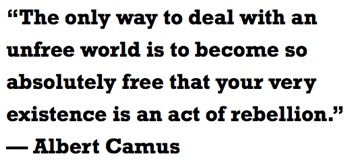 Last December, I was about an hour from uploading The Emperor's Edge (my first full-length ebook) on Smashwords when I received an email from a literary agent.
I hadn't actually bothered with the querying process, but I'd won a critique from this agent through a charity auction about six months prior. The gist of the email was that she'd ask for some changes to the manuscript, but she'd probably be willing to represent me.
If I'd received that email three months earlier, I would have jumped at the opportunity. But, at that point, I'd already paid for cover art and editing, and I'd set my mind on e-publishing (it'd been more than six months since the auction, and I'd kind of forgotten about the critique). From the title of this blog post, you can probably guess I decided to go ahead with e-publishing on my own, but there were times in those first few weeks where I wondered if I'd regret that decision.
It's seven months later, and…I don't.
In fact, I'm relieved that email didn't come earlier. My guess is that I wouldn't even have a deal with a publisher yet if I'd gone with the agent (remember, I was going to have to make some revisions before I signed on).
But here, on my own, I've now published three novels, and some shorter works, and I'm up to 2,000 ebook sales a month. If things continue to go well, I'd guess I'm 6-12 months from being able to do this for a living (gotta get more books in my series out first!).
And that's the dream, ya know? To tell stories for a living. To entertain people. To encourage them to laugh and forget their problems for a while. And if you can make your work affordable for everyone? Even better.
I'm not the type to try and push an ideology on someone else, so I'm not going to say everyone should be self-publishing these days, but I thought I'd list a couple (okay, three) of the reasons I'm glad I chose this route:
1. The Time Was Right
If anything, I wish I'd become aware of the e-publishing revolution earlier, but I'm glad I jumped on board when I did. Between the increasing popularity of ebook reading devices and the ease with which you can get your work into the major stories (Amazon, B&N, iTunes, etc.), it's the perfect time to be an independent author.
Not only is it relatively easy to get your ebooks out there, but there are more and more readers who are openly supporting "indie" authors. Even nine months ago, when e-publishing first came on my radar, it was hard to find a book blogger willing to review a self-published title (ewwww, as if!). Now, there are more and more blogs cropping up that are dedicated to reviewing indie offerings.
While some readers continue to prefer the safety of buying from traditionally published authors (whose work has been vetted by teams of professionals), others love the idea of supporting authors rather than The System. When you buy from an indie, the author typically earns 60-70% of the cover price, as opposed to the 8-25% an author in a traditional deal will get. And, hey, it doesn't hurt that many self-published ebooks are under $5. Indies can afford to sell their work less expensively since they're making a higher percentage.
2. Freedom
There are obvious freedoms that come with self-publishing: you can tell your story, your way, and you don't need to worry about pleasing agents or publishers (just your fans!). You aren't bound by industry standards when it comes to word count either. You can write all short stories if you like, or all novellas, or all 300,000-word doorstopper epics. You have a great deal of freedom with your writing.
It doesn't stop with words though. If you reach a modicum of success, you can turn this into your day job. Then you have the freedom to work your own hours from anywhere in the world. You needn't be chained to a certain city because that's where your job is. Want to go where the cost of living is less and your modest author income goes further? Then by all means, do so. I hear it's trendy to live in Buenos Aires and Thailand these days. 😉
3. The Possibility of Earning a Living (without being a bestseller)
Not everybody's going to make substantial money if they self-publish. In fact, most people won't. They'll give up too soon, or perhaps their writing won't be quite there yet. They won't put enough effort into learning to promote themselves, or perhaps they won't be prolific enough to publish often and stay in people's mind.
But, for those who are dedicated to learning the crafts of writing and marketing, the possibility of turning this into a career exists. What's heartening to me is that you don't have to be a bestseller to reach that point.
I'm certainly not. If you check out my books, you'll see there's nothing hugely impressive about my sales rankings — many indie authors are selling a lot more books (and at higher prices). At best, you could call me a mid-list author.
If you have enough ebooks out (say 5-10), you can do pretty well for yourself even if you only sell 250 copies of each a month (assuming $2.99 or higher price tags). Under the traditional model, only a small percentage of authors at the top get to write for a living. As it stands right now, the dream is far more attainable as an indie.
Those are three of the reasons I'm glad I chose to self-publish. Do you have any you'd add to the list?