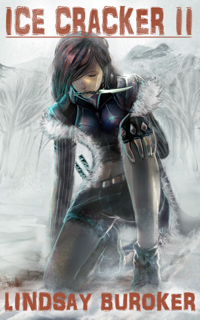 Back in ye olde days, we could only write stories at lengths publishers were willing to buy. Thanks to the economics of the paper-based book-printing business that meant novels tended to fall into certain word count ranges, and short stories were only sold in anthologies or magazines, where issues were also put together to fall within certain economical lengths.
If you wrote a story between 10,000 and 50,000 words — too long for a short story and too short for all except children's novels — you were out of luck, because it was going to be a hard sell.
Enter the world of e-publishing and ebooks. While an editor will charge more to proofread a longer work than a short, the cost of creating and delivering an ebook doesn't change based on word count. In other words, there's no reason you have to write within certain word-count guidelines any more. And quite a few authors are taking advantage of this. More and more, you can find novellas and even short stories for sale in the Nook and Kindle stores for $1.99 or $0.99.
I've actually been surprised by the number of short stories (usually 4,000-8,000 words) selling for $0.99 as I hadn't considered turning anything that short into an ebook I'd charge for. My Ice Cracker II ebook pictured above is a short story of 6,000 words or so that I give away for free.
I probably won't sell anything that length for $0.99 myself (my three-story Ice Cracker II anthology is about 17,000 words, and even that feels short to me!) but people are doing it and getting positive reviews and making money, so I wanted to write up this post for other authors who might consider it.
After all, it takes a lot of work to write and edit a novel. A short story, on the other hand, might be the work of a week or two. Even writing a novella can be a less daunting task than creating a whole novel.
Putting out some shorter works in between your novels is a way to keep yourself in your readers' minds and maybe make some extra money too. The $0.35-$0.40 royalty (your cut when you price your ebook for $0.99 at Amazon or B&N) that seems pretty measly for novel-length fiction might make more sense for a shorter work.
One thing you'll want to do, however, is make sure to include the word-count (maybe a page count too) in the story blurb. People who purchased an ebook, expecting a novel, probably won't be pleased when they read it in twenty minutes! You could also label it "short story" or "novella" in the description.
In case you want to see what your fellow authors are doing, here are a couple $0.99 short story ebooks in the Kindle store:
Any thoughts? Do you have short story ebooks out there for $0.99, or are you thinking of publishing some?