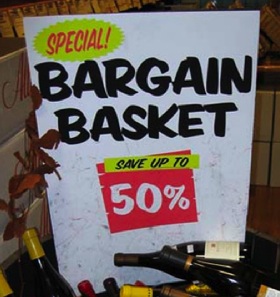 Pricing is one of the most hotly debated topics in the e-publishing world. Traditional publishers and self-publishers alike are trying to figure the magic number for ebooks, and the big kahunas (i.e. Amazon) are applying pressure by making it more lucrative (offering a 70% royalty rate) for those who price their ebooks between $2.99 and $9.99.
Despite the appeal of that 70% royalty rate, a lot of new independent authors choose to sell their full-length novels for 99 cents. Why? This is what I usually see as the reason:
I'm an unknown author so I need to price my ebook at 99 cents to get people to give it a try.

Let's talk about this idea today. As long-time readers will know, I'm not against 99-cent or even free novels, but I tend to recommend that to those who have multiple ebooks out and can use that price as part of an overarching marketing plan. For example, giving away the first ebook in your four-book series for free might earn you far greater sales on Books 2, 3, and 4 than if you'd simply priced all of the adventures at $3.99.
So, why don't I recommend 99 cents when you only have one ebook out (or when your novels aren't related)?
Because of the way Amazon and Barnes & Noble offer royalties, your per-book earnings are going to be mediocre on anything less than $2.99. For a 99 cent ebook, you bring home 35 cents per sale. Unless you're able to leap up to a sub-1,000 sales ranking on Amazon (selling hundreds, if not thousands of copies a day), that money is going to take a long time to add up.
You also may deal with the stigma that some folks associate with "cheap" ebooks. Even if there's not a lot of truth to it in the e-publishing world, people have been trained to associate low prices with inferior products.
How do I get around that with my free first book? It's possible that I don't entirely, but if you check out the book's Amazon page, you'll see that it's free via price-matching, so the regular price appears to be $4.95. Because the price and Kindle price are both listed ($4.95 and $0.00 respectively), people think they're getting a deal on a product that's usually priced higher. People love deals like that (think Costco — good deals on otherwise expensive "luxury" items). I may put my book back up to $4.95 eventually, but right now I'm choosing to leave it "on sale" because that's increased my earnings overall.
Okay, I've given a couple of reasons why selling your ebook for 99 cents may not be optimal, but I haven't yet addressed the part about being an unknown author.
The "But I'm an Unknown Author" Argument
This is common thinking, but, really, we're all someone else's "unknown" author.
One of my favorite authors is Lois McMaster Bujold, a lady who's been publishing smart, character-driven science fiction and fantasy since the early 80s. She's won heaps of awards, including the coveted Hugo. She sells well enough that her back-list has remained in print, and you can find at least a few of her books in any bookstore. I can't tell you how many times I mention her to other SF/F fans only to find out they've never heard of her. This is an established, traditionally published author with over 20 books out.
I recently asked my mom, an avid mystery/thriller reader, if she'd tried anything by thriller author JA Konrath (see my post discussing his $140,000 earnings month). She'd never heard of him, despite his traditional publishing career and his infamous indie fame of the last couple of years.
The point is that 99.9% of the traditionally published authors out there are unknowns to a lot of readers, even readers in their own genres. Very few self-published authors have achieved measurable fame either. But you know what? They still sell. Authors in both camps are doing this for a living, some a very good living.
Please don't bargain price your book because you think you have to. If you have a few reviews on your book sales page, a professional-looking cover, an interesting (preferably typo-free blurb), and strong sample pages, you're ready to compete with any other author in the e-store.
Sure, you may have to bust your buns a little to get those first 5-10 reviews on your book page (I got a lot of my early reviews through giveaways on forums, Twitter, and through doing book blog tours — some of the tour hosts would choose to read and review the book as part of posting about it), but after that you'll be on even playing ground with a lot of 20-year veterans, at least at first blush. All the reviews don't even have to be glowing, so don't sweat that. As many folks will tell you, people often trust reviews more when they're not all 5 stars. Just look at how many one-star reviews the popular authors have. That doesn't keep people from buying their books!
In the beginning, it's hard to make sales at any price point (as they say, obscurity is our biggest enemy). Try not to get discouraged (I know, always easier said than done). You often have to hand-sell (via Twitter, your blog, blog tours, forum posts, Facebook, etc.) your first 1,000 copies. After that, on Amazon at least, the store's algorithms tend to start helping you out, automatically recommending your title to readers in your genre and also showing your books in other authors' "also bought"s.
Of course, as we discussed on that post about full-time independent authors, the best thing is usually not to worry too much about that first book or two and to instead write, write, write and get more work out there.