If you're at all into self-publishing or e-publishing, you've probably heard of J.A. Konrath. He was one of the first authors to turn his back on the traditional publishing system and start enrolling his new titles (and old ones where the rights had reverted back to him) into the Amazon Kindle Store. For more than a year, he's been sharing his impressive sales results, and earlier this month he posted that he'd made $100,000 in the three weeks around Christmas (he eventually made $140,000 over a 30-day period).
Most of us would be tickled to make that much in a year, and it's mind-boggling to imagine making that much in a month from selling $0.99 and $2.99 ebooks. Really. I'm boggling right now. Feel free to take a moment to do the same before moving on.
Ready? Excellent. So…what can we learn from Joe's success that can actually help us? The little guys?
I'm sure we could learn a lot from going back and reading his old blog posts, but I thought there were some worthwhile nuggets just in the *screenshot he posted of his Jan 1 to Jan 11 Amazon sales report. Here it is (click on the picture for the full-size version):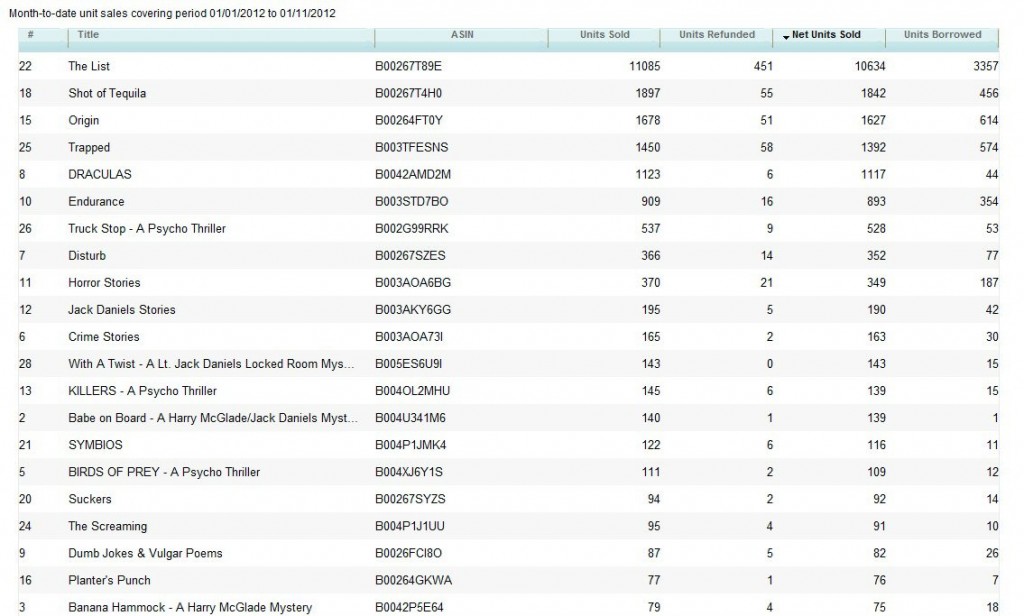 *He has fifteen more titles that didn't show up in the screenshot
Here are a few things I noticed and that I think can be helpful for us:
Joe has a butt-load of books out
I see a lot of indie authors getting frustrated when they're working their tails off at marketing, promoting, social media networking, etc. and it's not doing much for their sales. I'll check out their author pages and see that they only have one or two ebooks out.
I understand their impatience (one of the big reasons I got into e-publishing is because I'm impatient too — spend two years to query agents and pursue the Bix 6? No, thank you.), and I also have a long ways to go before I have a huge pile of books out there, but I've definitely noticed that sales have improved with each successive novel I've released. It's not a guarantee, of course, but the more work you have out there, the more chances there are for people to stumble across your work. Once they do stumble across it, they can go on to buy many more books by you if they enjoy the first.
How many books is enough?
It's true that e-publishing is just taking off, and there are some opportunities for quick success, but most of us will have to publish many books over several years before we get to the "doing this for a living" level. Traditionally published mid-list authors often have 10 or more books in print (not counting out-of-print titles) before they get to quit the day job. Maybe with e-publishing, you'll get there sooner, but if you expect for it to take years, then you won't be setting yourself up for disappointment.
It looks like Joe has 35-40 titles out there, and I know a lot of them, if not the majority of them, are novels, not short stories or novellas.
Joe's books aren't all in the same series
I've also come across indie authors who have a lot of books out, but they're all in the same series. This can be good if people really get into Book 1 and go on to devour the rest of them, but a downside of a series is that all of the books represent only one doorway into your world (few people are going to stumble across Book 5 and decide to start there). If the majority of the people who try your first book don't fall in love with it, then you might have dedicated a lot of time to hiking up a dead-end trail because sales of the following books will be mediocre.
If you're an author who likes writing in series (and there are a lot of upsides to writing continuing story lines), it might be a good idea to start out with two or three different books where any one could be turned into its own series. With e-publishing, you can quick results (within a few days of publishing, you can start getting reviews, sales numbers, reader feedback, etc.), so you can soon see which book is your most popular one. Then you can choose to build a series out of that one.
Though it was purely by accident, I followed that route when I published my first two novels (Encrypted and The Emperor's Edge) last year. They're set in the same world, but they're different story lines with different sets of characters (though a certain assassin does show up in both novels). It was always my plan to turn EE into a series, but I had a sequel in mind for Encrypted as well. If that book had turned out to be the better seller, I might have rearranged my writing plans and turned that into a series first.
You don't want to get into a state of mind where you're trying to chase trends or write what you think will be popular, but there's nothing wrong with focusing on one of your story lines over another if one turns out to have poor or "just okay" sales numbers while the other becomes a hit.
That leads me into my next point…
A small number of Joe's books make up the majority of his sales
In the chart, you'll notice that he has one mega-seller, then a few more ebooks that sell very well, then a whole lot more that are in the "just okay" camp. If you've had some success in e-publishing, you might think, "Gee, I have titles that sell more copies than a lot of his books" (even allowing that Joe's screenshot only covers 1/3rd of a month). And yet he's making $100,000+ per month and you're…probably not. (If it makes you feel better, I'm not either.)
You might think that this sales distribution is odd, but numbers and marketing people will tell you that it's quite normal. The oft-cited Pareto Principle, sometimes called the 80-20 Rule, informs us that it's common for 80% of the yield or earnings to come from 20% of the products or services. So, in the ebook world, if you have 10 ebooks out, 2 might be your big sellers that account for most of your earnings. This can be true in other business areas as well. For example, people who keep track of things often learn that 80% of their sales are a result of 20% of their marketing efforts.
You'll probably find that it's hard, if not impossible, to predict ahead of time which books will be your big winners. That's why we get back to the idea that it's important to spend more time writing than promoting, especially in the beginning. Of course, talent comes into play, but the numbers tell us that the more books you have out there, the more likely you are to have a couple of "winners" that can take you from meager earnings to stellar earnings (or at the very least from pocket change to making a mortgage payment!).
Do you agree, disagree, or can you think of other lessons we can learn from these numbers? Let us know in the comments!