If you've got a few dollars, and you're looking to try some new authors, these are some ebooks I recently downloaded from writers over at the Kindleboards. We did a you-buy-mine-and-I'll-buy-yours exchange, which I suppose could be a marketing tactic (albeit a pricey one), if done on a grand enough scale so as to increase your sales ranking to a point where your book started appearing on the various lists around Amazon. I just had a gift card to spend and thought it'd be a fun way to try some new authors (and be tried by new authors).
For those who are curious, I sold about 20 ebooks out of the deal, which briefly moved my sales ranking to 2,000 something. It wasn't there long enough to matter (help people find my work), and it dropped back down quickly.
Ultimately, I have a bunch of new books to read, and I still have a couple bucks left on the gift certificate. You can buy a lot of ebooks at $0.99 a pop. Why not give some of these guys a try?
My 99-cent Ebooks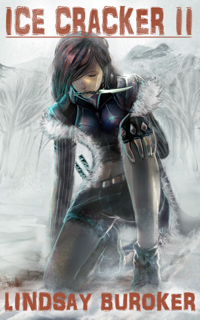 Ice Cracker II (and other stories) — Three fantasy short stories (17,000 words) featuring the heroes from The Emperor's Edge. Available at Amazon & Smashwords
The Goblin Brothers Adventures Vol. 1 — Eight short stories featuring a pair of spunky goblin heroes (fantasy for middle great readers). $0.99 at Amazon, Smashwords, and Barnes & Noble.
$0.99 Ebooks from Other Indie Authors
Scott Neumyer's Jimmy Stone's Ghost Town — For Jimmy Stone, life in "Boredsylvania" has been pretty tough. His mom's died, his dad's completely checked out, and he spends his days running from the Coogan Boys, the local bullies. It isn't long, however, before "Boredsylvania" gets a lot more exciting. With his new friend, David and his dog, Trex, by his side, Jimmy discovers that the woods beyond his backyard hold the key to a world he could never even imagine. Soon, he ends up in Ghost Town, where he's greeted by his ghost guide, Gasp, and receives an ominous prophecy…
Lacy Maran & Kevin Michael's The New Wizard Of Oz — Dorothy Gale is fifteen years removed from Oz and the last of her friends to get married. But Dorothy's long time boyfriend Peter is dragging his feet proposing. After a visit with Peter's wacky divorced parents, Dorothy sees behind the curtain to a failed proposal in Peter's past, making her worry he'll never pop the question. Enter John Timmins, an old friend with a perfect family who's ready to propose now, yet doesn't get Dorothy's heart racing. At a yellow brick crossroad, Dorothy is visited by the Tin Man, Scarecrow, and Lion to help her decide: wait it out with the man she loves, or settle with a man she'll have to learn to love?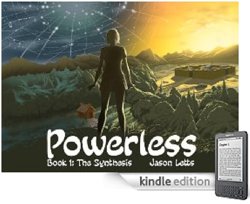 Jason Letts's Powerless: The Synthesis — Mira Ipswich couldn't have ever known the startling difference that separates her from the rest of humanity. But when she discovers a strange anomaly in the midst of her seclusion, her parents are forced to reveal she exists in a world where everyone is imbued with a wondrous natural gift. Everyone except herself that is. Accompany Mira as her attempts to fit in among peers and understand her inconceivable condition embroil her with the dangerous forces threatening her homeland. Protected by nothing more than her imagination and ingenuity, she begins to explore the strange world around her she never knew was there.
John A Karr's Xeria — Xeria's home planet of Iegaké had nearly been purged of life by demons with greater technology and firepower. Their spaceships hold hostage not only the paltry number of survivors — including her father — but the entire solar system. If Xeria does not return from a neighboring planet with the Drayden Dust that allows demons to dream, Mizk will destroy the entire planet, and prey upon the next ….
Daniel Arenson's Firefly Island — "Fans of gentler fantasy will welcome Arenson's novel. In a land divided among four people, each with their own magic-Stonesons, who control stone; Esiren, who share thoughts; Helands, who have the power of healing; and Forestfolk, who emulate beasts-the servant girl Aeolia discovers she's the Esiren Firechild, who embodies Esiren magic and alone can harm the Stoneson ruler, Sinther. Some not terribly realistic battle scenes may be too bloody for younger readers, but those who enjoy such traditional fantasy devices as love at first sight and princes raised as commoners will be rewarded."
Camille LaGuire's The Enchanted Tree — Seven short fantasy and folktales, for children and adults. Including the title story – a bittersweet Christmas tale of a tree that touched a town. These stories were previously published in Cricket, Marion Zimmer Bradley's Fantasy Magazine, and Brady Magazine, plus two written for this collection.
Laura Lond's The Magic Bracelet — "I am a very unhappy man… Misrepresented and misunderstood," says the mysterious owner of the Dark Castle, greatly feared by all. Is it true? Can he be trusted? And is his magical gift a wonderful blessing or a dangerous trap? That's what Rogan, a careless wanderer and a gambler, has to find out.
Moses Siregar III's The Black God's War — Her father-king wants war. Her messianic brother wants peace. The black god wants his due. She suffers all the consequences. "I enjoyed this novella from its opening chapter to its gripping end … The writing style … immediately put me at ease in the setting." –Red Adept Reviews, 5 Stars
Daniel Pyre's Down the Drain — Bruce has lost everyone he ever cared about—even his cat. Now, when he thinks he's finally alone in the house, something will come clawing its way out of the plumbing to prove him wrong.
PA Woodburn's Cries in the Dark — Two prostitutes vanish. Chimps are mysteriously missing from a primate sign lab. Is there a possible link to a biomedical research facility? While premed student Alex Buchanan confronts her new-found ability to communicate telepathically with animals, the body toll mounts. When her boyfriend disappears with a dangerous secret, Alex knows a serial killer is stalking her. Can she solve this dilemma before becoming the next victim?
Pamela M. Richter's The Necromancer — Omar Satinov, the Necromancer, has become a secret, whispered legend across several continents. The lure is a mystical religion based upon Witchcraft; his hook, the 'natural' herbal products that addict his followers. But does he really have supernatural powers, as many of his disciples believe?
Cathy Quinn's Getting Gabriel — Getting Gabriel is a romantic comedy about best friends discovering that their feelings run deeper than they thought.
Frank Zubek's Empath — After being shot in the cemetery, Detective Nick Crowell encounters ghosts and people with paranormal problems. In this collection of nine stories, five of which were originally published in DemonMinds from 2007 to 2008, you'll read about people who's lives have changed so drastically that they seek out Detective Crowell for help. The problem, in many cases, is that there is little he can do. This tends to weigh on him each time.
Sandy Night's Lying Cop — Alaska Roper, owner of Cliff Café, hates liars! Liars ruined her life, but she doesn't hesitate to commit the crime of aiding and abetting an escaped convict—he's her brother. And when he tells her his dead victim, Whip Cunningham, isn't dead at all but alive and well in Branson, she plans on hunting the weasel down, drag his ass to the authorities, and have her brother exonerated. Fortunately, she bumps into Colt, a jalapeno hot construction worker, she can use him to help her. And she can't keep her hands off him…
LC Evans's Jobless Recovery — Dave Griffin is a poster boy for the American consumer. He drives a blood-colored Behemoth model SUV, has a new home in the suburbs, a beautiful girlfriend, a computer programming job, and all the benefits that come with middle class life in America. Then Dave's employer replaces American computer programmers with cheaper imported labor in order to increase company profits. Soon Dave is out on the street. But he still believes in the system. All he has to do is bring the problem to the attention of the media and the people in Washington to get results. This move only deepens his trouble…
Patricia Rockwell's Sounds of Murder — When Psychology Professor Pamela Barnes discovers her department's star researcher strangled to death in the computer lab, she's determined to find out who did it. Will an accidental recording of the murder allow Pamela to use her expertise in acoustics to identify the killer? A unique cozy mystery–set in the world of academia and high-stakes research–full of excitement, humor, and romance.
Tonya Plank's Swallow — Sophie Hegel is a shy New York lawyer from small-town Florence Arizona, known not for the Renaissance but for housing a large prison. She's just graduated from Yale Law School and landed her first job when, one evening she feels a fist-like ball form at the base of her throat. Diagnosed with the psychological condition Globus Sensate, this "fist-ball" wreaks havoc on her life, causing difficulty eating, speaking, and eventually breathing…
K. Crumley's Carousel — College student Mitchell Rainley is plagued by nightmares…or are they repressed memories of the carnival his parents used to take him to when he was a kid? As the nightmares start to invade his waking life, he realises his dreams hold the key to a local mystery…the disappearance of a young girl…
Christopher Truscott's Stumbling Forward — Alex Hogan's congressional campaign is going nowhere fast. Doomed by missteps, embarrassing gaffes and a complete inability to accept reality, he's destined to lose big on Election Day to Tara Gunderson Hansen, a charismatic and politically gifted incumbent. Hogan's talented staff tries everything, but nobody can save a guy who alienates key supporters at every turn, creates a new disaster each time he opens his mouth and even manages to fall into a pile of horse manure while marching in an Independence Day parade…
A couple ebooks over the $0.99 mark that were available with coupons:
Rachel Howzell's The View from Here — Nicole Baxter has always tried to control every element of her life, but that control is slipping away. She has issues. Abandonment issues. Marital issues. Conception issues. And she thinks her house in the hills is haunted. It doesn't help that her husband Truman spelunks and climbs, making her worry more with each adventure he takes. As the two grow apart, Nicole makes decisions that may ultimately shatter her fragile marriage. Her life changes on the afternoon she receives a phone call from the harbor. During a scuba dive, Truman disappears. No one — not his diving instructor, not the Coast Guard — can find him. Is he still alive? Or is grief making her believe the impossible?
LK Rigel's Space Junque — The DOGs want to destroy the world. The gods want to make a new one. The trick is to survive both. "It's been awhile since I've read anything set in the future or in space … loved the politics and action … impressed with the ancient mythology references and the world-building. I'm definitely picking up the rest of the series." — 25 Hour Books