Not that long ago, I posted about some of the changes Kobo has implemented to be more of a mover and shaker in the ebook world (including helping independent authors sell more books); well, Apple has been quietly making some changes too. They've been opening new iBookstores around the globe, and this week they added a special Breakout Books section. Numerous indie authors are being features, including yours truly.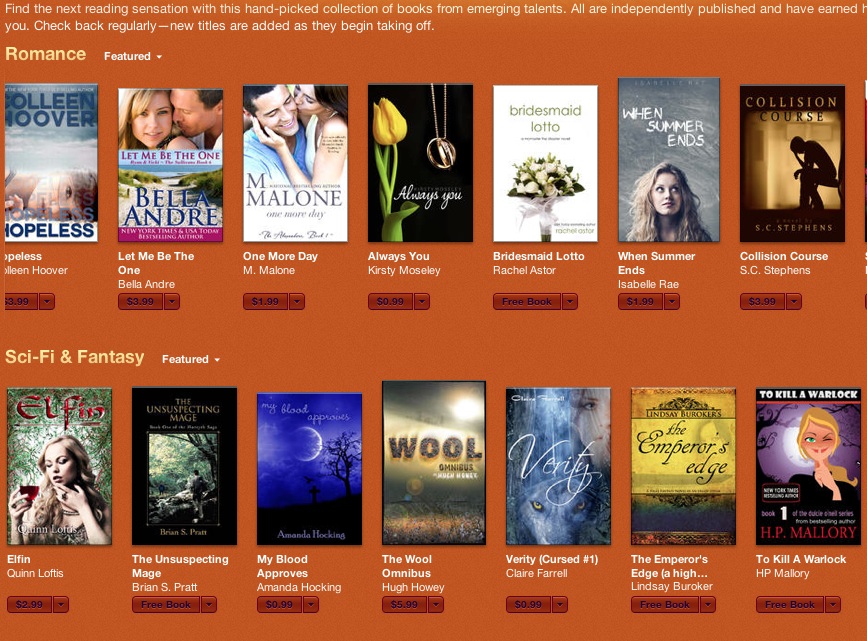 Mark Coker, over at Smashwords, has a blog post explaining more about the program and why certain authors were picked to be featured in the first round (apparently, it'll be updated as time goes on, giving more authors chances to be featured).
"Apple's iBookstore today launched Breakout Books in the U.S., a new book merchandising feature that showcases books from popular self-published authors, including several that have already achieved New York Times bestseller status… Although the iBookstore has always carried and supported self-published ebooks, today's launch signifies an escalated commitment on the part of Apple, whose iBookstore currently sells books in 50 countries."
"The bulk of the titles featured in the Breakout Books promotion were distributed by Smashwords, the world's largest distributor of self-publishers.  The books Apple selected share several common attributes such as positive reader reviews, author popularity at the Smashwords.com store, quality cover design, sales performance across the Smashwords retail distribution network, and other data-driven factors."
I know what you're thinking — huh, kinda cool, but will this mean anything for authors who aren't being featured?
Only time will tell, but I think we'll see more indie authors doing well at Apple, if only because they're making a push to increase their share of the ebook market. More eyeballs in the store mean more chances that people will find your books.
If you're trying to figure out how to sell more at stores besides Amazon (and Amazon as well for that matter), you may want to check out an earlier post I did, talking about how to improve sales at Amazon UK, Kobo, and Apple. In 2011, my first year in e-publishing, I sold poorly in all of those spots, but things started to turn around in 2012, especially the latter half. Part of that was because I had more books out, along with a free Book 1, but I believe part of it, too, was due to Apple and Kobo, in particular, extending their reach. We have more people, especially international folks, shopping in these stores today. With luck, that's a trend that will continue to grow, allowing all authors a chance to profit.
In the meantime, I'm certainly curious to see how much of a difference this makes for me personally in regard to Apple sales.
P. S. If you've stumbled across this post via Twitter, Google, or by some other random route, and you haven't read my work, you can check out the first Emperor's Edge "ibook" for free at Apple. (Yes, it's free elsewhere too–links in the sidebar.) Thanks for taking a look!