My Beginnings boxed set, which bundles a new adventure (Dragon Rider) with four of my existing Book 1s, has been uploaded to the various stores, but won't be live until the 28th. I thought I'd post the first couple of chapters on my site for anyone who's been patiently waiting for some dragon action.
Dragon Rider is set approximately one thousand years before the events in the Dragon Blood series, when the Cofah first came to conquer what was then known as Iskandoth. In that era, the sight of a dragon in the sky was not uncommon.
Dragon Blood fans have met Bhrava Saruth, the dragon who thinks he's a god. (Interview here.) It takes a couple of chapters before he appears in Dragon Rider, but once he's there, I assure you (or perhaps he assures me), that he's the star.
Chapter 1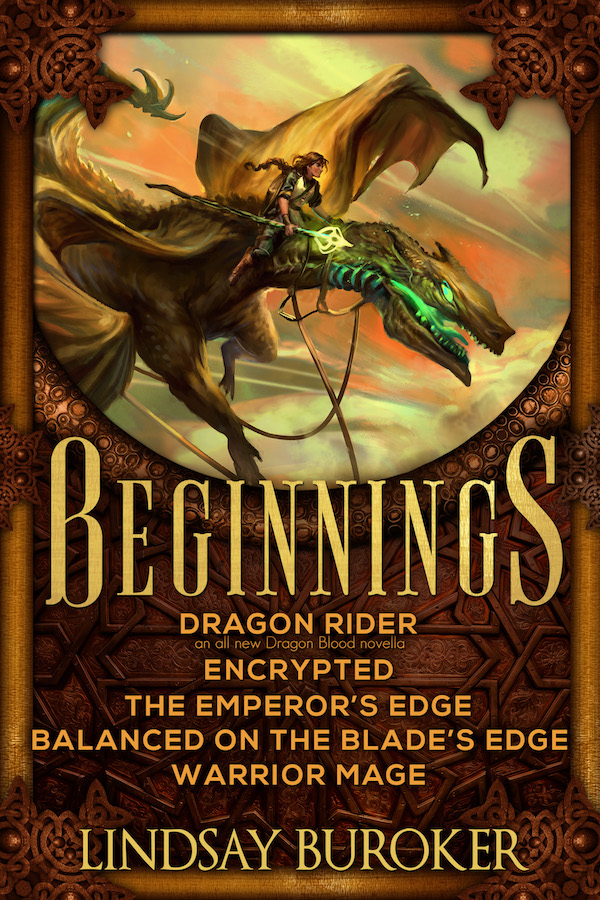 Magic flared, making Taylina squint and look away from the glowing emerald at the end of the scepter. Heat radiated down the shaft, making it grow uncomfortably warm in her hands.
"If you make this explode, I'm going to club you over the head with the handle." Taylina lowered her voice to a mutter. "What's left of it."
Raff, her lone colleague in the tool shop, grinned at her over the glowing gem, his shaggy blond hair dangling in his eyes. "I don't think it's appropriate for a lowly woodworker to threaten a powerful sorcerer."
"I've known you since you danced in the front yard, wearing your smallclothes like a headdress and proclaiming yourself a powerful clansman chief. I don't feel you have the right to tell me what's appropriate."
"I've matured a lot since then."
"Did I mention that, with the exception of the smallclothes hat, you were utterly naked?"
"I have no recollection of that event."
"I'm sure your aunt Veyluis could fill you in on the forgotten details. She paddled you afterward, as I recall."
Raff grimaced at her. "Your memory is good for a lowly woodworker."
"Yes, it is. And if you call me lowly one more time, I'll definitely club you."
"Such violence. It's no wonder the handsome bachelors in town haven't come a-courting."
She scowled at him and shifted her weight, aware of the dull ache in her hip that always came when she stood too long—aware, too, that her awkward gait and limp were the more likely reasons men didn't come a-courting. It had certainly been the reason for much childhood teasing.
"Sorry," Raff said, touching her arm. "It was a thoughtless joke."
"That's creepy, you know."
He blinked and withdrew his hand. "My touch?"
"No, when you get all sensitive because you're reading my mind empathetically. Or telepathically. Whatever it is you're able to do now. You used to be obtuse."
"Oh, I think I'm still that."
"Maybe a little."
They shared a grin. They'd known each other far too long for any slips of the tongue to seriously offend. Taylina was glad that he hadn't changed much in the years he had been away on the mainland, studying to become a sorcerer and a toolmaker. Back when he'd first been accepted to that fancy mage academy, she remembered fearing that she would lose her best friend.
Disturbed by the heat, she shifted her grip farther down the scepter's handle. She worried that an explosion was a real possibility. It wouldn't be the first wooden handle she had painstakingly turned on her lathe, only to later watch it blow up when Raff tried to imbue it with magic.
"Raff, maybe we should—"
A distant boom interrupted her. The emerald lost its glow as Raff lost his concentration, turning toward the front window. His mouth dropped open, and his eyes grew round with horror.
"What is it?" Taylina asked, laying the scepter on a table.
From their spot in the back of the tool- and clutter-filled shop, she couldn't see much outside, but Raff had powers that she did not.
He closed his mouth, shook his head grimly, and jogged toward the window. Taylina grabbed her staff and limped after him, skirting the big planing and cutting tools without trouble. She had spent almost as much time up here as she had in her family's woodworking shop, and she could have navigated it even in the dark.
"It's the Cofah," Raff said, gripping the windowsill.
Dread curled through Taylina's gut as she joined him to look out the window. Their island, way down in the southeast panhandle of Iskandoth, had thus far been ignored by their country's would-be conquerors, but judging by the four huge imperial warships floating in the harbor, that had changed.
The tool shop was a half mile up the slope above town, so Taylina had no trouble seeing over the whitewashed buildings and flat rooftops to the protected harbor and the sea beyond. The cheeky Cofah had sailed right up to the docks. Her stomach clenched when she spotted several of their fishing ships wrecked, the masts broken, the craft tilted onto their sides. Flames leaped from the devastated hulls of more than one. Seven gods, how had she missed hearing the battle? Or had the Cofah caught everyone by surprise and done this with lightning speed?
"Look." Raff pointed skyward with one hand and gripped her arm with his other.
Clouds grayed the sky, and twilight wasn't far off, so it took her a moment to see what he was pointing to. But as the village bell tower started clamoring a warning, she saw it. No, she saw them.
Three dragons soared in the sky, human riders in black Cofah military uniforms astride their backs as if their mounts were horses instead of massive, scaled creatures with wings that stretched thirty feet or more. Reptilian tails streaked out behind them while long, sinewy necks snaked about, their lizard-like heads peering at the landscape below, sword-length fangs waiting to chomp into man or beast. Oh, Taylina couldn't see those details well from her spot more than a mile away, but she had seen the dour man-eating dragon that claimed the back half of their island before. The great creatures were agile and strong, but also magical and nearly impossible for a human or even an army to defeat in battle. The idea that human beings, even if they were powerful sorcerers and sorceresses, had talked some dragons into working with them—and allowing themselves to be ridden—boggled her mind.
Another boom sounded, one that started a chain of many. Cannonballs soared from the warships and crashed into the docks and the buildings on the waterfront. The dragons, two golden and one silver, arrowed out of the sky, straight for town, and Taylina stepped back, fear flooding her body even though the creatures weren't yet close to the tool shop. One breathed fire, doing little damage to the stone structures, but the others must have launched some magical attacks, for an invisible force greater than the fiercest hurricane seemed to strike the large two-story town hall near the docks. The entire building exploded into thousands of pieces of rubble.
Taylina stumbled back as screams made their way up the hill, mingling with the gongs from the bell. As loud as the booms of the cannons were, they could not drown out those cries.
"Mother, Father," Taylina whispered, their faces leaping to the forefront of her mind. "Jessa and Morlin," she added, naming her little sister and older brother. They were all down there now, most likely still at the woodworking shop. The woodworking shop right in the center of town. She hoped Jessa was with their parents. Her sister had been simple of mind and easily confused since enduring a childhood illness, and wouldn't know what was going on. "I have to get them," she whispered.
"Tay," Raff said, not releasing his grip on her arm as she turned toward the door. "What can we do?"
"I don't know, but we can't stand here and watch our homes burn, and our families—" Taylina broke off, not wanting to contemplate what might happen to everyone. Would the Cofah keep attacking until the town was leveled? Or were they trying to take over without destroying everything? Would people be captured? Imprisoned? Killed?
Taylina jerked her arm out of Raff's grip and limped for the door, ignoring the dull ache in her hip. She thrust it open, and the scent of smoke hit her like a slap to the face. The screams were louder outside, and she spotted people fleeing town, running up the brushy slope in the direction of the tool shop and beyond. Hiding in the hills might be the best way to avoid invaders, even if it meant the townsfolk had to leave their homes and everything they owned behind. Taylina couldn't head in that direction, though, not until she found her family.
She started down the winding dirt road that led through the juniper and oleander, but paused when one of the dragons veered inland. It seemed to be coming straight at her. Before, she had only noticed one rider on each dragon's back, but this one had picked up three more, men in soldiers' uniforms.
"Get off the road," Raff whispered, touching her arm.
She hadn't realized he had been following her, but she was glad for his presence now. As someone trained to use magic, he would know more about dragons—and how to avoid them—than she did.
Using her staff to navigate the uneven terrain, Taylina stepped into the shadow of a stray olive tree that had grown up far from the cultivated groves in the flatter land above the town.
The dragon, its magnificent form visible even through the branches, soared in their direction. Even from a distance, its sheer size and the power of those wing beats inspired awe—and terror. Taylina's knees weakened, and she felt herself a fool for contemplating running down into the town.
"It's not after you, is it?" Taylina asked.
"I haven't done anything to irk any dragons lately," Raff said, hiding under the tree with her.
"But it might sense your power."
"My power is insignificant compared to that of a dragon. It might be coming after you." He gave her a worried frown. "The males are known to shape-shift and take human lovers."
The dragon coasted low over Chay Jarffle's house, the medicine woman's small home perched along the same road that led to the tool shop. Its massive jaws opened, and fire blasted from its throat. Unlike most of the stone buildings in town, the house was made from wood, and it burst into flame as if it had been doused in alcohol first. A scream erupted.
"But I don't think love is what's on their minds now," Raff added grimly.
Tears sprang to Taylina's eyes, and she gripped the tree's gnarled trunk. "Why are they doing this?" she whispered.
Again, she felt the urge to race down there and confront the intruders, to drive them away and protect her family and friends. But what could she do? Limp ferociously at them and beat them with her staff?
"I'm afraid this means Iskandoth lost the war," Raff said. "I'm surprised there wasn't word from the mainland, a warning, but we're so far out of the way. Maybe nobody thought to warn us."
"They should have. We've been the ones supplying the magical tools to help the army and the sorcerers over there."
Raff sucked in a concerned breath, and Taylina looked at him.
"I wonder if— What if that's why they're here?" he asked. "Because of the tools. Maybe they want to keep us from supplying them to—" His eyes widened as he broke off.
The dragon had landed. In the center of the dirt road, less than a quarter mile down the hill, it lowered its body to the ground, and three of the four riders slid off. Fierce-looking, shaven-headed men with maces, bows, and swords, they immediately strode up the road. The dragon leaped into the air, banking back toward the town, or perhaps the harbor where longboats full of Cofah troops were being rowed toward the docks. In each one, a man or woman in sorcerer's robes stood at the prow, some soulblade or magical staff at the ready.
Two of the soldiers striding up the road carried empty canvas bags over their shoulders.
"They are coming for us," Raff whispered.
"Us or the tools?"
"The tools most likely. Damn it, Tay, there are dozens of powerful artifacts in there that we've made. Since the supply ship was delayed, they've been stacking up and…"
Raff grimaced, perhaps thinking now of why the supply ship might have been delayed these last months. Was the capital, way over on the western side of Iskandoth, embroiled in fighting? Or had it already fallen?
"Come on." He gripped her shoulder. "We have to get away from the road. This tree won't hide us from their eyes when they're right next to us."
Taylina knew he was right, but for a moment, her legs wouldn't move. Numbness had crept over her entire body.
The soldiers paused, lifting their bows toward the side of the road to their right. A handful of townspeople were running up the slope, no doubt trying to escape. The scrubby brush only partially hid them, and the soldiers were able to target them. Arrows flew, and screams—women's screams—came from the slope.
Raff cursed. "I'm going to have to try something. I wish—no, it doesn't matter now. I'm not a warrior, but I have to do what I can. Tay, get up the slope, up to the grove and beyond. Hide up there. If I can, I'll find you later. And I'll check on your parents."
Taylina wanted to object to running and hiding, especially if he was going out to risk himself, but Raff did not give her time to argue. He slipped away from the olive tree, ducking into the brush alongside the road, soon disappearing as he worked his way down the hill.
Taylina took a step after him, but her heel came down on a rock, and she slipped, an awkward jolt running up her leg to her hip. Pain throbbed deep in the joint. Reminded again of what a pitiful warrior she would be—unlike Raff, she didn't even have magic to call upon and use cleverly—she turned and pushed through the brush back toward the shop.
A startled shout came from somewhere behind her. She hoped it was Raff using his power to hurl those men all the way back into the ocean. Unfortunately, she knew that was unlikely, since he was, as he had said, a tool-making specialist and not an elemental mage, but maybe he could come up with something.
She started to walk past the tool shop, intending to continue up the hill toward the olive groves, but she hesitated, her gaze drawn to the front door Raff had left wide open. As if in invitation to the Cofah.
"No," she whispered. "You're not getting the tools we made."
Taylina looked back down the road, but the terrain hid those three men from view. Hoping that meant she had a little time—or that Raff was buying time—she veered toward the door. She grabbed a few tools from the cabinet full of finished projects, but soon realized she couldn't carry that many of them, not when she needed her staff to lean on. She only took small items and ones she believed extra valuable because of their traits, stuffing them into a bag much as the Cofah had planned to do. Others, she moved to a storage vault under the floor tiles in the back. A sorcerer would have no trouble sensing their power and finding them. She hoped none of those men had such talents.
She limped back toward the front door, but halted abruptly. She hadn't closed it, and the road was visible with two of the three men walking straight toward her. There was no sign of Raff. She ducked into the shadows behind a worktable. Had the men seen her? She hoped not. There weren't any shouts.
With her bag over her shoulder and her staff in hand, she darted around tools and half-started projects, angling for a side window, one that wasn't visible from the front of the building. She opened it, smoky air flowing inside, and crawled out. She had barely landed on the ground when the thud of the front door hitting the wall sounded behind her.
A man spoke in the Cofah language, which she did not understand at all, but she could imagine the words: "Take everything that's magical or worth anything."
Clangs and crashes followed on the heels of the words.
Taylina crawled away on her hands and knees, tears pricking her eyes at the sounds of destruction in the shop where she had spent the last two years working, in the shop that her father had helped her build when it first became clear that they needed to assist in the war effort, to help Iskandoth stay free. It seemed that their assistance hadn't been enough.
As she crested the top of the hill, the olive groves spreading out before her, her eyes had even more reason to tear up. A dragon and rider flew over the trees, raining fire down onto the branches, destroying everything. She paused beside a boulder, hiding from the sky and also looking back behind her. More of the town was burning or destroyed now, and those boats full of soldiers had reached the docks. Troops raced everywhere, attacking or capturing the people who hadn't run, those who were fighting back. Who were trying to fight back.
Gray plumes of smoke came from a familiar spot halfway up the hill, the tool shop. The bastards had lit it on fire.
Dashing tears from her eyes, Taylina picked a careful path around the grove. Frustration boiled inside her. She hated that there was nothing for her to do but hide and run—and avoid the fire leaping from tree to tree, hazing the sky with smoke that seared her nostrils and made her cough. She wanted so badly to help, but what could one lame girl do against dragons with fire and magic, and professional soldiers with blades and bows?
"You'd need a dragon of your own to fight back," she grumbled, again wiping tears from her smoke-beleaguered eyes. She froze halfway through the motion, an idea leaping to her mind, startling her with its intensity.
"The dragon," she whispered, looking in the direction of the southern half of the island, the half that belonged to Bergethor the Bleak.
The dragon was old, grumpy, and prone to eating sheep, dogs, and even humans foolish enough to walk into his territory. Not that anyone from town strayed onto that side of the island. An old treaty a past chief had made with Bergethor kept him from coming to this side of the island, and the locals were careful to heed the boundaries. Bergethor wasn't a dragon that anyone bothered—certainly, nobody had ever asked him to join forces with humans to fight off the Cofah Empire. Or if they had, they had never been heard from again.
But what choice did Taylina have? Only a dragon had the power to fight another dragon. Of course, Bergethor was only one dragon, and she had seen three, not to mention sorcerers, but he was supposed to be very old. Weren't older dragons more powerful than the young? Maybe he could drive the Cofah away.
"Just have to figure out how to get him to help," she muttered.
The task sounded daunting, if not impossible, but she turned toward the south half of the island. Bergethor was the only one with the power to help, and one way or another, she intended to talk him into it. Before it was too late.
~
Chapter 2, coming soon… 🙂
If you'd like to have a copy of the story, you can pre-order it (it releases on Feb 28th) from Amazon, Barnes & Noble, Apple, Kobo, and Google Play.