I'll have a new Dragon Blood book out in a couple of weeks (and, for those who are interested, I'll be sharing the pen name so you can check out those titles, too), but if you're looking for something to read in the meantime, I'm a part of a new bundle that should be a great deal for those who enjoy epic fantasy and swords and sorcery.
It's another 99-center, this time with fourteen authors participating, several of whom are indie bestsellers. My Encrypted is in there, as well as thirteen other titles. Encrypted is usually $4 or $5, so if you haven't read that one yet, this is your chance to get it for 99 cents (or about 8.5 cents, depending on how you look at these things).
The bundle releases on December 10th, but you can pre-order it now from:
Amazon
Barnes & Noble
Kobo
Apple
Here's a closer look at the stories inside: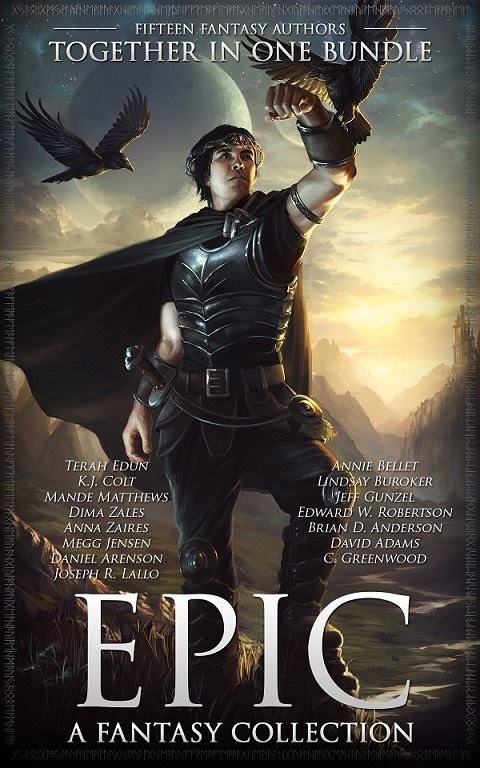 Terah Edun – Blades Of Magic
As an unstoppable war breaks out, a young girl enlists to find out the secrets that everyone is trying to hide.
Daniel Arenson – A Legacy of Light
War rages in Requiem, an ancient kingdom whose people can grow wings, breathe fire, and rise as dragons.
Megg Jensen – Anathema
A young slave girl discovers a world of magic she never knew existed and must face her enemies as prophecy unravels.
Jeff Gunzel – Land Of Shadows
A young blacksmith, born into a simple life, watches helplessly as the world he knew crumbles before his eyes.
C. Greenwood – Mistress of Masks
When an ancient evil stirs in Earth Realm, a group of unlikely heroes must find a way to stop the wave of darkness that is devouring their land.
Dima Zales & Anna Zaires – The Sorcery Code
Blaise's magical creation is not an object of sorcery, but rather a beautiful woman who's unlike anything their world has ever seen.
Annie Bellet – Witch Hunt
A cursed elven archer and her ragtag group of adventuring friends battle witches to stop a deadly plague and save a small village.
David Adams – Ren Of Atikala
Humanity is found in the inhuman when a "monster" is forced out of her home and into the world of elves, humans, and dragons.
Joseph Lallo – Jade
A little girl, selected as a sacrifice to end a mighty dragon's reign of terror, instead finds both the protection and the family she so badly needs.
K.J. Colt – Concealed Power
Adenine has been quarantined for being the last carrier of a plague that killed thousands, but when trouble strikes, she is forced to leave her sanctuary and enter a world full of secrets, enemies, and plots.
Lindsay Buroker – Encrypted
After being kidnapped, linguist and code-cracker Tikaya Komitopis must work with her people's greatest enemy to stop an ancient evil that threatens the entire world.
Mande Matthews – Bonded
Two children–one a born leader and the other a born servant–are bonded across worlds as Soul Warriors, but they must discover the secrets of their past if they hope to overcome the darkness that threatens their future.
Brian Anderson – Starfinder
Lee Starfinder embarks on his first adventure with a sword at his side and confidence in his heart, but he will soon discover that the perils of the world are far stranger than he had ever imagined.
Ed Robertson – White Tree
A young man is obsessed with mastering death magic, but his studies make him the key to resisting a powerful god–as well as the intended prey of the god's dark acolytes.
~
Pick up the collection for 99 cents at Amazon, Barnes & Noble, Kobo, or Apple.