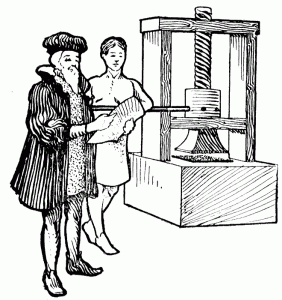 A couple of weeks ago, in my Stay Independent or Sign with a Publisher post, I mentioned that I'd had an offer for publication on my Emperor's Edge books. An awesome editor (awesome because she liked my books, of course 😉 ) over at Amazon was interested in adding the entire series to their new 47North science fiction/fantasy/horror imprint.
As you might guess, this was a pretty cool moment. I never queried agents or pursued the traditional route (that takes so long!), but I'd always had it in the back of my head that maybe someday, if I did well enough self-publishing, I could get a "real" publisher. I wasn't expecting an offer to come my way this soon though. My books sell decently, and my author income grew larger than my day-job income for the first time in November, but I've never been below 1,000 on the Amazon Best Sellers ranking, nor have I been at the top of a Top 100 category. In other words, I wasn't expecting anyone to hunt me down and offer to publish my books. A year ago, I probably would have jumped at the opportunity, and I've since heard from quite a few other independent authors who said they would have too.
I ultimately decided to pass on the offer though. Here are some of the major reasons:
Being published by Amazon would have meant my to-be-written fifth and sixth ebooks in the series wouldn't have been available in other stores, so my Smashwords/Nook/iTunes/etc. readers would have been left hanging. And, uh, I probably shouldn't 'fess up to this in advance, but Book 4 has a cliffhanger ending, so leaving people hanging would be mean. Yes, there are free Kindle apps for just about everything (I use one on my iPad), but not everyone wants to buy from Amazon. And for some international folks it's cost prohibitive. (In a post I did on 99-cent steampunk ebooks, a reader from Denmark pointed out that he had to pay almost $3.50 for a "99-cent ebook" at Amazon).
You guys said you wanted the EE books to stay independent — I asked for opinions here, and on Facebook, and while some folks said they'd support either choice, a lot of people voted for me to stay indie for reasons that ranged from wanting the books to continue to come out quickly to wanting to say that an author they enjoyed was self-published. There were also quite a few Smashwords and B&N folks who chimed in to let me know they would like to continue to see my books in those stores. (Unlike some other indie authors I know, who get 99% of their sales through Amazon, I do sell moderately well in those places.)
I'm doing fine on my own — Though I'm curious as to what Amazon could bring to the table, one of the interesting new truths about self-publishing is that once you're selling enough books to get on someone's radar, you're probably making $X,XXX a month. (Some people, not me, are making $XX,XXX a month or more!) When you're doing that well on your own, you have to ask yourself if you really want to tinker with a formula that's working for you. (I saw an income report of a traditionally published fantasy author who has a lot more books out and is a lot better known than I am, but he makes less than I do simply because that's the nature of traditional publishing — there are many more middlemen to cut in.) So, though Amazon's royalty offerings are better than industry standards on ebooks, there's still that question of whether I'd really come out ahead (financially speaking) in the long run.
They'd want the rights to the audiobooks — While this is probably something you could get a lawyer and negotiate over, publishers generally want the right to create audio books of your work and sell them alongside the print and ebooks. I'm not against making money from audiobooks, but I also like giving them away for free to get new people into my world (in case you haven't tried it yet, the first Emperor's Edge novel is free on Podiobooks and iTunes with the second coming out shortly). You guys have even been chipping in, via my Kickstarter campaign, to help pay for the creation of future audiobooks in the series (thank you!).
Those are my major reasons for staying indie. Though I may look into a hybrid publishing model in the future (i.e. try one series with a traditional house while continuing to sell my other books independently), I'm looking to finish out the EE series before thinking along those lines.
As always, thank you for the support. The good reviews you guys left for EE and the following books are what prompted the Amazon editor to give them a try in the first place.