Emperor's Edge Universe [Fantasy Books]
Update: this page hasn't been updated in a while — please check out my list of fantasy novels for a complete list of what's out and the reading order. Thank you!
Someone found my site by typing in my name + Emperor's Edge Universe, and I thought that was the coolest thing. Me, with a universe! So far it's just two books and a couple of short stories, but I have a six-book series in mind, so I guess it's never too early to create a web page for everything.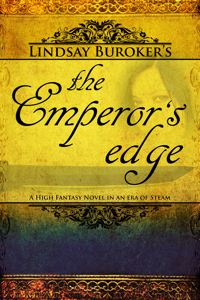 Here's what's out there so far:
The Emperor's Edge — The novel that starts it all! Just how did Amaranthe recruit that deadly assassin Sicarius to her team? And what was Maldynado wearing the first time she met him? These and other keep-you-up-late-at-night questions answered in the first adventure. Available for $0.99 at Amazon, Barnes & Noble, & Smashwords
Dark Currents — Book 2. When Amaranthe's team discovers mutilated bodies in the city aqueducts and a mysterious illness incapacitates thousands of citizens, she and Sicarius see an opportunity to solve the mystery and prove their loyalty. But they'll have to defeat vengeful shamans, man-eating predators, and deadly mechanical constructs, all while dodging imperial soldiers who would rather kill them than accept their help. Available for $3.99 at  Amazon, Barnes & Noble, and Smashwords.
Deadly Games — Book 3. When you've been accused of kidnapping an emperor, and every enforcer in the city wants your head, it's hard to prove yourself an honorable person and even harder to earn an imperial pardon.
That doesn't keep Amaranthe Lokdon and her team of outlaws from trying. When athletes start disappearing from the Imperial Games, they may finally have an opportunity to show the emperor that they're on his side. If she and her comrades can get to the bottom of such a public mystery, they're sure to get the credit.
But plans go awry when Amaranthe's own men start plotting against each other, the new ally she'd hoped to acquire tries to turn her in, and her best fighter—and closest friend—disappears.
Maybe getting involved wasn't such a good idea after all…
Ice Cracker II — A short story with Sicarius and Amaranthe. Available for free at Smashwords & Barnes & Noble.
Ice Cracker II (and other stories) — Includes the last short story and two more, one with Amaranthe and Sicarius and one where Books and Amaranthe are off investigating a haunted distillery together! Available for $0.99 at Amazon and Smashwords.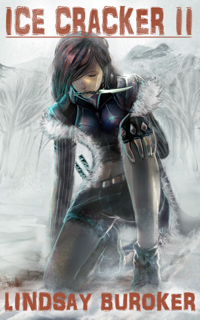 Everything is in ebook form right now, but I'll be looking into creating print editions eventually.
Thanks for your interest!
Comments (46)