For fantasy fans looking for a little weekend reading at an affordable price, here are a few steampunk adventures that are currently free or 99 cents at Amazon (many of them are in other places, too):
Free Steampunk Ebooks
Oh, just in case you're stumbling across my blog for the first time and you haven't read my stories, The Emperor's Edge is free at: Amazon, Barnes & Noble, iTunes, and Smashwords. It's a full-length high fantasy adventure with a hint of steam. And then…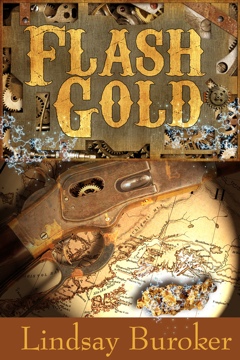 To celebrate the release of the third story in my Flash Gold Chronicles, Peacemaker, the first novella is free at Smashwords. That one is definitely steampunk with a wrench-wielding heroine who has a knack for inventing things (and occasionally blowing up things too).
Okay, enough about me. On to other authors! I haven't read most of these, but I tried to pick stories that had a 4.0+ average reviewer rating over at Amazon. If you'd like to recommend any other ultra affordable steampunk adventures, just let us know below. Short stories and novellas are fine.
The Strange Case of Finley Jayne (The Steampunk Chronicles)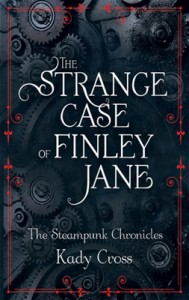 Finley Jayne knows she's not 'normal'. Normal girls don't lose time, or have something inside them that makes them capable of remarkably violent things. Her behavior has already cost her one job, so when she's offered the lofty position of companion to Phoebe, a debutante recently engaged to Lord Vincent, she accepts, despite having no experience. Lord Vincent is a man of science with his automatons and inventions, but Finley is suspicious of his motives where Phoebe is concerned. She will do anything to protect her new friend, but what she discovers is even more monstrous than anything she could have imagined…
Railroad! Volume One:Rodger Dodger (a steampunk western)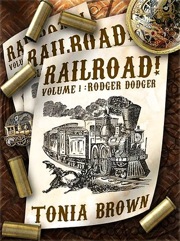 Railroad is a fast pace steampunk story of gadgetry, gunplay and grit.
Join us as we follow the strange stand-alone train known as the Sleipnir (pronounced Schlipnear); eight cars of free traveling steam powered might. Able to lay her own tracks, as well as pick them up again, the train is a marvelous feat of engineering, and as an unbound entity she can travel anywhere her master desires. The only trouble is the trouble she attracts. Her owner and creator, one Professor Hieronymus J. Dittmeyer, can't seem to help but catch the attention of all manner of odd characters, including an undead conductor and a ghostly guardian. But even the most well intending ghost just isn't enough to keep trouble from the tracks. From run of the mill outlaws, to world-class super villains, the crew of the Sleipnir needs hands-on protecting and they need it fast!
Enter Rodger Dodger, dead-eye marksman and all around vexed soul. Dodger finds he is inexplicably drawn to the Sleipnir and her crazy crew, though he is reluctant to return to the work of a gunslinger after a dreadful history of bloodshed and violence. At the request of a restless spirit, Dodger takes on the work, straps on the biggest guns this side of the Mississippi and soon finds his life will never be the same again. (Which is just fine with him because he didn't like the one he had anyways.)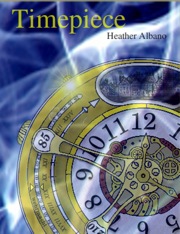 Elizabeth Barton longs to escape the endless round of social ritual that defines life in the village of Hartwich during the Regency of Prince George. Her neighbor William Carrington has lost the use of his arm in the Napoleonic Wars, and now must watch from the sidelines as the final act of that conflict unfolds without him. Both go through the motions of their lives, dutiful but dissatisfied, as the Battle of Waterloo looms on the horizon. When an anonymous benefactor sends Elizabeth a pocket watch that is more than what it seems, they are swept seventy years into the future.
The London of 1885 is a steampunk dystopia where the streets are patrolled by Gatling-gun-wielding robots and the clockwork of the British Empire is slick with its subjects' blood. This future has its roots on the field of Waterloo–in the secret weapon Wellington employed there–and it will come true in seventy years' time unless Elizabeth and William find a way to stop it.
Caesar's Children: A Tale of Pluritopia
What if there were a world where all the utopias from nineteenth-century literature coexisted? And what if the nations of that world were divided into two types of utopias–the Aspirants, who seek the create the best of all possible worlds for themselves, and the Gildeds, who also seek the perfect world but long to force their own ideals on the other utopias?
On the world of Pluritopia, the citizens glide through the heavens in the bellies of fish-shaped airships and learn about the exotic goings-on of the sundry utopias by means of aether-powered telephonoscopes. But when a mysterious woman from the Earth's center appears suddenly in the tranquil Pacific Northwest paradise of France-Ville, the ideal world finds itself on the brink of the unimaginable–a great conflagration that threatens to scorch Pluritopia to cinders.
The Inventor (Fantasies of New Europa Series)
For the Countess of Caithmore, a life of wealth has led to misery. Abandoned by her husband and widely accused of being nothing more than a porcelain doll without passion or intelligence, she has ventured into dangerous territory and commissioned the help of the most famous inventor in New Europa for a scandalous project.
In the depths of his laboratory, she will submit herself to a custom-built machine that will determine the extent of her coldness once and for all. The answer she craves carries a hidden risk, however, and the man whose invention has proven her ability to feel passion may not accept the role of lover-by-proxy for long.
Lady of Devices, a steampunk adventure novel (Magnificent Devices)
London, 1889. Victoria is Queen. Charles Darwin's son is Prime Minister. And steam is the power that runs the world.
At 17, Claire Trevelyan, daughter of Viscount St. Ives, was expected to do nothing more than pour an elegant cup of tea, sew a fine seam, and catch a rich husband. Unfortunately, Claire's talents lie not in the ballroom, but in the chemistry lab, where things have a regrettable habit of blowing up. When her father gambles the estate on the combustion engine and loses, Claire finds herself down and out on the mean streets of London. But being a young woman of resources and intellect, she turns fortune on its head. It's not long before a new leader rises in the underworld, known only as the Lady of Devices.
When she meets Andrew Malvern, a member of the Royal Society of Engineers, she realizes her talents may encompass more than the invention of explosive devices. They may help her realize her dreams and his . . . if they can both stay alive long enough to see that sometimes the closest friendships can trigger the greatest betrayals . . .
Caldecott Estate, the ancestral home of the 32nd Earl of Rothshire, is besieged. The undead are traipsing and crawling across overgrown lawns, intent on ripping the very flesh from the Earl's body.
But many of them will not make it that far as the 32nd Earl has two things in their way: A prised Purdey shotgun and an accomplice named, Saffy. Saffy is a young and simple girl from the local village. She is quick of foot at setting traps, and dispatching the undead to the afterlife. She is endlessly coming up with cunning and disturbing methods to rid the estate of disease.
The bizarre and gruesome details are narrated in a journal by a very Aristocratic British gent. Get a first hand look on how the Victorian upper class deal with stumbling trespassers and see how one draws inspiration from a teenage girl born to kill.
The Steampunk Detective is a non-stop adventure story complete with airships, steam powered spaceships and enormous towers that stretch into orbit…
Jack Mason is an orphan wanting a new life. Ignatius Doyle is an aging detective who needs an assistant. When Jack goes to work for Mr Doyle, he has no idea what lies ahead.
With twists and turns and non-stop action, The Steampunk detective has been described as "The best dollar I ever spent." Another reader said, "It's addictive to read, and smart….characters are lovable, interesting, different."
Filled with references to Sherlock Holmes and the world of Victorian literature, The Steampunk Detective is an action packed adventure for readers of all ages.
The Monster in the Mist (A Chronological Man Adventure)
It's 1890 and the citizens of Boston are beginning to go missing in the fog.
The police are confounded. The public is frightened. The city is on the edge of hysteria.
It's up to the mysterious Smith, inventor and adventurer, to figure out what's going on with the help of his assistant, April Malone. They'll have to face off against a secret society, corrupt policemen and a mad psychologist hell-bent on dissecting Smith, in order to solve the mystery of what's going on and to save the city from an even more sinister threat.
It's the first story of Smith, a hard science fiction time traveler with more than a enough quirk to last him several centuries.
A fast-paced 45,000 word tale of scientific adventure combines elements of DOCTOR WHO, SHERLOCK HOLMES and TONY STARK set against turn-of-the-century Boston's soot-stained streets.