When I was in sixth or seventh grade, before I found my way into fantasy, I picked up my first major geek cred by reading Star Trek books. A lot of Star Trek books. At one point, it was a source of pride that I'd read every single Trek book out there, even the hard-to-find short story collections from the 70s. I'd even read some of those upstart Next Generation books that was starting to proliferate on the SF shelves (I was well into adulthood before I developed an appreciation for Captain Picard). As I've confessed before, Mr. Spock was my favorite character, so it shouldn't be surprising that a couple of Trek books that I re-read several times were A.C. Crispin's Time For Yesterday and Yesterday's Son. I later read Ann's Star Wars novels too (more geek cred for the jar).
I drifted away from series tie-ins as I got older, but Ann's name has come back on my radar again of late, due to the fact that she signed on with small press Ridan Publishing last winter to create ebook versions of her original-world StarBridge series. Ridan had a lot to do with Nathan Lowell's e-publishing success and has turned Joe Haldeman's The Forever War into a bestseller all over again. Ridan also launched Michael J. Sullivan's career, turning him from a small-time self-published author into someone who earned a lucrative publishing deal with Orbit books.
Apparently, things didn't go well with Ridan this last year, though, with the owner going MIA for long periods of time, at least insofar as communicating with authors and readers went. Ridan didn't do any marketing or promotion for Ann's books, nor did it fulfill orders from Crispin fans who ordered the ebooks from the publisher's site. For those who want more details, they're up in their ugliness over at the Kindleboards. Last week, Ann announced on her Facebook page that she's parting ways with Ridan. She's since reached an agreement with the owner, and her Starbridge series is now up under her own name. In other words, she's one of us now!
I've picked up the first book and will be giving the series a try. Ann has long maintained the Writer Beware blog, a helpful resource for up-and-coming authors, and I hope she does well with this first foray into independent publishing.
If you're a fan of science fiction and are interested in checking out her work, here's the blurb for the first book: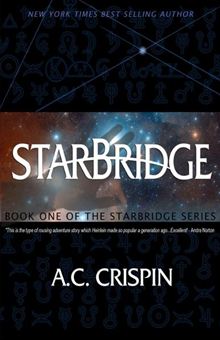 WE ARE NOT ALONE, AND WE'RE ABOUT TO MEET OUR NEIGHBORS.
After more than a hundred years of space travel, a stray radio signal indicates the possibility that alien life might exist. The crew of the Désirée has no training in interstellar diplomacy and a minor dispute turns to disaster that could escalate into a full scale war.
Can the bond formed between two very different friends be strong enough to bridge their differences and save their people? Come along in this first book in the StarBridge Series in an exciting journey across the stars in a desperate gamble to save both their worlds.
StarBridge at Amazon, Barnes & Noble, and Kobo.
.