I've been kicking around with the idea of trying a serialized adventure, but with other projects on the table, I haven't gotten around to it yet. I'm intrigued, though, especially now that Kindle Serials has come along, creating an organized way to deliver serialized ebooks, so I invited Roberto Calas to talk about the program and how he got involved with Amazon. (I hadn't realized independent authors could submit to the program without an agent or an invitation.)
Roberto Calas on Kindle Serials
I just wrote a novel. Literally. I finished it this week. The funny thing is, it has been an Amazon Bestseller for two months.
Welcome to the relentless world of serials.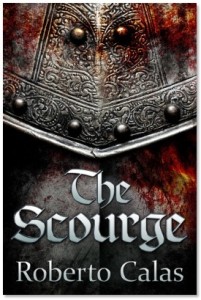 In October of 2012 I was contacted by 47North, the sci-fi/fantasy imprint of Amazon Publishing. They were interested in a work-in-progress I had sent them about a knight searching for his lost bride in a demon-infested, fourteenth-century England. I didn't realize it, but the clock in my head started ticking that day. (Note from Lindsay: you can read the submission policy and find out how to submit your own work here.)
And it didn't stop until this week.
47North wanted a serial from me. Eight episodes of a novel. Each episode had to be somewhere between 8,000 and 10,000 words. And each episode would be due two weeks after the last one. It didn't sound so bad then, and when I think about it, it doesn't sound that bad to me now. If I can't write 4,000 words a week, what kind of writer am I?
Except that it wasn't just writing 4,000 words a week. I had to produce 8,000 words of completely polished writing every two weeks. Imagine writing one tiny novel every fourteen days, with all the angst and joy that goes with it.
Here's a peek at the two-week cycle of a serial writer:
Write eight to ten thousand words
Worry that it wasn't good enough
Go over the writing two or three times
Send the episode out to my beta readers and my fiancée
Stress that this episode might be worse than the previous ones
Wait for comments and suggestions
Panic because the episode needs a lot of work.
Consider changing my career. Pipefitter or stuntman maybe
Make edits according to beta-reader/fiancée suggestions
Send the new changes out to be beta read
Make more changes according to beta-reader/fiancée suggestions
Realize that I wouldn't be making these damn changes if I didn't send episodes out to beta readers.
Apologize to my editor for the delay
Go over the manuscript one last time
Mentally ask for forgiveness from betas and thank them for making my book rock
Send the whole thing to my editor
Spot a problem on page nine; fix the problem
Send new version to editor
Get edits back from copy editor and make more changes
Rinse and repeat
With all the deadlines and stress and moments of panic and rushing around, you might think the novel would end up as a steaming pile of literary dog feces that readers step on rather than read. And I have to admit, at times I wondered what the hell I was doing scrambling around like a short-order cook. But you know what?
It is the best thing I have ever written.
And I think the readers think so too.
Why do I think this? Because the readers visit the Amazon discussion forums and let me know. Their feedback has been instant and amazing. As a novelist, there are times when you have doubts. When you wonder why you are writing this story. When you wonder if it is any good. And if a reader tells you that she or he loves the book and can't wait for the next episode, it snaps you out of that funk. It energizes you and makes you realize that your audience is following along and cheering you onward and falling in love with what you are doing.
There can be no greater motivation for any writer.
It makes you work harder, write faster, strive for more, make each line you write the best line you have ever written. Because the words you type will be read by your audience only weeks after you send them in.
Weeks? Oh, lord. I better get started on book two of The Scourge. They'll probably want the first episode soon!
Welcome to the relentless world of serials.
 * * *
An author of fantasy and historical fantasy, Roberto Calas lives in Sandy Hook, Connecticut. You can visit his blog or find him on Facebook or Twitter, and I'm sure he'd be tickled if you checked out The Scourge at Amazon.