In the Emperor's Edge world, I've sent the final manuscript in the series off to the editor. It should be ready to publish by the end of July. In the blog world, I haven't been getting many posts up. So, what's new? Today, though, I have something for you, a guest poster to talk to you about a topic I don't know much about: fan fiction and using it to improve your writing skills and build a readership.
50 Shades of Spock/Uhura: How fanfiction made me (an accidental) a better author
My name is Carolynn Gockel. I write stories about myths, modern and ancient.  I got my start writing fanfiction. And I am not ashamed.
The word fanfiction generally conjures one of a few reactions in people. The first is, "What is that?" The second is, "Like 50 Shades of Gray? Like porn?" And lastly, "Errr…isn't fanfiction just really, really bad?"
To the first, fanfiction is stories written about other stories–whether movies, tv shows, books or comics, games, and occasionally real-life people.
As to the second, is it porn? Errr…a lot of it is, yes.
As to the question of quality, I don't like to think of most fanfiction as bad; I like to think of it as immature. Most of the authors are in their teens or early twenties. They don't have a lot of experience with life, let alone with writing. But it's not bad that they are trying to explore life and writing through fanfiction…even if the result is sometimes "immature" porn.
Get to the part where it made you a better author!
Right. Well, first, understand I'm not someone who ever thought I'd want to write fiction. It happened by accident. I was captivated by the romance of Spock/Uhura in Star Trek 2009. I loved how it tweaked the notion of destiny. I liked how it combined one of my favorite genres, sci-fi, with just a little more romance than usual. Trolling the intertubes for Spock/Uhura, I first discovered fanfiction. I found some amazing stories that didn't fit the description of porn or immature writing.
Unfortunately, I didn't find enough stories to sate my appetite. So I started writing my own. It was a game at first. Just as most fanfiction authors are young, so is the audience. I wondered if a story that showed Spock and Uhura behaving in a professional manner, rather than gobsmacked on the bridge, could ever get traction. So I typed a short story up one evening, posted it, and waited. Almost to my surprise, the reviews I got were great. And then I wondered what else I could get away with. Specifically, if a story that snuck big philosophical ideas into a romance aimed at a general audience–most of them young–could ever get traction. ('Cause big philosophical ideas don't seem to get me much traction in casual conversation).
I wrote Descartes Error, a Spock/Uhura fanfiction that took its name from Antonio Damasio's Descartes' Error: Emotion, Reason, and the Human Brain. Despite being a bit rambling, in the fanfiction world it was a hit.
I was hooked. I discovered I loved poking fun at our modern myths, and I loved playing with big ideas: philosophical, scientific, psychological and political in the context of a story that could be action packed, emotionally moving, and fun.
In the end I wrote more than 50 novels, novellas, and short stories. In the process I made fans, and more importantly, made fans who enjoyed my work but could be honest and critical. They helped me keep my characters true and my stories humming along. As deep and as meaningful as I'd like my work to be, the last thing I want is to be boring.
Big deal! You could have gotten that from a writers group
Well, maybe. I would argue that my work which combines action, romance, fantasy and science fiction might have been hard to find a writers group for. By writing fanfiction in my chosen genres–sci-fi and fantasy–I was able to meet like minds.
But there is one thing that writing and posting fanfiction can get me that a writers group can't– stats. That's right. Numbers, Baby!
I can see how many people are reading my stories, what stories they're reading, what chapters in the stories perked their interests, and when I let them down. I can tell which stories are well read, but aren't getting a lot of reviews. Different fandoms (i.e. fan followings, such as for Star Trek reboot, Star Trek TOS, Star Wars, Harry Potter, etc) are more responsive than others. This is important when making the transition from fanfiction to original fiction. People who don't review still buy stories.
Click on the image for some more blow by blow analysis of a recent "novel" I wrote for the "Thor" fandom, called Blue.

Stats don't just let me see the mind of other authors, they let me see the minds of everyone.
Fanfiction is my sandbox

Fanfiction is a great place to see just how far you can push ideas in your stories and how you can maintain your readers' interest. It is great place to test out plot devices you may encounter while writing original fiction.
What fanfiction is not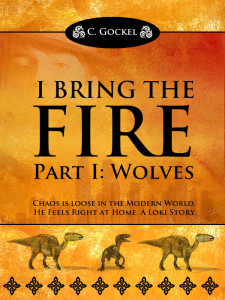 Fanfiction is not the best way to market your original fiction. I've gotten perhaps 100 solid customers from my fanfiction writing, and about six editors whose opinions I trust. But most people reading fanfiction are reading it because there is a world they are interested in exploring. They aren't interested in your world. (A bit of advice: if you write for different fandoms you'll pick up readers in each genre who will like your writing so much they'll "follow" you into fandoms they don't care about–those readers will read your original stories with gusto. If you are going to write fanfiction, writing a variety of different story types in a variety of different fandoms is best).
Still, as a fun, inexpensive way to gain experience writing, without leaving your house, it is great.
The outer limits of fanfiction
When I started writing fanfiction I was preoccupied with ideas of love and logic. Spock/Uhura was perfect for that. But that perfection began to break down when I was interested in exploring other types of love beyond romantic. My first original short story, Murphy's Star explored logic and other types of love.
Another issue with fanfiction is that the fandom you write for has expectations in their fiction. Most fanfiction audiences are female.  They may like action in their movies and books, but they've already gotten that from the source material. In their fanfiction they're usually looking for an exploration of romances that were not the focus in the plot of the original story. I like a little more action with my romance, and that can be a harder sell. (Which isn't to say it can't be done!)
Finally, writing for a fandom, you're confined by the characters and situations in that fandom. After a while it becomes too restricting.
These reasons are why, after approximately 3 years, every fanfiction author who has been writing consistently goes professional–whether through traditional publishing or self-publishing.
After love and logic I became enamored with chaos–probably because I have children. At first I played in Marvel's universe with Loki, "God" of chaos, but Marvel's Loki is an emotional wreck with daddy issues. He is supposed to be the embodiment of chaos…I think chaos is much more than that, and I also think chaos can be wonderful.
My latest original fiction series, I Bring the Fire, is based on Norse Mythology's Loki. It is a romp through the realms, antiquity and the modern era, and a wink at myths ancient and new. It's also, covertly, a celebration of chaos.
One last thing fanfiction taught me
If you keep writing, you will get better. And each time you stretch your wings–or fingers–to try a new genre, you'll pick up more readers. I Bring the Fire hasn't let me quit my day job, but my fans love it, and I love writing it. I don't know that I'll ever be a best selling author–I'm too quirky–action, adventure, fantasy, romance, humor and Rhyle's refutation of Descartes' mind body dualism with a dash of quantum physics on the side? It's not Twilight. But if I keep at it, I'll find more and more like minded quirky readers.
About the (Accidental) Author
C. Gockel makes a living designing and coding. The first book in her series, I Bring the Fire is available FREE at: Amazon, Smashwords, Kobo, Barnes & Noble, and Apple. Her short story, Murphy's Star, is available here: Amazon, Smashwords, Kobo, and Barnes & Noble. She can be found on Tumblr and writes as Startrekfanwriter on fanfiction.net.