I met Kendra Highey, YA fantasy author (and one of my beta readers) through the SF&F Online Writing Workshop a few years ago. She critiqued chapters of the Emperor's Edge, and I critiqued chapters of her first Matt Archer book. She was further along than I (or maybe just more prolific!) and went on the agent hunt first. I, after receiving a Kindle and finding out how easy it was to get one's work into the Kindle Store, was distracted by self-publishing and never did get around to that agent hunt. Kendra had some success on that front, but ultimately things didn't go according to plan. She recently decided to self-publish and has released her first book. I'll let her fill you in on the details of how and why she came to choose that route.
 Interview with Kendra Highley on Agents, Traditional Publishing, and Self-Publishing
Hello, Kendra. Welcome! Let's jump right in…
I've come across quite a few successful independent authors who were "very close" to getting published in the traditional manner (i.e. they got a couple of almosts from publishers, or their agent loved the story but editors just didn't think it was right for the market, etc.). Can you tell us about what you went through with MA before deciding to self-publish?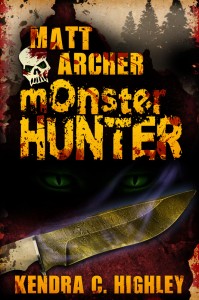 I went through a pretty winding road before I self-published. After writing the first Matt Archer novel (Monster Hunter) in 2009, I started the query process in early 2010. I actually did pretty well, scoring several partial requests, four full requests and two offers of representation. Given that only about one-percent of writers seeking an agent were being signed at that time, I felt really good about it. I'd passed the first "gate" so to speak, and I just knew it was only a matter of time before an editor picked up the book.
Things don't always work out the way you imagine.
The book got good feedback from editors, but it was never quite the "right fit." In speaking to an editor at a conference, she told me that YA novels with male main characters were a hard sell unless you were an established author with a good sales record.  In addition, some editors liked the book, but wanted more of a Middle Grade take. I wasn't comfortable with that (and neither was my agent…it'd change the story too much), so I chose not to rewrite it, even though I knew it was a risk.
I think a lot of writers feel that finding an agent is the end-all moment of triumph when it comes to the publishing journey. If they can just get an agent, their careers will be made… Do you have any thoughts about that? Or any idea how often it actually works out?
I don't know what the stats are for agented-writers who sign traditional contracts for their first books, but it's definitely not 100%. Heck, I'm not even sure it's 50% right now. I will say this, though—getting an offer of representation from an agent was an amazing feeling. If nothing else, I had professional validation that the book was ready for "prime time." On the flip side, being on submission was incredibly stressful. Any author who's been through that process will tell you how nerve-wracking it is, especially when those first few rejections come in.  And even more so when those rejections say, "We liked it, but…"
At what point did you decide it was time to walk away from the agent and go off on your own?
Here's the part where I say, "My friend Lindsay beat some sense into my head," right? Seriously, though, seeing your success gave me the courage to pull the trigger, but the actual decision took me several months. If I was going to do it, I wanted to do it to a high standard (quality editing, great cover art, etc), and that took some planning. But after an epiphany, and a really frank chat with another self-published friend—the lovely Kait Nolan—at a conference in May, I knew it was time.  I hadn't gotten a contract for Matt, my agent had passed on other work (which, ironically, another agent was interested in), and I was tired of feeling like my fate was in someone else's hands. To me, it was time to try to succeed—or fail—on my own.
If you had to do it again, would you skip the agent hunt and go straight to self-publishing, or did you learn a lot in the process? I imagine it's useful to have an agent go over your manuscript with you and offer ideas on improvements.
I learned a lot in the time I was pursuing a traditional contract, both about myself as a writer, and publishing as a business. If I had it all to do over again, I'd still query. There's something to be said for experiencing rejection and obtaining the patience a submission process takes. It also gave me confidence: my work got past the first big gate-keeper.  Plus, having an agent peruse your manuscript gives it an additional level of scrutiny.  For me, querying was the right answer. In hindsight, though, I should've moved on to self-publishing sooner.
Still, I think everyone who wants to publish, whether DIY or traditional, needs to have their work torn to pieces by someone who really knows how to edit and isn't afraid to hit where it hurts, whether by querying or joining a particularly tough critique group. After naively querying a book that wasn't ready and getting dozens of rejections, I found the Online Writers' Workshop for Sci-Fi, Fantasy and Horror—which is where I met the delightful Ms. Buroker J. It took every ounce of courage I had to post chapters of my first (truly dreadful) novel. The critique was brutal. Some of it made me cry. No kidding. But if I hadn't done that, I'd still think my early work was brilliant. And it wasn't. Putting myself out there to be reviewed by people like Lindsay, J.R., Jeanne, Elizabeth, Liz and Crash made me work harder and strive to learn as much as I could.  I know I still have a long way to go in perfecting my craft, but after going through multiple reviews, I felt ready to release Matt into the wild.
If you do well with self-publishing, do you think you'll take a look at traditional publishers again?
I think it depends on the work. I have a contemporary YA resting on my hard drive that is pretty literary, and would make good library/school reading fodder. That book would benefit from traditional publishers who know those markets.  But if I do well with my more commercial work, I think I'll stick with self-publishing…unless one of those two-million dollar Amanda Hocking deals comes around. I'd probably sign that kind of contract.
And finally, why don't you tell us about your current release and what else is in the pipeline?
I released the first book in the Matt Archer Series (Matt Archer: Monster Hunter) in August. Here's the short description (the longer version, and sample chapters, can be found on Amazon, B&N and Smashwords):
Fourteen-year-old Matt Archer thinks his life is pretty lame until he discovers something terrifying on a weekend camping trip at the local state park: monsters are real. After Matt is forced to kill a strange creature to save his uncle, he finds out that the weird knife he took from his uncle's bag has a secret. The knife was designed to hunt monsters—and it's chosen Matt as its wielder.
There will be four books in the Matt Archer series. I'm currently working on MA2 and MA3, along with what I'm calling MA1.5 – a short story to bridge the gap between the first and second books. The short story (Monster Summer) should come out sometime in October, and Matt Archer: Blade's Edge (book 2) will be available in early 2013.
And because I'm not happy unless I'm so busy that my hair's on fire, I'm also planning a serialized novel that will hopefully release in late 2013—it's a dark YA14+ set in post-apocalyptic Texas. I'll have to see how much time Matt demands before I commit to a release date, though.
Thanks for visiting with us, Kendra!
Please check out Kendra's first book at Amazon, Barnes & Noble, or Smashwords. You can also visit her cool monster-themed website, say hi to her on Twitter, or give her a thumb's up on Facebook.