Is it still possible to hit it big with a first novel? To toss that puppy out there and see it rocket to the tops of the Amazon sales charts? Well, if you've been following the blog, you know the answer is yes, since I recently interviewed Leeland Artra who's been having great success with his first fantasy novel. Today we have another success story.
Sue London, one of the first people I followed on Twitter (she complimented my Goblin Brothers stories, so naturally I liked her right away), released her first novel a few weeks ago and asked me to retweet one of her announcements. I did so and bought a copy (hey, it was only 99 cents). Through Twitter, I'm aware of a lot of new authors who are publishing first novels and, frankly, not much happens for most of them. Imagine my surprise when I checked Sue's Amazon sales ranking a week or two later and her book was in the 300s. As I write this introduction, it's sitting at 123 and has this nifty tag that shows up in a search:


#1 Best Seller in Historical Romance. Not bad, eh?
But how did she do it? Sue's agreed to spill the beans for us today, so let's get this interview started!
A few weeks after release, you're rocking the Amazon sales charts with your first novel, Trials of Artemis. What did you do to get the ball rolling in the first place?
First off, thanks so much for having me come on your site for an interview. Your blog has been my "go to" source for self-publishing information and it's very exciting to be able to contribute. Also, don't forget that I'm still waiting for more Goblin Brothers books! Just wanted to put that out there.
This is all pretty unexpected so I can't provide advice as much as express gratitude. This is one case where I can say "It's not me, it's you." It's Twitter buddies, Facebook buddies, and readers who were willing to give me a chance. But let me tell you my story in the hopes that there's a pony for you in all this mess somewhere.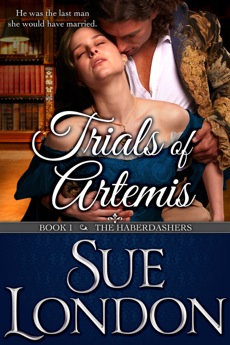 It all started with an idea for a Regency romance series about three girls who formed a "boys club" growing up, because they thought boys have more fun. They named their club (and therefore the series) The Haberdashers. There are twelve books scoped out for the series at this point. My original intention was to wait until at least book three before doing my big promotional push. I know how series readers are because I am one. We go very quickly from "I LOVE YOU, I WANT TO READ ALL THE BOOKS!" to "Who are you again?" when there has been a gap. So let me tell you what I didn't do – engage a PR group, do any press releases, schedule a blog tour, intensely research what in the heck I should be doing to release a book. My plan was to do all that for the release of "Fates for Apate." Sure, I've been picking up tricks over the years since I always intended to publish (specifically self-publish), but didn't put any extra effort into "mastering the book release" prior to releasing book one.
All that aside, my first degree is in marketing so I couldn't help doing a leeetle bit of it. I mean, no one wants their first book to bomb. But I was going to be delighted if I broke even on the expenses within the first couple of months (i.e., selling about 650 copies). Honestly, I thought my goals were insanely high and unrealistic. Heck, I'd gotten one of the major tenants of the industry "wrong." I'd just spent ten years building a brand identity on the web of being a sci-fi geek (is it a brand when it's really who you are?) and here I was publishing a Regency romance. People got whiplash doing a double-take. No one in my circles could believe I'd written a romance, in real life or online. Not exactly the best launching pad. Apparently you can get a lot "wrong" and still get it "right."
To answer your question, though, what did I do to get the ball rolling?
Set up websites specifically for Author and Series a few months in advance. I already have a lot of blogs and websites, and I wanted something that was specific to publishing so that people didn't have to wade through ten years of me pontificating (main blog), or stacks of my short stories and writing samples (writing blog), just to get to what they really wanted – to purchase my books or read about the series.
Purchased a rockin' book cover a few months in advance. Seriously, this may have been the most important thing that I did. It is by Kim Killion at the aptly named Hot Damn Designs. The cost was about $135 and worth every penny. THANK YOU, KIM! Now I need to get a spine and back because this puppy is going to paper.
Purchased 100 "cover cards" from VistaPrint (large postcard size) a few months in advance and offered them autographed as an incentive for pre-purchases. Also handed them out to anyone who would stand still and left stacks of them around the Virginia Festival of the Book. They aren't cheap, about 40 cents each. Adding envelopes and postage makes this about a $55 investment. But they are shiny and pretty and made everything more "real."
Set up a Twitter account for the series at @haberdashersfic.
Pestered my twitter buddies (I tweet at @cmdrsue) about the fact that my book was coming out soon and they should consider pre-purchasing a copy.
Remembered that I have a Facebook page and posted some updates (which also auto-post to Twitter).
Remembered I have a writing blog and made some posts about finishing a book and getting it to publication. Those automatically posted to Twitter and G+.
Then late on the night of May 12, 2013 I clicked publish on Amazon.com. And waited for the book to hit the store. And then I bought a copy. At that point I thought it and my five pre-sales (thank God for friends and family, right?) might be the extent of my publishing story. By the end of day one (May 13th) I'd sold 31 copies in the Amazon store and another one on my website. It had begun.
Marketing efforts in that first week included:
Setting up my Amazon author page.
Setting up my Goodreads author page.
Pestering my friends on Twitter some more.
Sending a Trials of Artemis mug to the first person to do a review. (She had no idea that I'd even been talking about giving out a prize because she's not in my Twitter circles, so it was interesting to have the first person be someone completely unknown to me.)
Posting announcements for my "fans" on Facebook (most of whom are STILL waiting for a sci-fi book).
Posting announcements on a bunch of my blogs and having Blogger push those to my G+ circles. Made sure to include the blog that has a Page Rank of 4 from Google.
Going to the follower lists for some of my favorite historical romance authors and having @haberdashersfic follow those followers.
Reached out to some other writers asking for a retweet. Since I've been a good citizen for awhile (interviewing writers at Writing Insight, retweets, etc.) I got that love back – including retweets from yourself plus top romance authors Diane Farr, Danelle Harmon, and Lauren Royal.
Taking a page from Amanda Hocking and reaching out to some romance readers with a polite direct tweet (you can't do this too much or you'll get blocked):
Taking the opportunity (whenever it looked like it would fit) to post a link to my book as a response to super-popular people on Twitter. I know at least one sale came from responding to Jen Yates (@cakewrecks) when she asked her followers what was up. I said my book was up <link> and got one sale and follower that I know of. Maybe more.
Asking @erinscafe to livetweet the novel because she had done that to hilarious effect on some other romance novels. I knew it would be a snarkfest and wanted it to be. Ended up getting props from her followers because I joined in on making fun of the book. Sales jumped by almost 100% that night. Some of Erin's tweets:
And that pretty much describes my big marketing "push." The only other thing I've done since then is join some romance groups on Facebook. Oh, and struck a chord with another group by making my first gratitude post about Trixie Belden. They have invited me to their Clubhouse. As a huge Trixie Belden nerd I think this is awesome.
At the moment "Trials of Artemis" is selling about 600 copies a day. The only explanation I have for that is… people seem to like it. Not the most insightful analysis but there it is.
I'm always hoping to find new advertising venues that actually work out (i.e. authors make as much from sales as they paid for the ad). Did you do any advertising or has this all been word of mouth?
Nope, no paid advertising for this beyond purchasing the postcards from VistaPrint. I'll probably try some of these when "Fates for Apate" comes out. My research will undoubtedly include reading through your website so I wish I had some really good advice to give myself right here. I have used GoogleAds for my CafePress site and that was usually somewhere around a break-even.
99-cent novels have fallen out of favor with some folks in the indie community of late (possibly because, last year, Amazon supposedly started weighting the popularity charts to favor higher priced titles). Why did you choose that price point, and how much of an impact do you think it's had on sales?
I chose 99-cents because I'm a 99-cent novel person. I read voraciously and there's no way I could do that with typical list-price books. So I look for 99-cent and free ebooks because there are a lot of great writers I've never heard of, and even a lot of big houses/authors have sales to convince us to try them. It stretches my reading budget. For me as a reader I have to LOVE your books in order to spend more than 99-cents. But if I do love your writing then I get in this weird "PRICE IS NO OBJECT!" place. Seriously, someone could probably price the first one at 99-cents and the rest at a thousand dollars and I'd be like "THAT'S FINE, I'LL GET ANOTHER JOB, I NEED ALL THE BOOKS." You know, if they really resonated for me. Some sort of modern-day G.K. Chesterton or something.
Regarding my own sales, I have to assume that the 99-cent price point didn't hurt. In this particular genre (Regency) there are still a lot of 99-cent books and the top ten list for Regency is usually full of them. So 99-cents is probably just a ticket to get into the show. Because I can't contact readers from Amazon directly I'm not sure if the price point made a difference to them. (Now you can really tell I studied marketing. Without the datapoint we can't really draw a conclusion.)
It was always my intention to price the first one in this series at 99-cents and the rest at 2.99. (The next two are already available for pre-order at that price, plus if you pre-order you get an autographed cover card!) The first one for all of my series will probably be 99-cents but I'm not sure. (Yes, there are many other series, trilogies, and books planned. Some of them will be sci-fi and fantasy.) As I walk around and talk to more people about pricing it amazes me how many readers say they don't mind when books are $8+. Thank God for them, someone needs to keep the major publishing industry going. But I don't want to pay that for the majority of my reading, and by my little own lonesome I don't need that margin for what I charge. Volume can often trump margin anyway.
Did you find that once you sold X number of books, Amazon's algorithms kicked in and have helped you rise to the top (and stick there)? Or are you still doing a lot of promotion?
I know that you've written about the algorithms but here's where I admit that… I haven't really been paying attention. I can't explain the rise to the top, but I'm sure that once I achieved the top ten it became a phenomenon of "success breeds success." Since I read on the Kindle app I know that they constantly push the best-sellers at you. That means all the Regency readers started seeing my book pushed in their face every time they turned their Kindle or app on. Again, the cover was a great investment because at the very least it looks professional. At best it signals "This book is HOT. And brainy." (They ARE in a library after all.)
I am not doing a lot of promotion. I blog, I tweet, I Facebook. I do interviews if asked. But if what you're really getting at is "how did you manage to be so successful with your first book?" my honest answer is "I have no clue. If I did then I would do it over and over again. And teach others how to as well." Seriously, I would take you with me on that magic carpet ride, but if there is an answer in all of this I don't know what it is. Maybe the stars aligned. Maybe I had some karma points to redeem. Maybe, just maybe, it's the power of nice. But I can't point to anything and say "Yep, that's it right there. That's the answer."
Something is working, though. It keeps creeping up the bestsellers lists. Currently at #130 for all of Amazon so it's possible that "Trials of Artemis" will break the Top 100 before it's done. Back on May 19th when I was #52 in Regency and #3,392 overall (and feeling pretty good about myself for those numbers) I was smack-talking Dan Brown on my Facebook page because it was funny to act like I could take the #1 spot. Now it's moved from funny to intriguing…
All of the reviews have certainly been helpful, too. I don't know how you get those other than wait. Ok, you could ASK for them, but is that really the same? Only one of them is from someone I know because I *didn't* want to ask people I knew to review it. Right now there are 15 on Amazon.com (average 4.9), 2 on Amazon.co.uk (average 4.5), and 5 ratings/2 reviews on Goodreads (average 4.0).
Do you have any parting tips you'd like to offer to new authors who will be launching a book soon?
My biggest fear is beginning to believe that because this turned out well that I know something. I don't. I'm grateful that so many people have helped me out in ways both large in small. A retweet here, a nice review there. Someone trying out a new and unknown author for the first time. But there are some things that are common pointers in the profession so I can reiterate them.
Be nice. And remember that part of being nice is not always looking for something for yourself. When I started retweeting links for my favorite romance authors it wasn't with the thought "because in three years I WILL WRITE A ROMANCE BOOK AND I WANT YOU TO RETWEET ME." I was just being nice because I liked them. And being nice also means that when you step over a boundary and someone calls you on it that you graciously apologize. It doesn't have to be a boundary that you expected to encounter or even deem worthy. Would you rather be proven right or sell books? The answer is sell books. When in doubt, be nice.
Be professional. Get a great cover. Get great editing. Meet your obligations. And from a behavior standpoint, being professional is actually just being nice in a business suit. (Not an actual business suit but, like, emotionally.)
Be clever. Think about what could be a fun or funny promotion. I have no idea what the ultimate impact of @erinscafe's livetweet was but it was clever and fun. People enjoyed that I was laughing along with them. I can't find the tweet right now but someone commented "more authors should be like you!" I also think Amanda Hocking's direct marketing approach of contact on Twitter was clever. I still remember when I received the tweet because it was nice enough (see? nice?) that I was like "sure, I'll check that out" and clicked on the link. Turned out it wasn't for me and I didn't buy it, but obviously a lot of people did. (Yes, I'm talking about this happening before she got famous.) Please note, however, that it wasn't just that she asked me to check out her book, it was HOW she asked that made me click at the time and remember it later. For that one girl who made me click there have been hundreds if not thousands of solicitations that I've ignored. (See? I don't even remember how many, much less who they were.)
Be yourself. (Or at least the nicest, most professional version of you.) Your book is a product and I hope that it is AWESOME. But people want to connect with people at some point, especially if you are planning to have an ongoing writing career. Sharing something of yourself is a big challenge but people appreciate the little things that make you you. If you share enough little tidbits then everyone can find something they connect to. Some people advise authors to "brand themselves" and "sell themselves" but I'm definitely not in favor of that. I want to brand my books and sell my books, but be myself. That's how I can get away with being a big sci-fi nerd and write a best-selling Regency romance novel. And you know what? I've discovered that a lot of other romance writers are big ole nerds, too.
Bonus tip from Sue: Positive thinking. If there is any magic afoot in any of this it's the fact that I spend at least 10 minutes every day focused on positive mantras. My inspiration comes from writers like Martha Beck (Finding Your Own North Star) and Barbara Sher (Live the Life You Love). In case you'd like to read those books, too, I set up an Amazon store of the books that motivate me.
Other than that just listen to Lindsay. She's got the best advice around for self-published authors.
Awesome, thank you for your time, Sue!