I'm still out of the country, but I've scheduled an interview to post for you guys.
Kendra Highley visited the blog last year when she discussed why she chose to walk away from her agent and self-publish her Matt Archer: Monster Hunter series. Since then she's published three novels on her own and has a new one coming out. The new one isn't self-published, however; it's coming out via Entangled Publishing.
I thought I'd ask her back to the blog to see why she went with a publisher for this one and what Entangled was able to bring to the table. For those thinking of going the "hybrid" route (publishing some titles on your own and some with a press), you should be interested in this interview.
Hybrid Publishing with Kendra Highley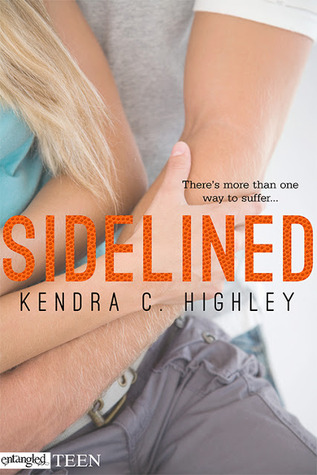 Welcome back to the blog, Kendra. Let's just right in here! Your new novel, Sidelined, is out now, through Entangled Press. What made you decide to go with a publisher for this one?
The book in question, Sidelined, is in a different genre than Matt Archer. Instead of urban fantasy/adventure, it's contemporary YA, dealing with some pretty hefty themes. I felt that it would be better served to have the benefit of an editorial staff known for YA and romance, along with the marketing and exposure they could provide.
Did you approach Entangled or did they see that your MA books were doing well and contact you?
My cousin Kary Rader, also an author, follows the Entangled blog and saw a call for contemporary YA sports romance. She knew about Sidelined and thought it would a great fit.  I hadn't read through the book for a few months, but decided to give it a shot and submitted it. Entangled contacted me with interest two days later. When I got the initial email from my editor, I put my phone on the counter and backed away with my hand over my mouth, unable to tell my family why I was so freaked out.  It was an amazing feeling.
I seem to remember quite a few tweets where you mentioned going back and forth on edits. Can you tell us what that process was involved and if you preferred it to hiring your own editor?
I really enjoyed working with the editors at Entangled. They are super knowledgeable and brought out elements of the book I'd never even considered. It was an intensive process, with quick deadlines and multiple levels of review, but I learned so much that I can bring into my other work, both self-published and traditionally published. It's fun to craft my own destiny with the self-pubbed books, and my editor for Matt Archer, Cassandra Mitchell, is awesome to work with, too. Still, I think I gained a lot by working with the editorial staff at Entangled. Plus, they are a really progressive publisher. Their royalty structure is closer to self-publishing and they allow unagented authors to submit manuscripts. They just want to find great stories and are willing to be a little unconventional.
As far as marketing and promotion goes, what is Entangled bringing to the table?
The biggest piece is wide reach. Most of the editors and publicists at Entangled have thousands of Twitter followers, and the Entangled blog is very widely read. Plus, they have a cadre of extremely loyal readers. Despite my own success with Matt Archer, this was a completely new area for me, so the built in audience was very appealing.  Still, the elements of this book launch and one of the Matt Archer launches are pretty similar: Cover reveal, blog tour, release announcements, giveaways.  And, working with a publisher, most of those costs are paid for, versus having to fund them myself. Sure, my cut per book is less, but they assume the risk, which allows me to focus on writing and reaching out to readers.
You're answering these questions for me before the book has been released, but at this point, do you think you'd do another book with a publisher?
Absolutely. In fact, I have two projects I hope to submit to Entangled over the next year or so. It's been a great experience.  For me, I think it helps to have separate approaches for my two different genres. For my more UF/mystery focused YA, I'll probably continue to self-publish, but for my contemporary YA, traditional publishing seems like a better fit.
Before you go, why don't you tell us a bit about the book and where folks can grab it?
Sidelined is the story of Genna Pierce, a basketball star who desperately wants to leave home to play for a college team. Now a senior, her years of hard work are finally paying off. University scouts are interested, and the guy she's been drooling over for years is suddenly interested, too. However, when her team goes to the state tourney, tragedy strikes and Genna's dreams come crashing down.  In a tailspin, she turns to the only thing that eases her pain: Vicodin.
You can check out the full description on my website and it's available on Amazon, Barnes & Noble, Kobo and iTunes.
Thanks so much for having me on your blog!