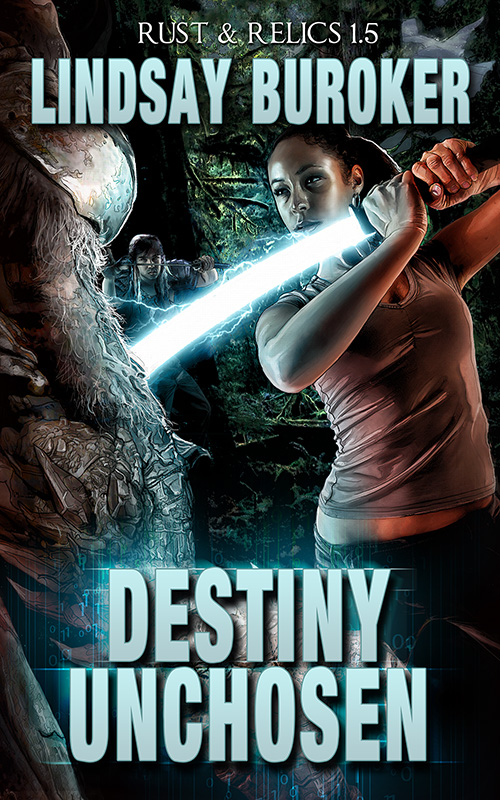 It's been a while since I first published Torrent, Book 1 in the Rust & Relics series, but I'm finally getting back to that world. There will be a new novel ready to go this fall, and I have a novella for you right now. Destiny Unchosen is from Temi's point of view, comes with a lot of adventure, and gives us a peek into Eleriss and Jakatra's world (Are those guys elves or aliens or what? You get to decide… 🙂 ).
Blurb:
Before tragedy left her crippled, Artemis "Temi" Sidaris was a world-class tennis player at the height of her career. The sport was her passion, her dream, and all she ever wanted to do. Fighting monsters… was not part of the plan. 

But when a pair of pointy-eared strangers offers to heal her injury if she's willing to wield a powerful sword to protect humanity… how can she resist? 

Destiny Unchosen is a 21,000-word novella that takes place between Torrent and the forthcoming Thorn Fall (September, 2014).
You can grab Destiny Unchosen from Amazon, Smashwords, Barnes & Noble, Kobo and Apple (coming soon).
I think you can enjoy Destiny Unchosen without having read Torrent (quite a few spoilers though!), but if you haven't given the first novel a chance yet, you can grab it for… about 10 cents right now. It's part of a nine-author, nine-book urban fantasy bundle that's only 99 cents.
Here's a little more information on the bundle (I think it's a great way to try out a lot of new authors and new books for a very inexpensive price):
NINE BY NIGHT: A Multi-Author Urban Fantasy Bundle of Kickass Heroines, Adventure, & Magic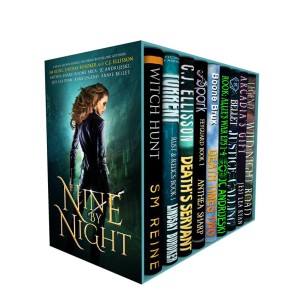 Nine books. Nine bestselling authors. Nine heroines that take names–and chances–while confronting dark foes, whether by force of arms or magic, that threaten their entire world.
From NYT and USA Today Bestselling Author, SM REINE – WITCH HUNT — Shaman on the run. Isobel Stonecrow speaks with the dead…for the right price. She brings closure to the bereaved and heals broken hearts. But when she resurrects someone for the wrong client, she ends up on the OPA's most wanted list.

From NYT and USA Today Bestselling author, CJ ELLISSON – DEATH'S SERVANT — Jonathan Winchester has clashed with his werewolf alpha one too many times. He returns to Virginia to find work and meets a young waitress, Raine. As their relationship progresses, Jon's embroiled in more intrigue than he bargained for and a danger bigger than he can handle.

From bestselling author, LINDSAY BUROKER – TORRENT — When Delia chose to major in archaeology, she imagined herself as the female Indiana Jones of the Southwest. She didn't imagine herself stumbling across decapitated bodies in old mine shafts or learning that monsters are real…

From USA TODAY bestselling author, ANTHEA SHARP – SPARK — What if a high-tech game was a gateway to the treacherous Realm of Faerie? Superstar gamer Spark Jaxley's life might look easy, but she's part of an elite few who guard a shocking secret; the Realm of Faerie exists, and its dark magic is desperate for a foothold in the mortal world. 

From bestselling authors BOONE BRUX and CJ ELLISSON – DEATH TIMES TWO — The V V Inn has a ghost problem. New grim reaper, Lisa Carron, accepts the job. She quickly learns the hotel is full of the dearly departed–and she's working for vampires. Throw in Asa, a young vamp hot enough to melt the Arctic ice, and Lisa realizes she's way out of her element. 

From bestselling author, JC ANDRIJESKI – ROOK: ALLIE'S WAR EPISODES 1-4 — Like most humans, Allie distanced herself from Seers, a race of human-like beings discovered on Earth. Yanked out of her life by the mysterious Revik, Allie finds out her blood may not be as "human" as she thought, the world is nothing like it appears to be…and she has more in common with Seers than she ever wanted to believe. 

From bestselling author, ANNIE BELLET – JUSTICE CALLING — Gamer. Nerd. Sorceress. Jade Crow lives a quiet life running her comic book and game store in Wylde, Idaho. After twenty-five years fleeing from a powerful sorcerer who wants to eat her heart and take her powers, quiet suits her just fine. Surrounded by friends who are even less human than she is, Jade figures she's finally safe. As long as she doesn't use her magic…

From bestselling author, JESI LEA RYAN – ARCADIA'S GIFT — Teenager Arcadia (Cady) Day's family tragedy unleashes a hidden power. After experiencing what can only be called a psychic episode, her home life crumbles. As her emotional control slips away, Cady begins to suspect that her first psychic episode was just the beginning…

From Urban Fantasy author, KARA LEGEND – WILD NIGHT ROAD — One innocent hex sets off a chain reaction of trouble among the shifters of the Kinraven that threatens war between werewolves, seraphim and witches. Lilith Darke will do anything to be free of her seraphim master. All hell breaks loose when rival packs face off only to discover a new, deadly threat that will take all their magick to survive.
Pick up the collection at Amazon, Barnes & Noble, Kobo, Apple, and Smashwords.