While I was debating whether to write any more novels with Ridge, Sardelle, Cas, Tolemek, etc., I decided (a beta reader may have convinced me) to write another side story, this time with Therrik getting a chance to be the hero (or maybe anti-hero?). And he's not alone. I've brought in a new heroine to add to the cast.
If you're looking for a new action-adventure fantasy novel to read, one with a little romance, then here's the blurb and the first chapter of Shattered Past: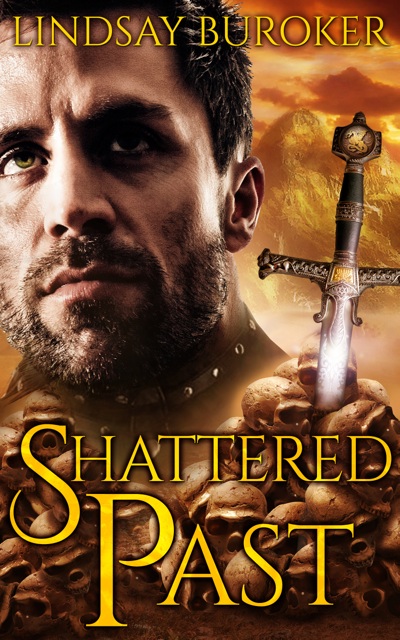 An elite forces officer with a dreadful reputation.
A bookish paleontologist with a love for mysteries.
An ancient stronghold full of secrets that will take both of them to unearth.
Professor Lilah Zirkander (yes, she's related to the famous pilot, and no, she can't get him to autograph your undergarments) is looking forward to a summer in the paleontology lab, researching and cataloging new fossils. But that summer takes an unexpected turn when the king sends her into the Ice Blades to a secret mine where ancient dragon bones have been discovered. Rumor has it that they're cursed and dangerous, but Lilah is more concerned about dealing with the outpost commander, a fierce officer with the temperament of a crabby badger.
As punishment for irking the king, Colonel Vann Therrik is overseeing the hardened criminals working in the remote Magroth Crystal Mines. He would like a chance to redeem himself—and escape the loathsome duty station—but nothing is going his way. Cursed fossils have delayed production, miners are trying to escape, and now a scientist has shown up, making demands on his time. Worse, she's the cousin of his nemesis General Zirkander. As if one Zirkander in his world wasn't bad enough.
Investigating the fossils leads Lilah and Vann into the depths of Magroth Mountain where centuries-old secrets lurk, and a long-forgotten threat stalks the passages. To have any chance at survival, they'll have to work together and perhaps learn that neither is what the other expected.
Available at: Amazon, Barnes & Noble, Kobo, iBooks, Google Play, and Smashwords.
Chapter 1
Professor Lilah Zirkander walked down the aisles between the desks, setting exams facedown in front of students who alternated between looking warily at her and gazing longingly at the clock. She stood between them and their summer vacation. Well, they stood between her and an exciting summer project too.
"For those of you who need to pad your academic résumés—or need extra coursework to complete your degree—Professor Haytar has informed me that we'll need a couple of assistants for our summer project," Lilah said.
"Are you going out to the field again, Professor?" Natashi, a third-year student, asked. She was one of the few students who had seemed to enjoy the class, taking it because of an interest in the subject matter, rather than because it satisfied a math requirement, without actually requiring much math. As if math was something to shy away from. Hmmph.
"No, the project will take place in the science lab."
Lilah handed out the last exam to the sandal-wearing boy in swimming trunks who had drawn his answer to the last essay question. Had it been an anatomically correct drawing, she might have awarded a small amount of credit, but his dragon skeleton looked more like a lizard skeleton, and it included genitalia completely inappropriate to either.
"Most of our government funding was siphoned off for military use this year," Lilah added when Natashi's face fell with disappointment, "so we can't afford any projects that involve travel."
Lilah also found the news disappointing, since she enjoyed her annual escapes from the campus, but a quiet summer without any students to teach would be appealing too. She secretly hoped that nobody took her up on the offer for extra credit. It wasn't that she didn't like the kids, but teaching left her feeling fraught. Research was so much more appealing than dealing with people, especially young people. They were so… recent. And mouthy. Who could fathom them and enjoy their company? She much preferred fossils.
"We will be undertaking an intensive cataloging project in the lab. All those fossils that were unearthed in the Sundaran Ice Field last summer are waiting to be studied and labeled for a museum exhibit this fall."
"Dragon fossils?" the student with the propensity for drawing asked, his gaze jerking from the window to Lilah's face for a rare moment of eye contact.
"It's an amazingly complete collection of Glophopteris rugoniana specimens."
"Gloph-what?"
The student behind him slapped him on the back. "Plants, you idiot. It was on the test."
"Ferns, to be exact," Lilah said. "Giant ferns from more than three million years ago. Iskandoth used to be quite the tropical haven."
Several sets of shoulders slumped. Lilah admitted that fern fossils didn't pack the museum the way that dragon bones did, but there was so much to learn from studying them. And dragons were frustrating. She had given ten years of her life to trying to identify their ancestors so someone could complete their phylogenetic tree in a manner that made sense. Alas, she had never found the missing link. Plants had proven less of a mystery, thanks to the fact that their fossils were so much more easily found.
Shouts and cheers and the stamping of feet came from the hallway, some lenient professor letting his or her class out early. Typically, Lilah would not be disposed to do the same thing, but when two-dozen hopeful sets of eyes turned in her direction, she sighed and relented—it wasn't as if those distracted brains would process anything else she said today.
"You can come see me after class if you're interested in the summer work or in my paleobotany class in the fall," Lilah said and waved toward the door. "Go. Enjoy your—"
The rest of her words were buried in the slamming of books, rustling of clothing, and overall noise of a mass exodus. Lilah dropped her arm and headed to her desk. Let them enjoy their youth. She planned to enjoy the solitude of a campus largely free of noisy students.
"Professor Zirkander?" Natashi asked. She was the lone student left in the room, and she looked oddly nervous as she clutched her books to her chest and smiled tentatively.
"Yes? Are you interested in the cataloging project?" Lilah liked Natashi more than her other students. She studied hard, earned good marks on her papers, and showed a genuine interest in the field. She also dressed appropriately for a place of learning, eschewing the swimming trunks and sandals fashion that had cropped up of late.
"Maybe, ma'am, but I was also wondering… uhm, you're related to General Zirkander, the pilot, aren't you?"
"He's my cousin," Lilah said warily, having a hunch as to where the conversation was going. She endured such inquiries at least once a month. Multiple times a week after a newspaper article highlighted the actions of Wolf Squadron in driving off some Cofah attack farther up the coast. "I don't know him well," she added, waving vaguely toward the north. The capital where the flier pilots were based was more than two hundred miles up the coast.
"You don't visit him?"
"Why would I do that? I don't need anything from the capital. I don't even have a horse for traveling that far."
"But he's General Zirkander!" Natashi said with the dreamy look that suggested she probably kept a few newspaper clippings of him in her notebook, ones that highlighted his face with hearts drawn around it.
"I can't imagine what we would talk about."
Lilah distinctly remembered Ridge—Ridgewalker, thanks to his parents' fondness for quirky names—teasing her for reading books instead of playing with the other kids at one of those dreaded family get-togethers they had endured as children. He was an only child and had been delighted to run around with age mates, hurling balls like a fool. Lilah, with three older brothers, hadn't been nearly as enamored with the idea of siblings and playmates.
"Oh." Natashi bit her lip. "Well, uhm, just in case, would you be able to get his autograph for me if you happen to see him?"
Lilah forced herself not to roll her eyes. She was thirty-seven now. Entirely too mature for eye rolling. "If you haven't graduated by the time I see him next, I'll keep it in mind." Along with the fifty-odd similar requests she'd had in the last year. At least Natashi didn't pull out a bra and brazenly suggest that Ridge might like to sign it.
A throat cleared in the doorway. A short-haired, clean-shaven man in an army uniform leaned in, looking at the student and then at Lilah.
"Professor Zirkander?" he asked.
"Yes?" Lilah waved the man in, though she couldn't imagine what would have brought him to the science and history college. Classes? There was a small navy outpost a couple of miles outside of town, where soldiers visited to practice sea-based exercises, but they did not usually have the time or interest to enroll. "You're not looking for General Zirkander's signature, too, are you?"
"Uh, no, ma'am. I already have that." He lifted a beige folder as he walked down an aisle toward her desk. He stopped a few paces away, clasped his hands and his folder behind his back, and looked at Natashi. "I can wait, but I need to speak with you in private when you're done, ma'am."
He nodded at Natashi, giving her a slight smile. He wasn't much older than she was, and he was handsome in his tidy, pressed uniform and his polished boots. Natashi would do much better to stare dreamily at him, rather than at pictures of someone who had crossed forty already.
"I'll send you a message about the summer project, Natashi."
Lilah dismissed her student with a nod, curious as to what was in this soldier's folder. She was inclined to think uncharitably of the military, especially since they had been getting so much of what should have been the college's funding of late, but she was sure this youngster hadn't had anything to do with it. Besides, he had a sweet face and reminded her of Lieutenant Bakstonis from the Time Trek series. She wondered if her visitor had read the popular books and would understand the reference.
As soon as Natashi disappeared, shutting the door on her way out, the soldier opened the folder. "My name is Lieutenant Sleepy, ma'am. I'm from Tiger Squadron, and I'm here to fly you to the capital."
"Pardon?"
"Sorry, it's a nickname. You can call me Lieutenant Derkonith, if you like. Or Jhav." He smiled and glanced at her neck, where she still wore the promise necklace her late husband had given her. At least, she thought that was where he was looking. Breasts weren't far from necks, after all, and a lot of male gazes got hung up on her chest, no matter how demurely she dressed. At least the young men—students, as well as soldiers—weren't usually impertinent enough to grab, bump, or make assumptions that her chest was available for handling. She'd had to snap at a couple of the distinguished professors over the years and had earned a reputation for being… difficult. As long as they let her keep researching and publishing papers, they could call her whatever they wished.
"My confusion wasn't derived from your name, Lieutenant, but rather from your belief that you're flying me somewhere."
"Oh. Well, that's in the orders, ma'am. I'm to allow you time to pack clothing and to collect whatever tools and equipment you need."
"How generous of you. What happens if I refuse to go with you?" Lilah accepted the paper, so she could see for herself what this was about.
"He said you wouldn't, ma'am, especially on account of your classes being finished today."
"He? General Zirkander?" She bristled at the idea of a cousin she hadn't spoken to in nearly five years making assumptions about her.
"Uhm, King Angulus, ma'am."
She blinked and stared down at the paper, glancing at the signature on the bottom. General Zirkander's messy scrawl was on there, yes, but King Angulus Masonwood III had also signed the page. Nerves twisted in her belly. What could the king want with her? She'd never met the man or even been in the capital for one of his public speeches.
Reading the entire document might help. She started at the top, mumbling to herself as she skimmed it. "…your presence humbly requested… possible dragon fossils unearthed… top-secret facility… determine if the bones are legitimate, and if so, if they should be removed for study or if demolitions can continue." She gaped up at the pilot. "Demolitions?"
"I don't know anything about the facility or the demolitions, ma'am. I'm just here to give you a ride to the capital."
"Is that where the bones were discovered?"
"No, ma'am. But we'll pick up General Zirkander there. Oh, I was told to tell you to pack warmly."
Lilah looked toward the courtyard, which was lined by lavender bushes that had been blooming for weeks already. "Somewhere in the mountains?" she guessed.
The pilot shrugged. "I'm just a lieutenant, ma'am. They don't tell us much. I assume the general will give you more details. But I do know enough to recommend that if you have any weapons, you may want to pack them too."
"Weapons?" That was almost as alarming as the idea of demolitions in an area of scientific importance. Were they going somewhere that wild animals would be a problem? She did have a collection of hunting rifles, though she hadn't been out on safari since Taryn had passed away, so she hadn't practiced with them in years. It was rare for rhinos and wildebeests to rampage through the streets of Port Yenrem.
"Do you have any, ma'am? The general said he'd send a bodyguard along, but it might not be a bad idea if you take a pistol or at least a dagger. In case, uhm. Well, I'm not supposed to know this, but I heard the general growl something about Colonel Therrik being in charge of where you're going."
The way the pilot said the name made Lilah think she should be familiar with it. She knew of a few historically significant Therriks, but hadn't run into a modern person with the name. Was it some other soldier who was mentioned often in the newspapers? If so, she wouldn't know about it, since she much preferred historical texts to current events.
"I'm sure you'll be fine, ma'am. I shouldn't have said anything to alarm you. Besides, the king said he'll give you some orders to take with you, orders that will ensure Therrik is polite to you."
The man had to be forced to be polite to a woman? That didn't sound promising.
"Is this Colonel Therrik not someone known to cooperate with visitors from academia?"
The lieutenant rubbed his jaw, as if in memory of a painful punch. "I think he's more likely to eat visitors from academia."
~
If you want to keep reading, please grab Shattered Past from Amazon, Barnes & Noble, Kobo, iBooks, Google Play, or Smashwords.