Posted in News |
Posted on 07-11-2013
|
16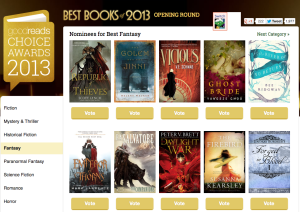 Forged in Blood I has been nominated for a Goodreads Choice Award this year.
I confess, I don't spend a lot of time on Goodreads, but it's my understanding that the books are chosen based on reader ratings, so I want to give a big thank you to all of you who have followed along with the series and who haven't been shy to let others know that you're enjoying the books. I believe FiB1 is the only self-published novel in the fantasy category, so I'm doubly honored to be nominated.
If you'd like to vote for Forged in Blood I (or, you know, one of those others guys :D), you can do so here.
Thanks for reading and sharing the love!