Posted in Blogging |
Posted on 13-07-2011
|
20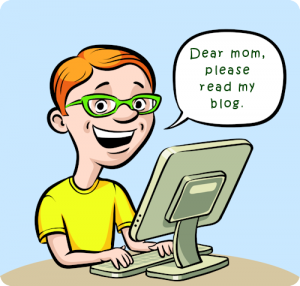 I stumbled into the #fantasychat on Twitter the other day, and the topic was "How to get more readers to your blog."
Whether you're an author, hoping to attract folks who might buy your books, or you're just trying to get more people to read your posts, it's satisfying to see one's traffic increase from month to month. It's nice, too, when people leave comments and you get to have conversations with someone other than yourself. (Not that self-conversing isn't fun, but, ya know.)
Since it's hard to impart much wisdom in 140 characters or less on Twitter, I figured a blog post was in order. So, without further rambling, I give you…
5 Tips for Bringing More Readers to Your Blog
Apply basic search engine optimization to your posts
You don't have to become an SEO expert, but using keywords in the title and building links to your site can go a long ways in increasing the number of visitors you receive from Yahoo, Google, etc.
Thanks to Twitter, I see quite a few blog post titles, and many of them are useless insofar as attracting search engine visitors (honestly, they're pretty useless for attracting clicks via Twitter too). This is because they don't tell me what the post is about. "Coming soon…" or "Some Interesting Updates" doesn't inspire me to click unless I know you already (maybe not even then!).
If you do nothing else, help yourself by making sure your post titles make it clear what the entries are about.
Don't just write about yourself and your books
This one is for my author buddies. If you want to increase your blog readership, posting excerpts and reviews of your books probably isn't going to do it. Likewise, posts about your life aren't going to interest many folks unless you have a Dave-Barry-esque knack for making the mundane entertaining. Sure, when you're a celebrity, you can blog about yourself and nothing but yourself and people will read about it, but we have to get to celebrity status first. How? By writing about things people find informative and/or entertaining.
If you're an indie science fiction author, for example, you might review popular books in the genre or blog about the latest SF movies or television series. Think about what your target audience might be out there Googling and consider writing some posts that would answer those queries.
(I'm not a good example of this, by the way; I'm more interested in writing about e-publishing and book promotion than my chosen novel genre. W. Brondt Kamffer is an indie fantasy author who does a nice job blogging for his target audience.)
**I don't want to give you the idea that you should never write about yourself or your books (sometimes when it's all interviews and reviews your voice gets lost and it feels like we could be reading newspaper articles where it doesn't matter who the journalist is), just that it's wise to find a balance. A little personal information here and a little interesting-to-your-target-audience-stuff there.
Leave comments on other people's blogs
I'm not as good at doing this as some folks are — it's a time consuming promotion method, and I find myself short of time lately! — but this can be a good way to bring in new visitors, especially when you're just starting out and don't get much search engine traffic yet.
If you leave useful comments on blogs where your target audience hangs out, people might be interested enough to click on your name and follow it to your site. The owner of the blog, too, might reciprocate and come comment on your site (this is most likely when you're visiting other new-ish blogs — understandably, bloggers who get 25-50+ comments per post are less likely to have time for this).
Sneaky tip:
If you can be an early commenter on a new post on a popular blog, your words will be seen by a lot of people and you'll be more likely to get visitors. I had that happen on a JA Konrath post once (he often gets 100+ comments). I only check his blog a couple of times a month, so it was just chance that I got a comment in early, but I included a link to my site at the bottom and quite a few people surfed over to check out my blog (note: not all bloggers will approve comments with self-promotional links in them, so see what the trend is before assuming you can do this).
Use Twitter, Facebook, etc. to bring visitors to your blog
I don't think the social media sites are particularly good for selling books, so you won't often see me tweet sales links (if anything, I'll usually send folks to an excerpt on my site or to Smashwords to download a freebie). I do, however, announce my new blog posts on Twitter, and this brings quite a bit of traffic, especially when something catches a few eyes and gets "retweeted."
I'm not big into Facebook, but I do have a few blog followers via their "Networked Blogs" feature, so you may want to look into signing up for that (among other things, it automatically announces your blog posts on your Facebook page).
As you might guess, you'll get more mileage out of the social media sites if you're active on there and work to get some followers. Unless you have lots of free time, consider focusing on one to build up network rather than trying to spread yourself (possibly ineffectually) across them all.
Try to turn one-off visitors into regulars
Okay, last tip. While it's great to drive lots of new visitors to your site, it's even better to convert those one-time visitors into regular readers.
One way is to encourage folks to sign up for your RSS feed. (This is on my to-do list as my current link is not prominently displayed.) If visitors track a lot of blogs, they probably use Google Reader or another service to check all the new headlines at once. If they add yours, it'll be easy for them to see when you've posted something interesting.
Another good thing to add, especially if you're an author and you're hoping to get readers to buy your books, is a newsletter. This lets you send notes straight to people's inbox where they're much more likely to notice you than if your blog is 1 of 200 hanging out in their feed reader. You can give people the option of signing up to receive each of your new blog posts in their inbox, or you can have them sign up for a mailing list where you can send them personalized messages now and then.
All right, those are my five tips. Do you have any you'd like to suggest?