For those who don't know, the Amazon Associates (or Affiliate) Program is sort of like working on commission for the big seller. You sign up, put links to any of the product pages on your site or in newsletters to your mailing list, and you make a percentage of the sales when people click through and buy within 24 hours. The percentage varies depending on the product type and how many items you sell in the month, but you can expect 4-8% or so.
I'll admit, that's not a lot when you're linking to your own ebooks, which may only run $0.99 to $5, and you may be wondering if it's worth signing up for the program. After all, it does take a minute or two to log into Amazon and create an affiliate link every time you're writing a blog post and want to point out an Amazon product.
A lot of authors will probably say no, it's not worth it, and that they haven't made any money with the program. I don't make a lot, but I do earn an extra $75 to $300 a month from Amazon in addition to what they pay me for my book royalties.
That's money I'd be giving away (giving to them) if I didn't bother creating those links. And honestly, it takes maybe 5 minutes a month for that money, because I don't link to products from blog posts very often. I have the links to my own ebooks over there in the side bar, and I link to new releases. I also link to other authors' books when I interview them on the blog (two years after I interviewed Kate Harper on How to Make Money Publishing Kindle Articles, I still sell copies of her ebook almost every month).
Juuuust in case you're interested, here are a few more details…
How I Make Affiliate Income from My Author Blog and Newsletter
I'll be the first to tell you that if you want to make serious money as an affiliate, Amazon isn't the best program out there (24-hour window vs. the common-in-the-industry 30 days combined with the fact that they don't offer a high percentage of the sales), but if you're like me, and your main focus is on writing and promoting your own books, you might be pleased at the extra side income you can pull in by taking a few minutes to add those links.
1. Create a site and build traffic to it.
As an author, you should be doing this anyway. Not all authors choose to blog (or go through the effort of promoting their blog to increase readership), but all authors should at least have a website with periodic this-is-what-will-be-out-next updates, links to where people can buy their books, and a newsletter sign-up form. The address to that website should be on their business cards, on their social media pages, listed in their books/ebooks, stenciled on the back of the car (hey, some people do it!), etc. In other words, you're going to promote your site anyway. Why not make any Amazon links you have on your site, especially to your own books, Amazon affiliate links?
What this means is you're essentially earning say 77% on each $3.99 ebook you sell instead of 70%. Can this add up? Sure. You take the effort to create these links once, and they can be there for years to come. Even if you're not getting a lot of visitors today, that may change as you get more books out and they start selling more copies.
If  you get into blogging, you can interview other authors and include (affiliate) links to their books, as I mentioned earlier. You can also try other types of posts, such as lists of 99-cent titles in your genre, and promote those posts on Twitter, Facebook, etc. I don't do a lot of those types of blog entries myself, but here's an example one from last year (I remember making a few dollars in affiliate income from the books linked to, and every now and then one of those titles still pops up in the current month's report): 10 Free or 99-Cent Steampunk Ebooks.
2. Create a Mailing List and Use Affiliate Links When You Mention Your Own Books
Every author should have a newsletter or mailing list. As I've mentioned before, this allows you to email your readers when you have a new release (or any other important news — say you're running a Kickstarter Campaign or a special sale for fundraising purposes). If you're new to this idea, check out my post on Newsletters 101: Email Marketing for Authors.
You're going to tell these people about your new releases anyway, so it just makes sense to use an affiliate link and get the extra 7%. As your list grows, your earnings will grow (both from direct sales and from affiliate commissions).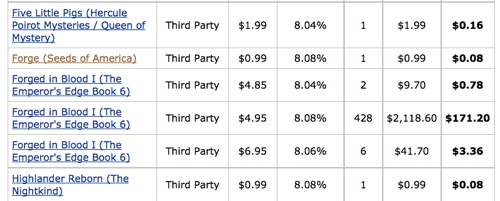 Those were my affiliate sales from this weekend from the release of Forged in Blood I. I didn't use my affiliate link on Twitter or Facebook (I've been lazy and haven't checked to see what their policies are in regard to using affiliate links lately), but I did use them on my website and in my mailing list. I'd wager at least 350 of those 428 came from the newsletter.
Note: I haven't been active with them but Apple and Barnes & Noble have affiliate programs too. If you find you're selling quite a few books there, you might want to sign up for their programs too.
Obvious question: Should you promote books other than your own?
This is up to you. I don't when it comes to my mailing list (a rare exception was when one of my beta readers came out with her first book last fall); these are your dedicated readers, remember, so you don't want to push them away by trying to sell things to them every other week. Just because they're interested in hearing about your newest releases, doesn't mean they want to buy a lot of other stuff. However, if you read a truly awesome book in your genre and think they might love it too, then it probably wouldn't hurt to mention it or even share your own review of the book as one of your newsletters (authors often wonder what they should talk to their list about in between releases).
Money Aside, Other Reasons You May Want to Be an Amazon Affiliate
You may be thinking, okay, you made an extra $150 when you released your book, but didn't you sell thousands that weekend anyway? Like a hundred bucks matters… And like this would work for me if I only have three people on my mailing list and I've only published one book…
Okay, fair points, but I still think it's worth taking the extra couple of minutes to craft affiliate links when you're going to link to something on Amazon anyway. Seeing what your readers/blog visitors are buying can give you a little extra insight into what people want — AKA market research.
A couple of months ago, I participated in a group book promotion and wrote up this post with everyone's books: 10 Fantasy Romance Novels from Up-and-Coming Authors. I used affiliate links (this post is an example of one where I spent far more time than usual getting links and inserting book covers, because I did it for ten books, but I did end up making about $40 or so in affiliate income from that post), and it was interesting to see which of the titles sold best and which barely sold at all. Dragon Rose was the winner by a long shot. If you're curious, go check out that post and take a peep at the cover and the blurb, and compare it to the others (it's worth noting that it's not at the top of the list, so it's not as if people were simply picking the first book).
You can also see from my own screenshot up there that people, after clicking my links, buy quite a few books in addition to my own. You can get a better idea of your target audience and what their interests are by seeing what else they bought (I believe these sales reports are a little more concrete than the also-bought lists on Amazon book pages). Sometimes it's even entertaining (I've found everything from soldering equipment to erotica titles to lawn mowers and baby gates in my affiliate reports).
The information is all anonymous, of course, so you're not snooping into any particular person's buying history, but it can give you a broad idea of what other titles people are buying. If you haven't decided on what you're going to write next, you might want to take a peep and see what sorts of books your readers are really digging (in addition to your own).
If nothing else, you might get some ideas for new books to read for yourself — hey, if these guys like your books, they must have good taste, right?
So, there you have it — why I bother with the Amazon Associates' Program. What about you? Do you use affiliate links or are you thinking of giving them a try?