I've got a few thousand things on the plate for February (as usual), so I was glad to accept a guest post from a fellow steampunk author for this week. J.P. Medved is going to talk to you about how he got some nice covers made very inexpensively, by using talent found on Fiverr. I've paid for a couple of book-promotion gigs on Fiverr (only one was even worth the $5), but I wouldn't have thought to look for cover artists there. I can see where it would make a lot of sense for an author without much money to spend and especially for an author publishing serials or short stories that aren't likely to earn back the cost of more expensive artwork.
Anyway, enough from me. I'll pass you off to J.P., so he can explain how he found good designers and how the process went.
How To Get an Awesome, Custom Book Cover for $5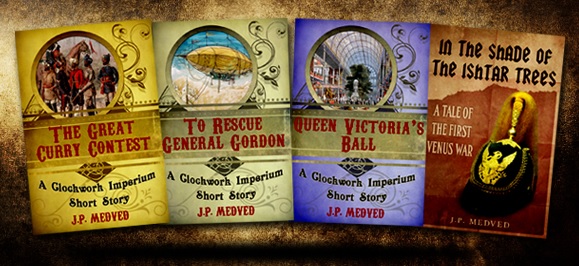 First off I want to thank Lindsay for hosting me here.  Her blog is one of the main resources that inspired me to get into self publishing.
For this post I wanted to walk through my strategy for getting several, high quality covers made for $5 each.  I've done it for all of the books I have for sale on Amazon, and I've gotten numerous compliments on the covers from readers and fellow authors alike.  I'll include images throughout the post so you can judge their quality for yourself.  This method is ideal for authors putting out a high volume of shorts or novellas, who don't have the artistic ability to design their own covers.
To get the covers I used Fiverr.
Fiverr is a website where you can hire people to do services for $5.  There's a whole section of the website for designers offering to do eBook and print book covers.  It's a great way to get quality-looking book covers for cheap (given that most outside designers charge $100 and up for a single custom cover).
However, there's a lot of dross on Fiverr, and if you're not careful you could end up paying for an amateurish-looking product, or one that doesn't fit your book at all.  To avoid that problem I follow three careful steps.
Step 1
Browse the book cover section of Fiverr for artists and click into the job postings ('gigs' in Fiverr-speak) of several of them that look appealing to you.  Look at the samples of their work, and their reviews.  Ideally you want artists with at least 20 reviews, and a 4.5-5 star average, with art you like and think fits your book.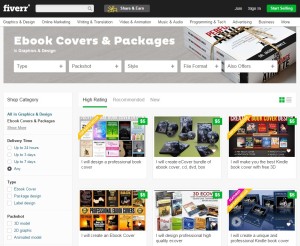 You'll find that most artists will include "extras" with their gigs.  Things like "provide a fully editable PSD file of your cover" for an extra $10 or "purchase a stock photo" for an extra $5 etc.  I highly recommend springing for the stock photo option where possible, since this greatly enlarges the range of professional images you can get for your cover.
Select at least three of the top designers you like (remember, you're saving a lot of money with this option, so it pays to compare) and order their gigs.
Step 2
You'll get automatic messages from most artists asking for what you want on the cover.  Here's an example I got from one:
Please provide the title, subtitle (optional) and author name.

Upload your stock image here if you're supplying one, if not please give me an idea of what you'd like on the cover. Please remember if you're not supplying a stock image I will do my best to find a suitable free one.

If you have any examples of covers you like you're welcome to post links!

All covers are 1000px longest side unless ordered with a gig extra.
You should send the same response to all three (or more) designers so you can really compare apples to apples when you get their work back.
Here's an example response I sent to three different artists:
This cover is for a steampunk short story. Here's the details and an uploaded image as a guide:

Colors I would like to be earthy/subdued (dark reds, khakis, muted browns).

Text/headings should read:

Main title: To Rescue General Gordon

Subhead: A Clockwork Imperium Short Story

Author: J.P. Medved

Style: Old timey, Victorian, steampunk

Graphics/images on the cover: Ideally an airship/zepplin with the British flag on it

Examples of covers I like: I've attached a picture of essentially how I'd like the cover to be laid out, with the airship image going into the top circle.

Other details: The story is about British soldiers in 1895 stealing an airship to rescue a famous General in the Sudanese desert, so anything evoking the desert, the time period, or airships works well. Also, I'd like to use this style for future stories, so an easy way to change the main background color in the PSD/AI file would be a plus.
Fiverr allows you to upload files in messages to artists, and I've taken advantage of that ability multiple times to showcase examples of covers I like, sample layouts, or design elements I'd like to include.
In this case, I'd found an old Canadian Pacific Railway menu from 1910 that was laid out in a fashion I though perfectly illustrated the steampunk/Victorian vibe I wanted to capture, so I uploaded that to give the artists a rough idea of design.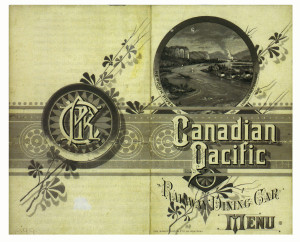 With this message and direction, I got several initial options back from artists.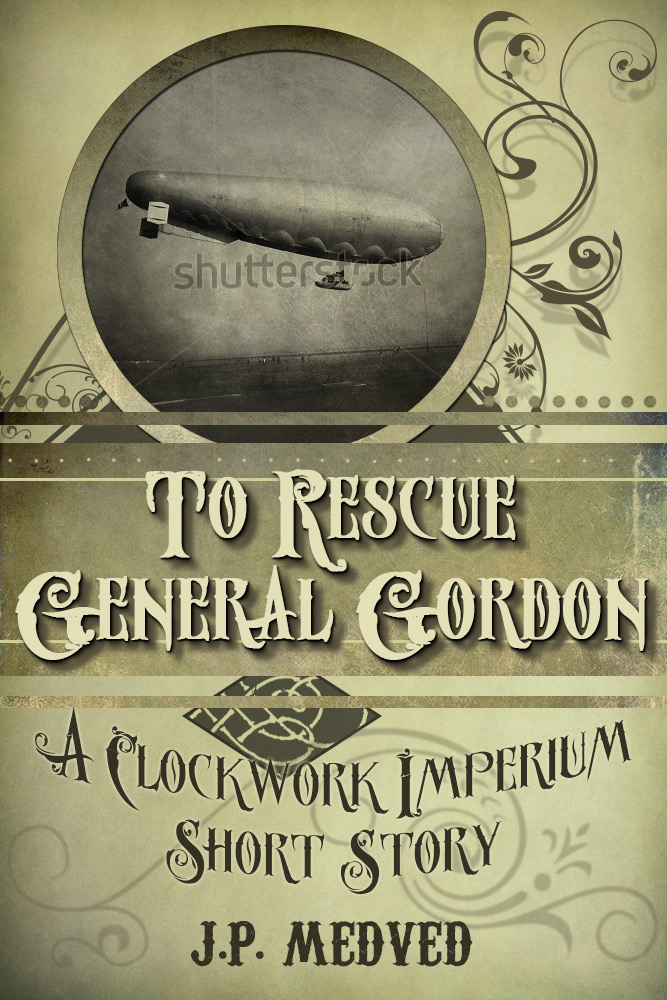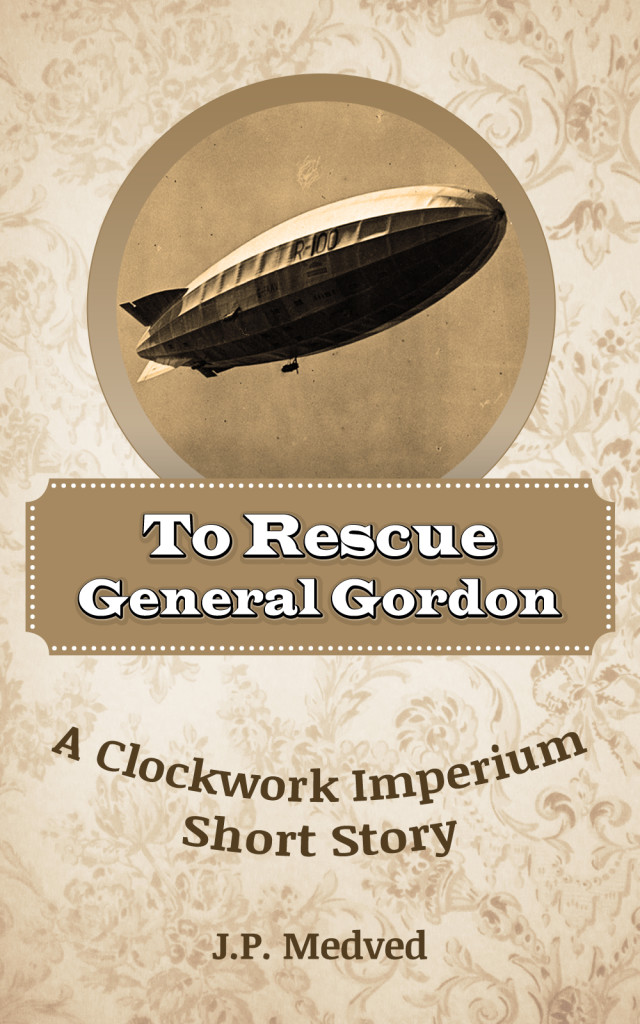 Again, I only paid $10 for those two covers (I did opt for the PSD file for both, which added another $10, but the covers themselves were only $5 each).
Step 3
Fiverr cover artists typically allow one free revision, and I recommend using it wisely.  Show the cover drafts to friends, family, or others you trust with an eye for design to get their feedback.  Don't take it personally if they actually provide it and suggest changes!  Almost always they have the necessary distance to recognize issues with the designs that you, as the author whose baby the artist is bringing to life, may not.
In this case since I vastly preferred one artist over the others, so I only asked her for revisions.  Here's the email I sent with revisions:
Love it! Wondering if you could use this airship picture instead (perhaps cropped to get rid of the buildings): http://www.shutterstock.com/pic-105576374/stock-photo-the-oil-painting-with-the-airship-flying-above-the-old-style-fantasy-buildings-my-artwork-oil-on.html

Also wondering if you could use a slightly heavier, more Victorian font, this one looks a little too pirate-like. A couple examples I like are:

http://davidadriansmith.com/wp-content/uploads/2010/08/victorian_upload.jpg

http://4.bp.blogspot.com/-mh4BztHUB2s/T04-r1amNBI/AAAAAAAABFQ/VfrrlcwleFY/s1600/stbkcv008.jpg

And perhaps add some color to the top title-text to make it stand out in a thumbnail (a light/gradianted red like this? http://www.colourbox.com/preview/4727539-696209-vintage-background-antique-victorian-gold-ornament-baroque-red-frame-beautiful-old-paper-card-ornate-cover-page-label-floral-luxury-ornamental-pattern-template-for-design.jpg)

Thanks!
You can see the final cover here:
Advanced tips
If you know you're doing a series with branded covers, make sure to get the PSD of the cover image, so you can manipulate the image for future covers, or pass the file on to another designer to do so if your chosen designer disappears from the site or becomes too busy.
I did this with the cover above, and have been able to use the same template to create a series of branded covers myself for cheap:

Switch up cover designers for different genres, as often an artist good at one type of genre will be only so-so with another.  Here are some covers I got across multiple genres, almost all using different cover artists: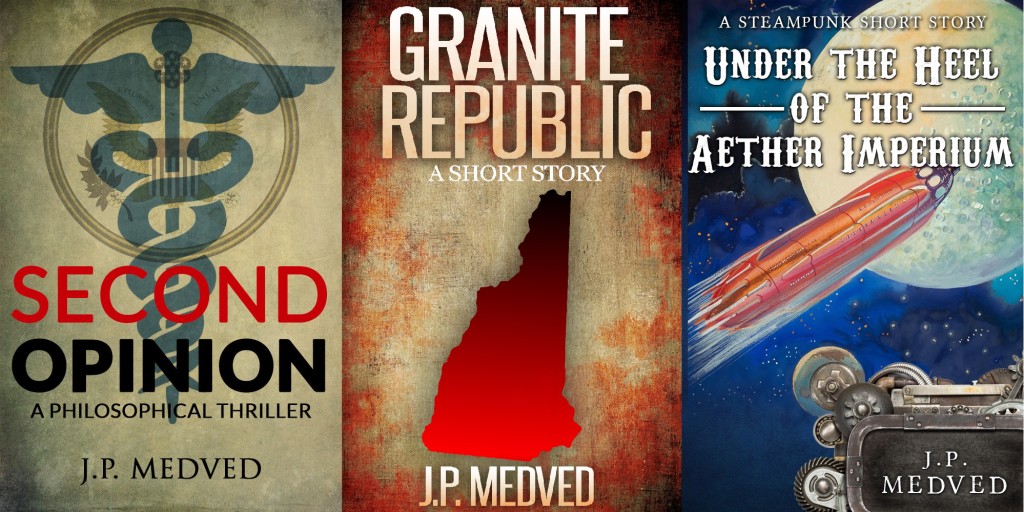 Hope this was helpful; any other tips you have for getting great covers on the cheap?
~
J.P. Medved has just released the third novella in his steampunk, Clockwork Imperium series, called Airfleets Over Ostend.  The first novella in the series, and the one bearing the example cover described in this blog, To Rescue General Gordon, is now free at Amazon, so pick it up for a fun, quick read!
Sign up for his newsletter at www.JPMedved.com to learn about new steampunk stories in the works, and to get a free short story as well.