When I first got started e-publishing (two-year anniversary coming up), I was mostly worried about selling books at Amazon. Everybody said they were the big kahuna (and they are). I did upload my ebooks to Barnes & Noble, Smashwords, and, through them, Kobo and Apple, but there didn't seem to be much information out there about how to increase visibility in those stores and sell more books. And international sales? Nobody was talking much about the possibility of those (other than through Smashwords, which sells ebooks in any format to anyone who will buy).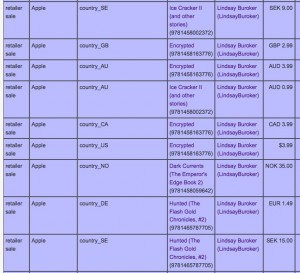 I wasn't too concerned about this until I started thinking about becoming a full-time independent author, AKA ditching the day job. I didn't want to depend on one revenue stream, not if that money had to pay all the bills. As lucrative as Amazon can be, one never knows when they might switch the tables (dropping to a lower royalty rate or putting your account on hold for some reason or another), and then where would you be? (This is one reason I'm not a fan of signing up for KDP Select and Amazon exclusivity.) So, I thought it was important to increase sales in the other stores and maybe even the overseas versions of those stores.
Easier said than done! I've heard of some folks having success by participating in forums for different e-readers (i.e. the Nook Boards and Mobile Read) and for different counties (such as the UK Kindle Users Forum), and I did dink around on these sites in the beginning, chatting and giving away coupons. In general, though, I find forums to be a time sink. You can spend a lot of hours there and earn few, if any, sales. I generally only recommend forums for people who enjoy being a part of that sort of community anyway.
What did make a difference for me, especially with Amazon UK and the international Apple stores, was having a book permanently free on those sites. I've talked a lot about this before, but I made my first Emperor's Edge book (and eventually my first Flash Gold novella as well) free at Smashwords about a year ago. I had the freebies distributed through their partner sites, and Amazon eventually matched the price.
What took longer, but did eventually happen, is that Amazon UK (and DE, ES, IT, etc.) price-matched the ebook to free as well. That's when I started seeing sales of my other books in those stores. It was a similar process for iTunes. It's taken a while for the free ebooks to percolate through, showing up in the international Apple stores, but I'm now selling books every month in Apple AUD, DKK, GBR, etc. and am making between $1,500 and $2,000/mo overall in overseas sales.
With many of these sites, it's very much a $40 here, $20 there kind of income. If I tried to target each of these countries individually through forums or paid sponsorships, it'd be a tall order. But the free ebook is an advertisement itself (as we've discussed, it works best if it's a Book 1 in a series), one that doesn't require me to spend extra time or money on promotions. People around the world are getting new e-readers and browsing the free sections of the various stores to find goodies.
Some folks (usually authors) still sneer at the idea of putting out freebies, but most public libraries have limited ebook catalogs, so I believe more and more readers are using the free book sections on the various stores as the equivalents of libraries. They are places where readers can try new authors at no risk. And then, if they like what they find, they go on to buy more.
I do want to emphasize that it takes months (it did for me anyway) for a free ebook to find its way into the international stores, maybe even longer at Amazon, since you're waiting for their price-matching bots to come along. This isn't going to work if you only want to make your book free for a limited time. This isn't to say you can't make international sales without having a free ebook out there, but it's certainly what made a big difference for me.
Have any comments or other suggestions for authors hoping to sell more in the international stores? Please comment below and share them.