For this month's free short story, I have something new for my science fiction fans. (Though this is more of a moon-side fun adventure than anything hard scifi, so fantasy readers may enjoy it too.) The characters in this story don't appear in any of my novels yet, but if you enjoy what you read here, you can find another story with them in the freshly released Bridge Across the Stars anthology.
I'll eventually bundle some of these short stories into ebooks, but for now, please enjoy them on my blog. Thanks, and happy reading!
Bearadise Lodge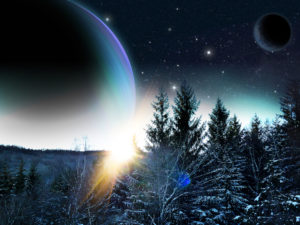 "Payment received from six planets away within three hours? She must have had it en route before I even sent
my report. Put her down as someone we'll rearrange the schedule for if she needs future debtors or delinquents located." McCall leaned back in her chair and kicked up her slippered feet, resting her heels on the navigation console. The first sun peeked from behind the moon the Star Surfer was orbiting, its yellow-orange rays highlighting the lush green forests and vast blue lakes of the terraformed continent below.
"Knowing your preferences, I have already made that annotation in the records," her business partner, Scipio, said from the other seat in NavCom.
"You're an extremely efficient android."
"All androids are efficient," Scipio observed, turning his metallic silver eyes toward her. "Our programming does not allow otherwise."
"But are they extremely efficient?"
"I am uncertain. Since extremely is a degree adverb, it is difficult for me to quantify it."
"Just know that I'm pleased and will transfer your half of the funds over right now." McCall waved for the holo display interface to float within reach so she could carry out the banking task. "What new type of hat will you buy?"
"Actually, I am considering purchasing a new waistcoat to go with my Devonresh suit, so I can appear more professional when I speak with potential clients who prefer video communication."
McCall shuddered at the idea of video communications with strangers as she eyed Scipio's impeccably dressed and wrinkle-free form, then compared it to her rumpled sweatpants, baggy six-pocket shirt, and fuzzy slippers adorned with dog hair. She was glad he'd taken over interfacing with clients and suspected that was a large part of why the business had been flourishing this last year.
"We've successfully closed twelve cases this month. I'm going to order a bottle of Château Nouveau Cheval Blanc to celebrate. But for now, what's next on the list?" McCall twirled the chain and charms bracelet on her wrist, the reward of a fine wine sounding appealing, but not as appealing as a new work challenge.
"We've cleared the docket. The Imperial Diamond Trust Collection Agency is due to send a new list of delinquent accounts next week, but nothing is scheduled for this week."
"Nothing at all?"