As authors, we're always looking for new ways to stand out and attract readers to our work. The online world presents numerous opportunities, some of them effective, some not so much. I've been aware of Wattpad for a while, but haven't had a chance to tinker around there much yet. I learned that independent author CJ Archer has had some success there and asked her if she'd answer a few questions. If you're looking for new ways to promote your work, you may find this short interview useful.
Using Wattpad for Book Promotion with CJ Archer
Thanks for stopping by, CJ! First off, could you give us an overview on what the Wattpad site is all about?
Wattpad is a place where writers connect with other writers as well as readers. They can get feedback on their "works", interact, and build a community. For readers, it's a place to read free stories and find new authors.
It sounds like you and quite a few other self-published authors have been using Wattpad as a promotional tool. What strategies are you using?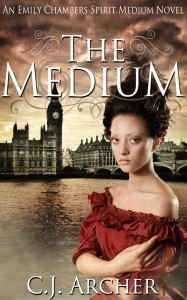 I initially put up a few chapters of one of my self-published books on Wattpad, but it gained very few readers. I decided to investigate the site further to see what works and what didn't. I found that authors who had the most success were posting young adult books, posted the entire book, and they interacted quite a bit. So I put up the first book in my new YA trilogy, THE MEDIUM. I posted a new scene every few days until the entire story was up, which coincided with the release of the 2nd book.
Something to keep in mind is that Wattpad is geared towards teenage readers (mostly female) who want to read free books. When I started posting THE MEDIUM, I interacted in a few relevant communities to gained some initial exposure. Since THE MEDIUM is historical paranormal romance, I posted in "clubs" that focus on these three genres. I made sure to include the cover image in my posts. It's a professionally designed cover with a striking model. I've since had people tell me they were attracted to the cover, then went on to read the blurb and first chapter.
If you do use Wattpad to post the first book in a series, expect some backlash from readers who want to read the subsequent books for free too. Make it obvious that the Wattpad book is part of a series, and that you will not be posting subsequent books. I think it's important to keep the price of the remaining books low, so that readers on a tight budget won't feel cheated. Most will be happy to pay you for your efforts if they enjoyed the first book and they don't feel ripped off by an expensive 2nd book.
How much time do you spend over there? Do you have to comment on other people's work to get folks to check out yours?
In the first week of posting THE MEDIUM I spent perhaps half an hour per day, mainly posting in the clubs and commenting on other people's works as well as updating mine. After that, I tapered off my efforts and now I only reply to comments left on my story which takes only a few minutes. If another writer asks me to comment on their Wattpad story, I'll usually take a look at the first chapter and offer some encouraging comments and some tips.
If someone started posting a novel at Wattpad today, how long do you think it might take for him/her to attract an audience and (we hope) see some sales?
This is not an easy one to answer. I think if you put in some early effort over a few weeks, you should see some reads quite quickly. BUT it all depends on whether readers like your story, connect with the characters etc, otherwise they'll abandon the story without finishing it. A lot of Wattpadders won't read anything until it's complete, so it pays to post the entire book and mark it as "complete".
Does it seem like certain genres do better than others over there?
Stories geared towards teenage female readers do better on Wattpad. Romance is very hot on the site, but also the most competitive category.
Do you have any comments or advice for authors who might be worried about putting their published work out there for free?
Personally, I'd only post entire books on Wattpad that I'm comfortable having free. For me, this means only the first book in a series, never the subsequent books. Since THE MEDIUM is also free at all the major ebookstores (currently waiting on Amazon to price match), I'm content to have it on Wattpad in its entirety. I've heard of other authors posting the entire book for a limited time, then scaling back to only a few chapters after they've gained some reads. I haven't tried this, however, and I'm not sure if I will.
Thanks for taking the time to answer my questions, CJ!
You can find CJ on her site, Facebook, and Twitter, and you can check out her books on Amazon, Barnes & Noble, and Smashwords. Of course, you can read The Medium on Wattpad too.
What do you guys think? Have you tried Wattpad? I've had an account there for a while but haven't done anything with it yet. I may try posting my free ebooks over there.