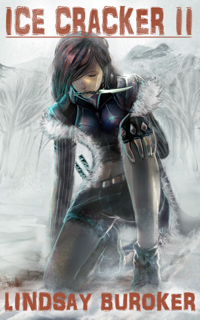 About six weeks ago, I e-published my first novel, The Emperor's Edge, and, at the same time, I uploaded a free ebook (okay, it's just a short story) to Smashwords. I hoped people would try the free ebook, like the characters, and go onto buy my novel, which is currently priced at $2.99.
The story features the same characters as are in the novel, and I included an excerpt from Emperor's Edge at the end of the ebook. I also included purchase links for EE at Smashwords, B&N, and Amazon.
The story, Ice Cracker II, promptly went live at Smashwords and took about three weeks to filter through and appear at Barnes & Noble (you can't upload a free ebook directly to B&N, but if you ask Smashwords to distribute it, it'll get there eventually–as far as I know, the Apple Store and Amazon won't take the free ones, which is a shame).
I discussed the pros and cons of offering a free ebook when I was getting ready to do it, though, as far as I was concerned, it was all theoretical at the time.
So, what actually happened?
In short, it's working. *author does happy dance*
I've sold numerous copies of my novels at Smashwords, despite doing little else to promote my work there. The increase at Barnes & Noble has been more substantial.
I had very few sales there before the free ebook appeared in their store, but now I sell nearly as many ebooks at Barnes & Noble as at Amazon most days, and some days B&N outsells Amazon.
More telling is the fact that The Emperor's Edge outsells Encrypted, my other novel, by four to one at B&N. At Amazon, where I don't have a free ebook listed, Encrypted sells about the same number of copies a week as Emperor's Edge (it's actually ahead in the count for February).
I should point out that my free ebook isn't a bestseller or anything special at Barnes & Noble. I'm not even sure how people find it (I tried to drill down in a category and never got to it), since I don't shop there and know the ins and outs of the site. It has a couple reviews, though, and the sales rank hovers around 1850, so it's definitely getting some downloads. I'm toying with the idea of having some banners made and trying harder to promote the freebie at Barnes & Noble.
A few notes for others who may wish to try offering a free ebook to encourage other sales:
This may not appeal to every author, but I think it helped that I used the same characters in the freebie as in the ebook I hoped people would buy. I didn't plan it this way (I wrote Ice Cracker II almost a year ago, before e-publishing was a twinkle in my eye), but the short story takes place after the novel and leaves a lot of questions unanswered about the character backgrounds. The lack of backstory may irk some folks, but I hope it leaves more people curious to read the novel and find out how these characters ended up as wanted criminals working together.
You can give away an entire novel (I've seen people with a series do this to great effect), but if you're like me and don't have a whole series ready to publish, a short story can work just fine.
Including an excerpt for one of your novels probably helps (though people might feel your ebook is too promotional if the excerpt is huge and the free story is short; in my case the short story is about 6,000 words long and the excerpt is 1,000 words or so).
Including the actual links to your non-free novel(s) can only help. I'm not a Nook person, but I assume it's similar to the Kindle in that you can click a link and go right to the store and buy the next book on your e-reader.
Don't name your free ebook after a ship with numerals in the title like I did, because I've had several people admit to being confused because they thought Ice Cracker II was a sequel. Oops.
Have you had any luck (or the opposite) giving away a free ebook? Let us know about it below.