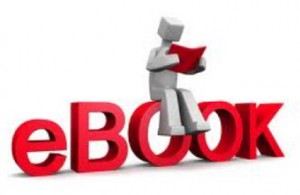 Quite a few new folks have found this blog lately (thanks for visiting!), many of whom are starting to contemplate e-publishing, so I thought I'd do a basic post covering some of benefits of becoming an indie ebook author.
I don't have anything to sell you, and I'm not against traditional publishing, but there are some perks I wasn't aware of when I got started, and maybe sharing these will help you decide if this route makes sense for you.
Without further introduction…
Five Benefits of E-publishing
1. Higher Profit Margins as an Indie

As an independent ebook author, you keep 60-85% of the earnings for ebooks priced $2.99 to $9.99 (it's usually 35-40% for lower or higher priced ones). Compare this to a traditionally published paperback where an author might get 15% or less. Even with ebooks published through presses, the earnings aren't that good, since there are more people that have to get their cut.
The high royalty rate is one of the reasons you see so many inexpensively priced ebooks out there now. You can price a novel at $2.99 and still make a respectable $2 on each sale.
2. Real-time Sales Statistics
This may very well be my favorite part of e-publishing.
While not every ebook seller is this high speed yet, Barnes & Noble and Amazon update your book sales hourly. This is tremendously helpful when it comes to marketing, as it makes it easy to see which tactics are resulting in sales (and which aren't!).
If you buy a daily advertisement on a site, and it doesn't result in any more sales than usual, then it may not be worth paying for again. If a book review at a certain blog brings in a couple dozen extra sales that week, then you might buy that blogger a beer and see if he/she will review more of your work!
3. Ability to Give Away Free Ebooks for Marketing Purposes
Not every seller lets you list ebooks for free (Amazon and Barnes & Noble require indies price their work at a minimum of 99 cents), but Smashwords and some of their distribution partners do (if you go through Smashwords, you actually can get a free ebook listed at B&N). This can be a helpful marketing tool.
If you've published a brilliant new novel that nobody knows about, you can generate interest by giving away a free story, perhaps set in the same world or with the same characters. (If you haven't seen it, read about my results giving away a free ebook short story.) Include an excerpt of your novel at the end of the story, and your freebie just might generate some sales.
4. Nothing Is Set in Stone
With e-publishing, it's easy to change the price of your ebook, change the blurb, change the cover, or upload a new version of the text (always helpful if you find a couple of typos down the line).
In particular, a lot of indie authors will change prices from month to month, trying to find that sweet spot.
5. No Delays in Getting Books out There
With traditionally published books, it can take years to find an agent, a publisher, and get to the point where your work is available at Amazon. Lots of books don't make it at all.
With e-publishing, it takes a day or two (at the most) between the time you upload your book to the time it's available for purchase. Sure, you might add on a couple of weeks for having it professionally editing and getting an ebook cover created, but this is still a small amount of time when compared to traditional publishing. We're not all going to get rich from our e-publishing passion, but the sooner your work is out there, the sooner you can start making money from it!
Can you think of other benefits of e-publishing? (Or maybe you'd like to disagree with me?) Chime in below!