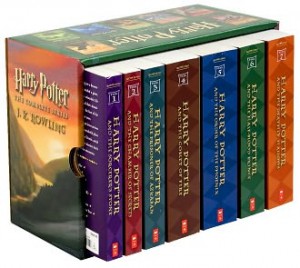 If you're an author and you started out thinking you'd publish traditionally (i.e. find an agent who would then find you a huge multi-book contract with a major publisher, thus ensuring you could quit your day job and write full time for the rest of your life), you probably heard it was a bad idea to write a series.
Because, the conventional wisdom goes, if you don't sell the first one, how on earth are you going to sell the second, third, etc.? Well, you aren't. So they say don't work on a series until you're sure you have a publisher. (I know all about this wisdom, and it's the reason I wrote Encrypted after I wrote The Emperor's Edge — they take place in the same world, but, except for one continent-crossing assassin who appears in both, they have different characters.)
If you've decided to forgo the traditional publishing route, however, there's no reason to worry about what agents and publishers might want. The only ones you have to please now are the readers.
So, should you write a series? Or stick with stand-alone stories? In the end, it might be a matter of your writing tastes, but let's look at a few reasons for creating a series (and a couple of reasons you might want to hold off):
Pros & Cons of Publishing a Series
Pros
Readers may be more likely to buy the sequels — Lots of people get attached to characters, so, if they like yours, it may be a no brainer to purchase more books in the series (I know I'm like that when I read!). On the flip side, if all of your other books have different characters, then it might depend on whether the blurb sounds good or whether reviews are positive.
A series can grow into a brand that helps get the word out about your books — It's hard to open a marketing text without reading about the importance of branding. Books can grow into a brand of sorts, and people may start talking about The So-and-So books even if they can't remember the name of the author (don't worry — if someone's interest is piqued, they'll have no problem finding you on Amazon by the series name).
The free/99-cent lead-in ebook works well with a series — We've talked about lots of indie authors who have had success by pricing their first ebook cheaply (or even free) as a way to get folks to try their other higher-priced offerings. This seems to work best when the following books feature the same characters and types of adventures. In some genres, such as fantasy and science fiction, authors will even end novels in a multi-book series with cliff hangers, so you have to pick up the following story to see how things turn out.
Cons
If folks don't like the first one, you're outta luck — In my opinion, it's worth waiting and seeing what the reception is for the first book before committing to five more. I know of one indie author who had something like ten ebooks out in a series and was working very hard to promote it, but reviews were lukewarm for Book 1 and, despite all his promotional efforts, sales were lackluster. If readers buy one book and don't like it, they're not going to go on to buy the rest, and most new readers who stumble upon the sixth installment aren't going to start there, no matter how enticing the blurb.
You may be forced to write "against the grain" — Some of us love to build characters over multiple books, but some authors don't. If you get sick of your heroes and don't want to keep spending time with them book after book, it's going to show. You might get in trouble trying to write a series just so you can create a brand or entice readers to buy more of your work.
Those are my pros and cons for writing a series. Do you disagree with any or have others to add?