This weekend, I'm working on the eighth and final Fallen Empire novel while my editor finishes up on Book 7 in the series. We're shooting for a mid-October release for 7 (Perilous Hunt), which is pretty darned soon!
For the fantasy fans out there, it doesn't look like I'll be able to get the third Chains of Honor book out before Christmas, as I'd hoped, but I am writing a novella set in my Dragon Blood world, so I should have something with magic and dragons for you before too long. This story jumps back in time and shows us how the dragon, erm, the god, Bhrava Saruth got his start.
If you're looking for something to read right now, I'm in a couple of multi-author boxed sets that released (or will release) this month.
For the science fiction fans, you can check out Star Heroes: nine authors, nine full novels, ninety-nine cents.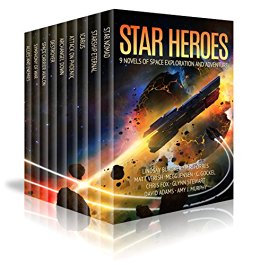 Star Heroes is a space opera collection with nine novels of the galactic frontier. Exploration, alien invasions, genetic engineering, and artificial intelligence–it's all here.
Click on the image or the link above to see all the authors and stories in the set. This one is only available at Amazon (and is free for Kindle Unlimited subscribers). Everything else I'll mention in this post is available everywhere.
Okay, fantasy fans: you're next!
I know you've all read my first Emperor's Edge novel by now, but if you want to check out a lot of other authors who are writing NobleBright fantasy (as opposed to all that GrimDark stuff), then I've got a boxed set for you.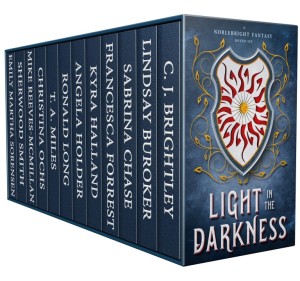 The Light in the Darkness set includes my first EE novel, as mentioned, and also full-length novels by 11 other up-and-coming fantasy authors. It's going to sell for $1.99, and you're getting over a million words of fiction, so that should definitely keep you busy for a while.
It's available now for pre-order at Amazon and in the other stores (with an October 18th release).
Here are the links to the main stores if you want to take a look:
Kobo | Apple | Barnes & Noble | Amazon | Smashwords
If you're dying to get something for free (who isn't?), and haven't already downloaded the Star Heroes anthology, this is a collection of science fiction short stories. I've got one in the mix, of course: Starfall Station. It takes place between Books 2 and 3 in my Fallen Empire series, but I wrote the story so that it could stand alone. If you haven't tried any of my space adventure stuff yet, this is an easy (and free) way to take a look.
This one is also available in all of the main stores: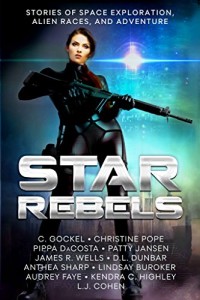 Amazon | Kobo | Barnes & Noble | Apple
That's it from me for now. I better get back to writing. I hope you find something fun to read!