If you like listening to audiobooks, but you don't like paying for them (hey, they're pricy, I understand!), you can find a wealth of listening material over at Podiobooks.com.
These are independently published audiobooks. (They're called podiobooks, because they get published, an episode or two at a time, and can be downloaded on iTunes and other podcast-friendly sites.)
With the help of my friends over at DarkFire Productions, I started publishing The Emperor's Edge podiobook last month (it's up to chapter 9, right now, and if you subscribe, you'll get a new chapter delivered to your iPod or other mp3 player each week). So, that's one free fantasy audiobook for you to try out.
But there are lots of others, too, including many that are already completed (so you can listen at your own pace and don't have to wait patiently for authors to upload new chapters).
Here are a few popular fantasy novels over at Podiobooks:
Heart of the Ronin by Travis Heermann (historical fantasy)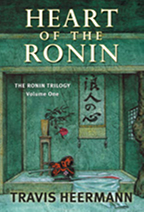 Thirteenth-century Japan is a dangerous place, even in a time of peace. Capricious gods, shape-changing animals, and bloodthirsty demons are as real and unpleasant as a gang of vicious bandits. From the wilderness emerges a young, idealistic warrior with his father's mysterious sword on his hip, a wise, sarcastic dog at his side, and a yearning in his heart to find a worthy master. He dreams only of being samurai. Little does he suspect the agony and glory that await him when his dreams come true….
Union of Renegades: The Rys Chronicles Book I by Tracy Falbe (epic fantasy)
Dreibrand Veta has killed for his country. At the frontlines of imperial expansion, he seeks to rebuild the fortune of his noble family. In his daring travels he encounters the rys, a race far more powerful than the human empire that bred him. Dreibrand cannot defy the rys Queen Onja nor defend his companion, Miranda, and her children from the wicked tyrant Queen. Desperate for help…
Shadowmagic by John Lenahan (YA fantasy)
A rip roaring fun fantasy adventure novel by John Lenahan very loosely based on Irish mythology where every chapter ends on the edge of a cliff (or at least a high curb.) Join Conor as he grapples with typical teenage problems like, how to deal with a father's high expectations, how to survive in the world on your own and how to woo a beautiful girl – that wants you dead. Shadowmagic a podcast novel for young adults from 12 to 112.
Max Quick 1: The Pocket and the Pendant by Mark Jeffrey (YA fantasy)
When time mysteriously stops, young Max Quick must travel across America to find the source of this 'temporal disaster'… Along the way, he and his companions encounter ancient mysteries, quantum Books, and clues to the riddle of stopped Time. But the more Max learns, the more it seems that his own true identity is not what he once believed…
Billibub Baddings and the Case of the Singing Sword by Tee Morris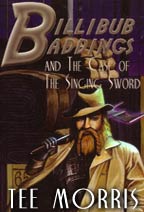 It is The Era of Prohibition, where crime runs rampant in the streets and a city divided into territories serves as the ultimate prize.
Somewhere in this Underworld of Chicago, an enchanted weapon holds the key to ending The Gangland Wars. In the wake of The St. Valentine's Day Massacre, only one is man enough to stand up against Al Capone…
…a four-foot-one dwarf named Billibub Baddings.
Legon Awakening by Nicholas Taylor
Join Legon and his sister, Sasha, search to understand their true heritage, confused at the possibility that of being part human and part elf. Surrounded by elves, the newly introduced Iumenta race, Dragons and Humans; Legon and Sasha's lives are filled with adventure and fantasy on their search for answers as they begin an epic journey of discovery; not to mention the incredible battle scenes which will be surely to capture your imagination…
The Secret World Chronicle, Book One: Invasion by Mercedes Lackey and Steve Libbey
Emerging mysteriously during World War II, metahumans became icons of the best – and worst – humanity had to offer. Yet sixty years later, the world still suffers from war, greed and madness. Worse, man's nadir of systematic cruelty returns with bizarre new weapons. The metahumans of Earth must find a way to defeat this powerful foe and discover what lurks behind the scenes – a secret world hidden from our own. Mercedes Lackey, one of fantasy's most beloved voices, and new talent Steve Libbey bring you a podcast series that catapults the classic superhero into the 21st century.