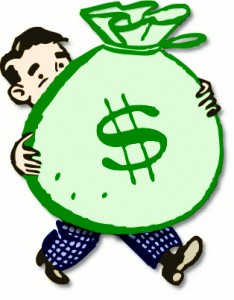 This is the introduction in what will be a series of posts on making money blogging about books and ebooks. My intent is to do about ten posts covering starting a blog, building traffic, and earning money through affiliate programs and selling advertising.
You're probably not going to be able to retire on the income from your book blog (you can make a lot of money from affiliate marketing, but books, because of their low prices, aren't the most lucrative things to promote), but I know lots of you guys are blogging about books anyway, either as a means of promoting your own work or because you love to tell people about what you're reading. As long as you're putting time into a blog, you might as well make a little money from it, right?
The e-publishing revolution is making this a great time to be a book blogger. I've been making money as an Amazon affiliate since 2003, and it's crazy how much easier it is to sell ebooks than physical products these days. There are no shipping costs for people to get hung up over, and Nook/Kindle/Ipad/etc. owners have already given their billing information to the retailers, so it only takes a click to buy an ebook. All that means it's easier than ever to make money talking about books.
Note: I'll be mixing in interviews and posts about other topics while working on this series, so feel free to bookmark this page, as I'll maintain an ongoing table of contents here, and you can easily click to new posts in the series.
How to Make Money as a Book Blogger Part 1: Introduction
How to Make Money as a Book Blogger Part 2: Blog Setup
How to Make Money as a Book Blogger Part 3: Content and Keywords
How to Make Money as a Book Blogger Part 4: Building Traffic
How to Make Money as a Book Blogger Part 5: Affiliate Links
How to Make Money as a Book Blogger Part 6: Advertising
Now, let's get started….
What Is a Book Blog?
When I use the term "book blog" in these posts, I'll be thinking of a dedicated blog that covers books and almost nothing but books, usually in a specific genre. That said, you can certainly apply these tactics to a personal blog where you only mention books some of the time. For example, if you're an author, you might want to focus on writing and your own work while sprinkling in occasional reviews of books in your genre.
You can certainly make money from a blog where you talk about a variety of topics and use affiliate links now and then, but you'll find it easier to make a dedicated "niche" blog profitable, if only because it's easier to promote your site and start ranking for specific keywords in the search engines (more on this later) when you have a focus.
Ultimately, though, what kind of blog you want is up to you. If you've already been blogging for a while, there's no need to start all over. Just use the tactics we'll cover to increase readership, and consider going back to revamp old posts if you realize they have profit potential (i.e. you posted a book review, but didn't use an affiliate link to point visitors to a place to buy said book).
How Are We Going to Make Money?
As I've mentioned, I'll put a lot of focus on affiliate marketing, since this tends to be a natural fit with review-style blogs, and many book blogs fall into that category. We'll talk about other ways to make money, especially via advertising, too, but we'll spend quite a bit of time on the affiliate scene.
Affiliate marketing is essentially the internet version of working on commission. You sign up for an affiliate program (iTunes, Amazon, Barnes & Noble, and Smashwords all have them), and then you're able to create links to any page on the merchant's site. A tracking ID is embedded in the links, so you get credit for any sales that originate from your blog.
The amount of money you earn depends on the terms of the specific affiliate program, but it's usually in the neighborhood of 5-7% with Smashwords being an outlier. Their default is 11% and some authors choose to "juice" the percentage to attract affiliates. I offer 75% on Emperor's Edge and Encrypted. The downside is that Smashwords only sells titles by independent authors, so you won't be able to promote John Grisham or Steven King through them.
You may be thinking 5% on an ebook that costs less than $5 doesn't seem worth the effort. I'll admit this whole process may not be worth it to you if you have a lucrative day job, but affiliate earnings do add up, even with the small amounts we're talking about in regards to books. People often buy more than one book, too, and you'll get credit for other sales made within 24/48 hours (the length of that window depends on the merchant) of the original click.
Earnings really pick up once your blog becomes popular. If 1 in 100 people who read your book review go on to buy the book, you're not going to get rich on 25 visitors a day. But if you have 2,500 visitors a day, it's a different ballgame.
In later posts, we'll go into specifics on the types of blog entries that work best for selling books as well as when and how to insert those affiliate links.
How Hard Is This? Can Anybody Make Money from a Book Blog?
Well…maybe. The hard part with making money from a blog (any blog) is that you need a substantial number of visitors coming by every day. The more people seeing your posts the more likely someone will buy a book.
We'll definitely talk about ways to build up traffic, but it is a gradual process. Most people won't see significant income from their blogs in the first six months. That can be discouraging, but, on the flip side, people who stick with things, posting regularly and promoting their blogs, should start making money eventually. And they won't just make money on new posts; thanks to the search engines, people will start to find their older posts. The cool thing about blogging is all your posts remain out there and act as doorways to your blog.
Work you do today can pay you two years from now.
The next post will get into the nitty gritty how-to-do-this stuff. We'll start with choosing a niche and setting up a blog (or possibly modifying one you already have to be more search-engine friendly).
Stay tuned!